Star Fleet Universe News
THE BIG NEWS: this month is the announcement that the F&E Compendium, the F&E 2010 Rulebook, and the Federation Commander Reference Rulebook are now or soon will be available as searchable PDFs via e23. The Star Fleet Battles Master Rulebook will be updated through Update C (and possibly more) and then will be available as a searchable PDF via e23 by the end of this month.
WEBSITE: Our combined and reorganized website, www.StarFleetGames.com, continues to grow and improve. You are welcome to send us your requests, comments, and suggestions. Joel Shutts, our graphics director, continues to update the website, do covers for the new products, shut down pirate websites, help out around the company, and learn more about the game business. One of our newest pages is the Wall of Honor where we recognize our volunteers and their contributions.
FACEBOOK: Jean continues to improve our page on Facebook, adding many new photos and other features.


If you haven't seen the 300+ pieces of art in the albums, you should drop by and visit. You don't have to be a member of Facebook to see our page, but if you are, please become our friend so you can get information in your news feed.
VIDEOS: StarFleetGames has taken its act to YouTube and we now have a YouTube channel. Our goal is to create a video for the new product releases during each month. We have "In the Box" videos to show the you what you will see when you unpack your new game. We have also done "Spotlights" on a single product or product line. So pop some popcorn and join us at the movies! Our newest uploads are:

Module Y3 and YG3 video release
Prime Directive Product Line
STARBLOG: Our StarBlog has moved to a new URL and all links on the Federation Commander websites and the first site have been changed to match. The new site is http://federationcommander.blogspot.com

AMBASSADORS: We are looking for a few good Star Fleet Ambassadors! Our marketing director can't be everywhere and that's where you come in! Do you go to gaming forums like Board Game Geek, RPG Net, or The Miniatures Page? To get complete details of the Ambassador program, please see our topic on the FC Forum or on the BBS.
Forum
BBS
A Fight For A Cure is a far bigger success than we ever dreamed it would be in its first year. The tournament has 36 people who entered and many people who donated. ADB, Inc. was able to send a check for $600 to the National Breast Cancer Foundation. Play has started already and you can keep track from this page on SFBOL:
Fight For A Cure Tournament Tree
Gregg Dieckhaus thought of an interesting addition to the tournament and suggested the "Dunk a Fleet Captain" twist. He, Paul Scott, and Bill Schoeller auctioned off their choice of a ship to the highest bidder. Bill has ended up flying the Seltorian, Gregg, after much bidding, is in the Romulan King Eagle, and Paul is trying out the Neo-Tholian. We'll have to watch and see if these Fleet Captains get dunked or fly to the top. Thanks to Bill, Gregg, and Paul for their additional help in raising money.
We'd like to thank the guys who regularly play on SFBOL for helping the new players learn the ins and outs of SFBOL prior to the matches. This is a unique tournament in that so many new people are involved in it and there is some learning curve in playing on SFBOL. We also want to thank Roger Rardain who volunteered to be the judge. Paul Franz has worked hard to do the programming and behind the scenes work to make the tournament a reality. Dale McKee has volunteered to paint a mini of the winning ship to reward the winning captain. So much work went into making Steve Cole's idea reality and that work is greatly appreciated.
HAILING FREQUENCIES: This is our newsletter and will let you know all the news for all our games. You can subscribe here. Have you missed an earlier Newsletter? Click here to get caught up!
COMMUNIQUE: The latest Communique brings you more Ship Cards, scenarios, fiction, and more news from the Star Fleet Universe! It can be downloaded from the Commander's Circle.

COMMANDERS CIRCLE: We continue to improve the Commander's Circle. All of the ships and scenarios are available as separate documents (the ships areorganized by empire) so you can quickly see what is available. The FC Scenario Database and Master Ship Chart documents are also here. Our newest project was suggested by our players and is uploading low-toner Ship Cards. The Commander's Circle is the best place to find free additions to Federation Commander!



.The Federation Commander site and Forum continue to grow as more gamers continue to find it. All of our games currently have topics in the Forum. If you have any comments, questions, or requests for our Graphics Director, this is the place to let him know. Come see what the commotion is about and join the Federation Commander Forum now.
We are very pleased to see the medals, honor bars, and ribbons awarded to players being incorporated into their signatures. It is exciting to see an explosion in the Federation Commander Play by Email topic and even more exciting to see more FCOL tournament taking place. Get in on the activity!
While for new players the Federation Commander Forum is a little easier to manage, the original (Discus-based) BBS is where most product development takes place. If you have a proposal you'd like to see worked on, don't forget to make sure it is mentioned here. It also has active F&E and SFB forums where players run campaigns, Rated Ace tournaments and other SFB tournaments are organized (most FC tournaments are organized on the Forum), SVC's "My Day" appears, along with current news and strategies dealing with Prime Directive, and each issue of Captain's Log is created. While less colorful (no avatars or sigs), it is a vital part of ADB, Inc.'s communication.


FC Tactic of the Month
USING DIRECTED TARGETING WITH BURN THROUGH
- Ensign Anthony Cutcliffe, HMS Devonshire

It is generally accepted practice to declare Directed Targeting for most volleys, especially when there is a chance of a burn-through point. The idea is that when using Directed Targeting, you have a 50% chance of your burn-through point hitting an "important" system of your choice: weapons or power, which are, generally regarded as "important" systems. Because of this, it is usually considered preferable to include no overloaded weapons in a volley where you expect burn through, in order to allow directed damage. However, there is more to it than that. Please allow me to explain.
(FC Tactic of the Month Continues Here)


SFB Tactic of the Month
TO STING OR NOT TO STING (TOURNAMENT TACTIC)
- Commander Andy Vancil, USS Colorado
Your two Stinger-2s are three to eight hexes from the enemy ship, and you are faced with a common dilemma: fire the fighters' weapons at a range where they are ineffective, or hold fire for a better range and risk losing the weapons before they fire. While many variables will affect your decision, including the empire of your opponent, his current arming status, the position on the map relative to your ship, and so on, the decision will ultimately come down to one of three cases:
1. If you know he is going to destroy the Stinger-2s, they should obviously fire everything before they die.
2. If you know he is going to cripple the Stinger-2s, they should probably fire everything. You might consider holding back a phaser-3 shot from each, as they will retain that when crippled. However, it usually will not be worth letting him finish off the cripple at close range just to get that phaser-3 shot, so you might as well fire it all.
(SFB Tactic of the Month Continues Here)
F&E Strategy of the Month
BLOCKING AND TACKLING - Xs AND OHHHs
- Captain Chuck Strong, USS Colorado
During the phasing turn, consider using your X-ships (with an X-scout) to block the reinforcement of a key battle hex. When attacking such a hex, the X-ships moved with the attacking force can later help form a pocket-of-protection from enemy ships attempting to reinforce the key battle hex. Six-to-eight X-ships with a flagship with a command rating of 10 will pin all but the most robust non-X reserve fleets of 12-16 ship-equivalents.
The beauty of this is that as the phasing player, you select the order of battle hex resolution. With careful planning, you could select and tackle the X-force battle first, be in a position to fight the reserve fleet, then possibly abandon the blocking position. If retreat priorities permit, slide back into the key battle hex bringing a large force of X-ships back into the key fight.
In any case, you blocked enemy reinforcements from reaching the key battle hex.
(End of F&E Strategy of the Month)

Mini of the Month
Every month we will feature one or more of our miniatures that has been painted by a fan. If you paint miniatures, submit pictures of your minis and they may be selected for the next Mini of the Month!
New Releases
Communique #59 has been posted to the Commander's Circle
RECENTLY RELEASED IN PRINT
Star Fleet Battles Module Y3 Early Years III, SKU 5634, $27.95
Star Fleet Battles Module YG3 Annexes, SKU 5425, $7.50
Federation PD20 Modern, SKU 8722, $24.95
RECENTLY RELEASED ON e23
Federation Ship Card Pack
Frax Ship Card Pack #3
Gorn Ship Card Pack #1
Klingon Ship Card Pack #1
Kzinti Ship Card Pack #1
Omega Playtest Rulebook
FC Reference Rulebook
F&E Compendium
F&E 2010 Rulebook
NEW MINIS
FC: Border Box #10, SKU 4410, $99.95
Federation LTT, SKU 0238, $9.95
Federation Old CA, SKU 0239, $8.95
Tholian TK5, SKU 0717, $7.95
FORTHCOMING RELEASES-NOVEMBER 29
Captain's Log #42, SKU 5742, $19.95
Alien Armada, SKU 6103, $16.95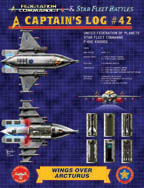 iogfb


Cafe Press
2011 Looks Like a Good Year for the SFU
And you can keep track of it with the new Star Fleet Universe calendar available via our store on Cafe Press. There's a different cover for each month with sources as varied as Star Fleet Battles, Federation Commander, and Captain's Log. Buy it for yourself or a friend (or yourself and a friend) You could mention it to someone who's stumped on what to get you! While you are there, check out the bumper stickers. Ease your anger at tailgaters by imagining giving the order "Fire photon, NOW!" (After all, you did warn them ...) You can now check out our products by selecting an image and seeing how it looks on t-shirts, hoodies, tote bags, mugs, and so much more. We'll be adding even more items soon and we want to hear from you! Please contact Joel Shutts (Graphics Director) with your request. Visit our Star Fleet Cafe Press Store for a complete listing of the products available (or click on the items below to go directly to them).
| | | |
| --- | --- | --- |
| | | |
PDF SALES: ADB, Inc. continues its relationship with Steve Jackson Games and their e23 Warehouse. We chose e23 because they have a philosophy that agrees with ours -- our customers are honest and honorable and wouldn't aid people who want to steal our products. Furthermore, we know from experience how devastating a computer crash can be and want our customers to know that they don't have to worry about the loss of their e-products bought through e23. What do we have there? We have created a new page that allows easy access to our PDFS for sale on e23. From here you can see what we currently have posted and have links to those products.
Star Fleet Fiction
FOR THE GOOD OF THE EMPIRE
Part Six of Ten
Dreadnought Admiral Kang, Flagship, Northern Fleet
Admiral's Office, 7 September, Y177

"And finally, I need the answer to the greatest mystery," Wallek said. "Why did the ESS let this happen? While their primary duty is to prevent treason, are they not also charged to report inefficiency? If Axe Wielder's gunnery was the worst in the Northern Fleet, and the captain did not fix this with extra training, why didn't the ESS point this out and demand his relief?"
"That is something of a ... complex issue," the Flag Lieutenant began. "The ESS detachment on board is also from Klegarine, and apparently has the same 'gentleman sailor' approach to things. The ESS commander on the frigate squadron leader pointed out this failure, as did other ESS commanders."
"And it was not corrected?" Wallek asked. "This makes no sense. Has the ESS been corrupted?"
"No," the Operations Commander responded, "but they were prevented from doing their duty. The performance of the ship was above minimum standards, but the ship simply took no shame in being the worst. Every decision of the captain was within the bounds of his discretion, but every one of them was the low-risk approach."
"There was nothing that ... forced me to relieve the captain," the Admiral said, "but in any other case I would have, as it was within my discretion to do so. But there was pressure from the Imperial Palace, and no doubt from the Klegarine government and the government of other planets paying for extra ships, to leave the ship alone. It was against my better judgement, but I kept the ship in secondary sectors expecting that, in a few months, new ships would be under construction and the political pressure to leave Axe Wielder alone would have been removed. But war is war, and the Kzintis attacked one of our mining colonies, and Axe Wielder was close enough to be called into the battle. After refusing one dangerous mission, the ship was caught in a crossfire and crippled."
"Is the ESS replacing their detachment?" Wallek asked.
"They cannot, for political reasons," the Personnel Officer said. "But they have taken the second best solution."
"Which is," Wallek asked.
"The detachment's junior officer and two mid-grade technicians were casualties," the Personnel Officer said. "The ESS has replaced them with new personnel, not from Klegarine. The new officer is senior to the detachment commander, and the two technicians have been replaced by master petty officers who are senior to any of the enlisted technicians. Indeed, one of the senior petty officers is from Walkuria. They will report on board the day that you do. They have their work to do, but it will get done."
"Does the crew know I am coming?"
"No," the Admiral said, "they do not."
"Good," Wallek said. "I don't need them preparing an ambush."
No one considered that he might be joking, and indeed, he was not.
(Continue reading here)


Ask Admiral Growler
FIGHTERS

Robert Eddy asks: If a SWAC or PF Scout goes wild, how do asteroids affect the signal?
ANSWER: Asteroids do not affect wild SWACs of PF Scouts.

Robert Eddy asks: A carrier can lend EW to all of its squadrons. Is each squadron's EW paid for separately or do you pay one cost for all squadrons? Example: A carrier pays four ECM and four ECCM to be lent to squadrons. Does the full amount affect all squadrons or only can be lent to one.
ANSWER: According to (J4.933), you generate and pay for electronic warfare points separately for each squadron.

Randy O. Green asks: Can chaff distract a QWT fired in a dogfight as it can a type-VI drone?
ANSWER: A QWT is not distracted by chaff (YFQ1.51).

Jeremy Gray asks: Can a Federation CVA operate A-20s in place of its A-10s?
ANSWER: Rule (J10.111) permits the replacement of standard fighters with heavy fighters if desired.
(Ask Growler Continues Here)
ASK AUNT JEAN
Q: Why aren't you working on GURPS Federation 24/7?

A: Gosh, in some ways I wish I could. I like doing what I am doing for ADB, Inc. However, I do have a real-life job as a librarian. In that job I've lost two staff members, one permanently. That means I am pulling longer hours trying not to be buried in the work of two full-time jobs. In addition, I'm not just the line editor for the RPGs. As I wear my "WebMom hat" I have to keep an eye on the BBS, slay the mighty spambot net (or at least remove the spoor they leave there), produce daily reports on the BBS for the Steves, and help with any issues that pop up on the BBS or the Forum. Wearing the second hat I was given, I proofread and help with the editing of Hailing Frequencies, Communique, Captain's Log, Star Fleet Alert, SFB modules, FC products (SVC is nearly trained now!) F&E rules (Oh! The Jargon!), FC Ship Card six packs, post most of the blog entries, and handle any other proofreading assignments. The third hat I wear is Facebook liaison and that takes some time as I pry artwork from SVC's computer and force Joel to go to the warehouse and give me more and More and MORE art. All of that sort of grew into the fourth hat that I wear -- marketing. I have to shake poor SVC until marketing information comes out and then I have to post it everywhere and tailor it for the various locations. The final hat I wear is that of a writer. I'm not as talented as SVC or our more prolific writers, thus it takes me a while to write up the data from The Olivette Roche Files or to create an article for the Input Guide. So you see, while I don't have as many hats as Bartholomew Cubbins, I do have a few. Until I retire from the real-life job, I cannot focus all the time I would like on the RPGs.
Send questions to Jean at design@StarFleetGames.com and SVC will decide which one Jean will answer next.
(End of Ask Aunt Jean )

F&E Q&A
ASK THE FEAR
ECONOMICS
Q: Is Diplomatic Trade (540.23) and the income from Allied Cooperation (540.22) affected by economic exhaustion?
A: Those two items are bonus revenue from other empires and under (447.12) are not reduced by exhaustion. Add these to the treasury separately from regular income. The following forms of income are affected by exhaustion and are used in borrowing-limit calculations: Original Major Planets, Captured/Devastated Major Planets, Captured Major Planet Diplomat Bonus, Original Minor Planets, Captured/Devastated Minor Planets, Captured Minor Planet Diplomat Bonus, On-Map Provinces, Captured/Disrupted Provinces, Off-Map Provinces, Colony Income, On-Map Survey Income, Captured Neutral Zone Hexes, Annexed Neutral Zone Hexes.
Q: In Captain's Log #38, you issued a ruling as follows:
(413.44) If a partial grid is divided into two partial grids by some event, divide the EPs in the partial grid in proportion to the number of bases and planets in each half.
Does this division of the money happen immediately? When it happens, do I count a node that was destroyed (which in one case is why the partial grid was suddenly divided) as getting a "share" and is that putative share lost?
A: This ruling confused even me, and I had to go back to G.O.D. He first of all apologized that the word "half" should be "portion" as the two portions might not be equal.
In answer to your first question, the existing money needs to be divided. In theory, it should be divided at the time that the link is cut, but if you have no reason to spend the money right away, you can wait until the next time you need to spend the money, or the next time you collect revenue. Obviously, each of the two now smaller partial grids has its own revenue sources and counts and keeps its own money as a separate account.
In answer to your second question, no money is lost. The money that was in the destroyed node was safely evacuated by dedicated staff officers and fearless civilian cargo skippers. Huzzah!
(End of F&E Q&A)


STAR FLEET ALERTS
These are the press releases we send to the wholesalers, retailers, and media. You can get on the mailing list for them by asking Marketing@StarFleetGames.com to add you to the list. (Obviously, they are free.) They are uploaded to the Star Fleet Alert page.
Alert 101026 Fight For A Cure (Adobe Reader Required)
Alert 101019 Video (Adobe Reader Required)
Alert 101007 Cafe Press (Adobe Reader Required)
Alert 100928 Mod Y3 Release (Adobe Reader Required)
Alert 100921 Module Y3 (Adobe Reader Required)
Alert 100914 CL#42 (Adobe Reader Required)
Alert 100906 Module Y3 (Adobe Reader Required)
Alert 100830 PD20M Feds (Adobe Reader Required)
Alert 100719 Fall Schedule(Adobe Reader Required)
Alert 100719 Minis (Adobe Reader Required)


NEW MINIATURES!
Maesron Cruiser
Under consideration for production next year