MikeBurke
Lieutenant SG



Joined: 14 Nov 2008
Posts: 129
Location: Frederickburg Virginia
Posted: Fri Sep 11, 2009 12:50 pm

Post subject:

---

I would like to see a scenario where the Galactic powers arrive in the Magellanic Cloud to fight the Andros and what help the Galactic powers get from the LMC races.
_________________
"This Ship Was Built To Fight- You Had Better Know How" - Adm. Arleigh Burke - USN

Mike Burke
SFB since '84
pinecone
Fleet Captain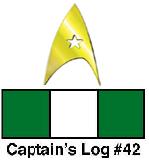 Joined: 03 May 2008
Posts: 1865
Location: Earth
Posted: Sat Sep 12, 2009 2:24 am

Post subject:

---

MikeBurke wrote:
I would like to see a scenario where the Galactic powers arrive in the Magellanic Cloud to fight the Andros and what help the Galactic powers get from the LMC races.



I think You're talkin' SFB pal, not FC.

That said, this coming saturday, 7:00 PM Eastern, 6:00 PM central, 5:00 PM Western. We'll divide into teams with a set value. hope to see you there!
_________________
Doomed to live in secret since discovering that the Air Force Tapes were a fantasy...

"Your knowledge of my existence must be punished"