pinecone
Fleet Captain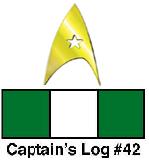 Joined: 03 May 2008
Posts: 1865
Location: Earth
Posted: Mon Aug 23, 2010 1:49 pm

Post subject:

---

Actually, I thought that the joke was pretty funny (much better than terry's Probr Bordr ).

Well, I'm currently in a game, but I'd be happy to join another afterwards.
_________________
Doomed to live in secret since discovering that the Air Force Tapes were a fantasy...

"Your knowledge of my existence must be punished"
Scoutdad
Commodore




Joined: 09 Oct 2006
Posts: 4478
Location: Middle Tennessee
Posted: Mon Aug 23, 2010 9:04 pm

Post subject:

---

mojo and Terry...

email me in the addy in my profile and let's start getting this game organized.
The first SitRep for FC0003 went out this afternoon.
The map is done...
The SitRep file is set up...
The ship cards are set-up...

I think it's close to time to think about the next game.

alex and Eric... y'all are now in the Bullpen, so start warming up.
_________________


Scoutdad's minis photos here!