pinecone
Fleet Captain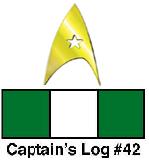 Joined: 03 May 2008
Posts: 1865
Location: Earth
Posted: Fri Jun 20, 2008 9:48 pm

Post subject:

---

Scoutdad wrote:

pinecone wrote:
Perhaps the Blue deflector dish means X-APT's?


Actually - that's not a bad idea. I'll pick up another APT of two while in Columbus and paint them with a copper dish (APT's), then these two will magically upgrade to APX's.

Thanks, pinecone



NP
_________________
Doomed to live in secret since discovering that the Air Force Tapes were a fantasy...

"Your knowledge of my existence must be punished"
Scoutdad
Commodore




Joined: 09 Oct 2006
Posts: 4478
Location: Middle Tennessee
Posted: Fri Jun 20, 2008 10:01 pm

Post subject:

---

djdood wrote:
Heh.

I was digging through my old "homebrew decals" thread and found THIS image I had posted. This was an early stage of the decal's development. The final sheet ended up more tightly packed and had lots and lots of

Good-Stuff

™ added from Tony's suggestions.



That's a blast from the past.
I'm working on one now with a few WYN insignia on it (along with a custom decal set for the ACX named after my wife) and some additional custom Romulan stuff.

Also working on a sheet to print on white decal paper with Hydran fleet stripes, Hydran insignia, and Gorn insignia.
_________________


Scoutdad's minis photos here!