markgeorgetwo
Lieutenant Commander



Joined: 21 Nov 2006
Posts: 348
Location: london england
Posted: Sun Jun 14, 2009 10:10 pm

Post subject: apology

---

Iam sorry for any trouble that have caused and iam very sad .and this is to svc mike and mj west from now on i will follow the rules and spirit of this forum you have my word.

Has i love this forum and i love the game
pinecone
Fleet Captain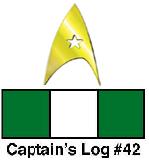 Joined: 03 May 2008
Posts: 1865
Location: Earth
Posted: Mon Jun 15, 2009 1:06 am

Post subject:

---

I didn't actually think of you when I wrote that, and all of us in fact are guilty of it at one time or another. Speaking from expireience, if you let these things make you feel guilty, It'll ruin your day. You'll get over it, but don't feel too bad about it now either. Why get depressed over a simple misunderstanding?

I know it's hard, and have been a hypocrite in that regard sometimes...
_________________
Doomed to live in secret since discovering that the Air Force Tapes were a fantasy...

"Your knowledge of my existence must be punished"