USS Enterprise
Lieutenant Commander


Joined: 27 Feb 2009
Posts: 376
Location: Vulcan
Posted: Fri Jul 17, 2009 11:24 pm

Post subject: Carronades and Cloaks?

---

The rules say the Carronade is unaffected by the +4 range penalty of cloaked vessels. What about the 50% off damage rule? Is it still effective?
_________________
"The good of the many outweighs the good of the few"

"Since my customary greeting would seem entirely self serving, I will simply say good luck."

"Live long and Prosper."
pinecone
Fleet Captain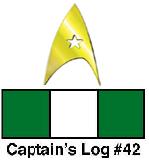 Joined: 03 May 2008
Posts: 1865
Location: Earth
Posted: Sat Jul 18, 2009 1:28 am

Post subject:

---

unfortunatly, yes.
_________________
Doomed to live in secret since discovering that the Air Force Tapes were a fantasy...

"Your knowledge of my existence must be punished"