pinecone
Fleet Captain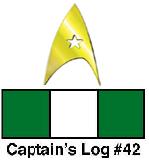 Joined: 03 May 2008
Posts: 1865
Location: Earth
Posted: Tue Aug 11, 2009 2:43 am

Post subject: Fed BC and Klink C7 for SFBF?

---

Is there any way to still get these? I checked ebay and came up empty handed, and if not could ADB scan and post them on the site?

Also, and this is a question I've had for a long time, Is KB supposed to come with a photon card for SFBF? Regardless, That card that happened to be in my KB set got me to buy a set of SFBF, so it was a good deal for ABD .
_________________
Doomed to live in secret since discovering that the Air Force Tapes were a fantasy...

"Your knowledge of my existence must be punished"