Brigman
Lieutenant JG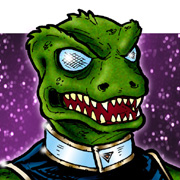 Joined: 15 Aug 2009
Posts: 90
Location: San Francisco, CA
Posted: Fri Feb 05, 2010 7:45 am

Post subject:

---

Thanks!

Yeah, I used a diluted paint wash, then did some highlights in diluted white paint to make the center columns pop. The details were done in space-wolves grey and boltgun metal.

The little guys are Elite DDs, I think, and I use 'em for POLs, typically...