SFU_FEAR
Lieutenant SG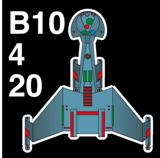 Joined: 28 Jun 2010
Posts: 137

Posted: Fri Mar 18, 2011 2:50 pm

Post subject: F&E at Origins 2011

---

For those of you that frequent this board only, the Discus BBS has information on Federation and Empire games being played at Origins this summer.

If you like Federation and Empire and want to play with some really great folks, this is the place for you. Yes, there is competition, but there is also some great camaraderie! I have made some life-long friends here.

There is not only gaming, but the lunches at the North Market are a great place to talk about F&E while enjoying food from anywhere in the world.

Please come take a look at what we are doing for Origins 2011 here:.
http://www.starfleetgames.com/discus/messages/37/25643.html?1300382793
_________________
Mike Curtis, FEAR, Copyright 2014 ADB, Inc.