Mike
Captain



Joined: 07 May 2007
Posts: 1565
Location: South Carolina
Posted: Wed Nov 28, 2007 11:49 pm

Post subject: ST Hallmark ship ornament

---

I just saw the new Hallmark Star Trek ship ornament last night. In case you haven't seen it, it's the Next Generation Enterprise with the 3rd nacelle that Riker commanded in the final episode. That's the one with the awesome phaser-cannon type of weapon under the primary hull.
OGOPTIMUS
Captain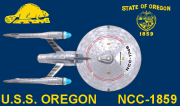 Joined: 10 Nov 2006
Posts: 981

Posted: Thu Nov 29, 2007 12:41 am

Post subject:

---

Yeah. It's ok. I've got it . Hallmark looks like they're running out of ideas. I think more parts should light up, but it's cool.

The quality is ok, but definitely not what it was when they made the original USS Enterprise in 1991.
_________________
O.G. OPTIMUS


NEW Page | OLD Page