| | |
| --- | --- |
| | STAR FLEET BATTLES |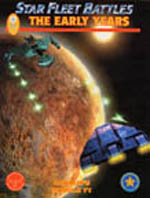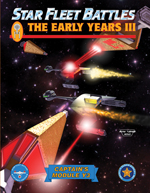 THE WARS THAT SHAPED A GALAXY!

Before there was a Star Fleet, there was still war! Module Y1 includes 95 SSDs, 216 counters, and two new empires (the Paravians and Carnivons). Warp conversions of sublight ships, Early Warp ships, & Federation National Fleets.
(Click here for more info)

BEFORE THE WARS, there were other wars, and rumors of wars! Module Y2 includes 119 SSDs, 216 counters, five new planetary fleets (the pre-ISC ships with the plasma blaster, plasma cannon, plasma vortex, plasma missile, and plasma-V torpedo), and more ships for all of the empires active in the Early Years.
Module Y3 comprises a 100-page SSD book. including early battleships for the Federation, Kzintis, and Gorns
warp-refitted command cruisers for the rest of the Federation member states before the unified star fleet was formed,and warp-driven dreadnoughts for the five member species of the Inter-Stellar Concordium before they coallesed into one nation. The 64-page rulebook includes five scenarios as well as the ship descriptions and annexes.

The Early Years may eventually come to the Federation Commander system as well. Prototype rules and cards for this were in Captain's Log #39.



See Metal Express for early ISC ships
Early Years Master Ship Chart
Emblems of the Pre-ISC Factions (Adobe Acrobat Required)
| | |
| --- | --- |
| Copyright © 1991-2023 Amarillo Design Bureau, All Rights Reserved | Updated 03 December 2008 |