Star Fleet Universe News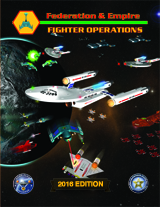 FIGHTER OPS
We will ship the hard-copy edition of Federation & Empire: Fighter Operations 2016 to the wholesalers on Monday 14 March and ship it to mail orders on Monday 21 March. This marks not just the release of a major hard-copy product, but the goal of a major project to upgrade the entire F&E game system. (All of the modules are being upgraded to new editions, which include all published rules updates, corrections, and even the answers to every question we have been asked.)
This upgraded edition of Fighter Operations includes more counters, among which is an upgraded Sheet I+J with 280 counters instead of 216. This includes the previously unavailable ships from the Four Powers War which were handled by arcane rules in earlier editions.
This product was uploaded as a PDF last year, and dozens of players contributed their comments, questions, and observations. All of their efforts have been used in making the hard-copy edition the best F&E product ever.


MINOR EMPIRES
Before the end of March, we will upload the PDF version of Federation & Empire: Minor Empires to DriveThrough RPG and Wargame Vault. This will begin a month-long period of review and comment by dozens of players. All of their comments, questions, corrections, and even some of their suggestions will be used to make this a better product before the hard-copy edition is released in a few weeks or months.
This product brings three minor (but hardly unimportant) nations into the General War: the Vudar (who have taken over some Klingon and Hydran territory but no one is sure just how independent they really are), the LDR (a renegade Lyran province with Gatling-armed ships), and the Seltorians (an extra-galactic expedition that has trailed the Tholians to our galaxy and now seeks to destroy them).
WEBSITE:
Our website, www.StarFleetGames.com, continues to grow and improve. You are welcome to send us your requests, comments, and suggestions. Simone Pike, our graphics director, continues to update the website, do covers for the new products, shut down pirate websites, help out around the company, and learn more about the game business.

FACEBOOK:
Jean continues to improve our page on Facebook, adding many new photos and other features.
If you haven't seen the 1,000+ pieces of art in the albums, you should drop by and visit. You don't have to be a member of Facebook to see our page, but if you are, please become our friend so you can get information in your newsfeed.
If you've already liked us on Facebook, but are not seeing our posts, then remember to check your new "Pages Feed" on the left menu. You can also go to our page and hover over the "Liked" button. Be sure that "Get Notifications" is checked.
TWITTER:
ADB has recently started a Twitter feed. We are ADBInc_Amarillo. You'll find news as well as links to pictures. Check us out and retweet news of interest to your own followers. We're excited and our first goal is to get 100 followers. Help us reach that, please.


VIDEOS:
StarFleetGames has taken its act to YouTube and we now have a YouTube channel. Our goal is to create a video for the new product releases during each month. We have "In the Box" videos to show you what you will see when you unpack your new game. We have also done "Spotlights" on a single product or product line. So pull up a chair and join us at the movies! Our newest uploads are:
Star Fleet Marines Part 1
Star Fleet Marines Part 2
ADB Late May 2011
Starline 2500 Miniatures Review
Star Fleet Battle Force in the box
DOING VIDEOS OF THE SFU
A customer asked about posting "tutorial videos" for our games. We like it when people do that (and even give commendation medals) but you need to have us check the videos to make sure you aren't violating something somehow (or that you didn't make a rules error). Doing such videos to make money is not cool. Please drop us an email before you post the videos.
STARBLOG:
Our StarBlog has moved to a new URL and all links on StarFleetGames.com websites have been changed to match. The new site is http://federationcommander.blogspot.com
The blog covers all aspects of the company.
STAR FLEET'S LEGIONS EXPAND:

Star Fleet Legions isn't a new game; it is all of you who play any of our Star Fleet Universe games.
For a game universe that is 36 years old, it seems odd (but very gratifying) that the number of active players is growing, not diminishing. We can tell this by the number of people on the fan pages, the number of Rangers and battle groups, the number of new Starlist entries, and of course by the sales numbers.
Starlist is growing by an average of 10 new entries and five updates per month. There are 1,240 active names on the list (plus overseas, Canada, and those who last contacted us in 1991-2004). Not on Starlist? Fill out your application here:http://www.starfleetgames.com/starlist.shtml.
Battle groups have been forming up left and right. We started with one in Tennessee. Now there are battle groups in California, Colorado, Florida, Indiana, New York, Ohio, Texas, and Washington. We've gone international with groups in Canada and England. Battle groups are doing demos, tournaments, and game days in stores and conventions. Do you have a group you game with? Join us here: http://www.starfleetgames.com/battlegroup/index.shtml
How have these battle groups been forming? Usually through the hard work of a Ranger. Rangers run demos, start game days, contact conventions, reach out to stores, and promote Star Fleet Universe games. Do you want to be a Ranger? Start here: http://www.starfleetgames.com/rangers/index.shtml
Each month we shine a spotlight on one of our battle groups. This month it is Battle Group Broomfield Tactical Center. They are home ported in Broomfield, Colorado. Troy Latta, their commanding officer, reports they are active, currently playing a three-way campaign with two teams running Paravian and one team running Hydran. Catch up with them on their [battle group page] (link to
http://www.starfleetgames.com/battlegroup/battlegroup_BTC.shtml )
Facebook Fan Pages

If you are on Facebook, you have no doubt heard of ADB's page on Facebook. Did you know there are fan pages galore? Fan pages are groups that are started and administered by fans. They are independent of ADB, so we may not know about all of them. These are ones we know about that support the Star Fleet Universe:
So join us on Facebook and get a fix of your favorite game there, too!


RANGERS:
The Rangers are up, fully operational, and doing demos! There are currently 50 Rangers listed in our database with 30 of them having advanced past Ranger Recruit, meaning they've held at least one demo.
Star Fleet Rangers are our front-line recruiters in introducing new people to our games. They are hard working, tireless promoters of the SFU. They go to conventions, stores, game clubs, and other public venues to
show our games and to teach potential players some basics.
Why should you be a Ranger? Well, one of the reasons is purely selfish -- you teach people to play your favorite games and "grow your own" opponents. With enough interested people you can form a battle group and even get in on playtesting if you want. You get your name in Captain's Log and awards on your plaque on the Wall of Honor. You even get Star Fleet Bucks which will help you with purchases from our storefront. Still, being able to play games face-to-face has to be one of the best reasons to do it.
So visit our Ranger page here: http://www.starfleetgames.com/rangers/index.shtml

Register and join the the Star Fleet Rangers!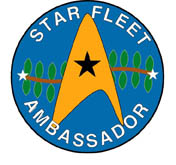 AMBASSADORS:
Jean Sexton has succeeded in recruiting two ambassadors (Michael C. Baker and A. David Merritt) to carry the word of the Star Fleet Universe to other websites. They (and Jean) were awarded the first ever "Star Fleet Ambassador Badges" as well as appropriate medals for their service to date. These ambassadors do not just repeat press releases; they answer questions, encourage discussion, and help people find the relevant documents on our website. Contact Jean Sexton if you want to volunteer for ambassador duty.
Forum
BBS

JAGDPANTHER
Take a journey with us to an ancient age, just one step up from carving game rules on clay tablets. The year 1973 was at the very dawn of the independent wargame publishing companies. Typesetting was done with a manual typewriter, print-on-demand meant the photocopier at the library, counters were printed on paper (and drawn by hand), page layout was done with scissors and cellophane tape, and two guys in a garage could turn out a wargame magazine that won two Origins Awards. The point was creativity, new ideas, and imagination. Production values would have to come later.
That magazine was JagdPanther (Hunting Panther), created and run by the same Stephen V. Cole who later co-founded Task Force Games and then went on to found Amarillo Design Bureau. We found the ancient archives of this game company (which ran from 1973-1976, producing 15 magazines, about 50 games, hundreds of variants, and dozens of game reviews) and have placed them on Warehouse 23 so they are available to collectors. (Old issues have been selling on Ebay for over $100 each.) Issue #1, Issue #2, Issue #3, Issue #4, Issue #5, Issue #6, Issue #7, Issue #8, Issue #9, Issue #10, Issue #11, Issue #12, Issue #13, Issue #14 and Issue # 15 are uploaded.
Custom Decals for Starline ships
Tenneshington Decals continues to provide custom decals for all currently produced Federation Starline 2500 miniatures.
In addition to the legacy fleet and squadron box sets, decals for each of the ships are available as individual sheets, along with special sheets to detail any ship with additional window blocks, sensors, hatches, and even phaser scars.
As with all of their products, the names on the ships are up to the customer and all sheets are custom-printed to order.
*** Newly announced in November, decals sheets for Starline 2400 Federation miniatures are well into design, with decals for other empires in both Starline 2400 and Starline 2500 lines in development. ***
For more information or to download the order sheet, check them out at www.tenneshington.com. Or if you prefer, email Will McCammon at: will@tenneshington.com or Tony L. Thomas at: scoutdad@tenneshington.com.
Jupiter IV Decals is a source of decals for the 2400 line and will do custom decals as well as all official SFB names. In the near future Jupiter IV will move into the 2500 line and will work to get every listed name on the Starfleet registry completed in both scales.
The 2015 Platinum Hat Tournament is well underway. The second round has only one game left to play while the third round has half of the four games finished. Our thanks to Fleet Captain Peter Bakija for keeping this tournament moving along.
Rated Ace Tournament 46 is in the sign-up stage. You can sign up here:
http://www.sfbonline.com/tourn_signup.jsp
(Remember you must have a subscription to SFBOL to participate.) Andy Vancil is the judge for this tournament.
On February 14, 2016, Star Fleet Battles was played at RADCON7 in Pasco, Washington at the Pasco Red Lion. Ranger Harlan Haskell reports that everything went well.

On March 5, 2016, Star Fleet Battles will be played at Gnomecon at Coastal Georgia Center in Savannah, Georgia. Refiner's Fire is the scenario and the Ranger in charge will be Michael Baker.

On April 1-3, 2016,
Star Fleet Battle Force
will be played multiple times at WhosYerCon 2016
at the Wyndham Indianapolis West Hotel in Indianapolis, Indiana. Anthony Harding is in charge. WhosYerCon has a website here: http://www.whosyergamers.org/
Star Fleet Battles
will be played at least once at Recon in Orlando, Florida on April 29, 2015. The ranger in charge will be Scott Bauman. For more about this con see:
http://www.hmgs-south.com/
Amarillo Design Bureau will be attending AMA-Con in Amarillo, Texas during July 23-24, 2016. Not only will we have a booth, but we will be running demos of
Star Fleet Battle Force
and
Federation Commander
. We are actively seeking people who want to help demo games there. Steve Cole will also be there and hosting "Meet with a Game Publisher" where you and he can discuss games, including those you might have in mind to produce yourself. ADB will also be giving away a challenged starship to anyone cosplaying in the Star Trek/Star Fleet Universe who stops by our booth and gets a photo taken with us. We are very excited about this! Help us spread the word! For more information on AMA-Con see:
https://www.facebook.com/AmaCon2012/
or
http://ama-con.amarillolibrary.org/
Star Fleet Battles games are held weekly in Tempe Arizona each Friday at Game Depot from 2:00 -7:00 pm. Eric Phillips is the person to contact.
Star Fleet Battles games are played regularly in Columbus, Ohio, on Sunday afternoons at the Soldiery. Lee Hanna is the contact person. This month's game will be on the 12th of March.

Games are held in Spokane, Washington on an irregular basis. Contact them to see if there's a game scheduled. They meet at The Gamer's Haven, 2114 N. Pines St., Suites 1 & 2, Spokane Valley, WA 99206, (509) 443-5992
http://www.thegamershaven.net/gamers_haven.php
HAILING FREQUENCIES: This is our newsletter and will let you know all the news for all our games. You can subscribe here. Have you missed an earlier newsletter? Click here to get caught up!
COMMUNIQUE: The latest Communique brings you more Ship Cards, scenarios, and more news from the Star Fleet Universe! It can be downloaded from the Commander's Circle.

COMMANDER'S CIRCLE: We continue to improve the Commander's Circle. All of the ships and scenarios are available as separate documents (the ships are organized by empire) so you can quickly see what is available. The FC Scenario Database and Master Ship Chart documents are also here. Our newest project was suggested by our players and is uploading low-toner Ship Cards. The Commander's Circle is the best place to find free additions to Federation Commander!



The Federation Commander site and Forum continue to grow as more gamers continue to find them. All of our games currently have topics in the Forum. If you have any comments, questions, or requests for our Graphics Director, this is the place to let her know. Come see what the commotion is about and join the Federation Commander Forum now.
We are very pleased to see the medals, honor bars, and ribbons awarded to players being incorporated into their signatures. It is exciting to see lots of interesting conversations about a wide variety of subjects. Get in on the activity!
While for new players the Federation Commander Forum is a little easier to manage, the original (Discus-based) BBS is where most product development takes place. If you have a proposal you'd like to see worked on, don't forget to make sure it is mentioned here. It also has active F&E and SFB forums where players run campaigns, Rated Ace tournaments and other SFB tournaments are organized (most FC tournaments are organized on the Forum), SVC's "My Day" appears, along with current news and strategies dealing with Prime Directive, and each issue of Captain's Log is created. While less colorful (no avatars or sigs), it is a vital part of ADB, Inc.'s communications.

F&E Strategy of the Month
STUPID GIA OPERATIVES . . .
- Captain Scott Tenhoff, USS California

With diplomatic income (Planetary Operations) before the Federation enters the war, they can craftily (if they wish to expend their money and help their tiny neighbors . . .) subsidize the neutral planets in between them and the Klingons.
By (503.631) they can give planetary defense units to neutral planets. These can be delivered during the non-war turns of #1 through #6 to the two planets. So, if the Federation builds one planetary defense unit per turn, they could provide an extra two PDUs to each of these planets, and then provide an extra two PDUs to either of the planets along the Romulan border.
The Federation could then provide additional planetary defense units along the Romulan border if they have some extra cash to beef up those defenses during Turns #7 through #10.
It's like the GIA just slipped in some weapons and fighters to defend the Federation.

(End of F&E Strategy of the Month
)

DRAG THEM TO THEIR DOOM



Are you tired of the enemy avoiding your heavy weapons arc, especially when you are flying a Gorn dreadnought, Romulan Condor, or Kzinti heavy battlecruiser or dreadnought? Make sure the enemy ship just happens to come into your firing arc instead of floundering around trying to get a more agile enemy into your sights. How can you accomplish this?
Have another ship tractor your target and drag it into your heavy weapons firing arc! This, however, takes some advanced planning and positioning. You have to think a turn ahead to put the ship you need where you're going to need it, without the enemy realizing what you're doing.
Ideally you want a ship that is significantly larger than the ship to be dragged (e.g., a Federation heavy cruiser versus Klingon D7 or D5). During the dragging ship's activation, which should be after the target ship has moved, have it use the Engage Tractor Beam! special action. Next, end your ship's movement within two inches of the ship to be tractored.
The following turn, the tractored ship may roll to break the tractor when it is activated. It does this by making an opposed Crew Quality Check against the ship tractoring it. [See the rules for this procedure]. If the tractored ship fails to break free, it is meat on the table. Drag it in front of the ship that intends to fire at it or drag it to a point that the designated killer ship can get it into arc. Remember that you can only move if you have more starting damage points than
the enemy ship, and you can only move up to six inches.
As a final warning, be careful to not blow up the ship that was dragged, as the explosion can damage friendly ships - including the ship doing the tractoring. Also try to arrange your positioning so that the tractored ship cannot fire its heavy weapons at the ship that is tractoring it.

(End of A Call to Arms: Star Fleet Tactic of the Month
)
Mini of the Month
Every month we will feature one or more of our miniatures that has been painted by a fan. If you paint miniatures, submit pictures of your minis and they may be selected for the next Mini of the Month!
Jim Lewis writes: USS Victory is a Franz Joseph-style escort frigate for my command cruiser USS Balson. Super-easy mini to model, with a trimmed down dorsal neck housing engineering space and a phaser-1 mount for the rear arc. Photo by Jim Lewis.


Help us pick the mini of the month on our page on Facebook. The mini with the most likes and shares will become the mini of the month. Vote for the ones you like!
New Releases
Communique #123 has been posted to the Commander's Circle
Click here to see our previous issues of Hailing Frequencies.
To be released in 2016
F&E Minor Empires, SKU 3214, price $TBA
A new Starmada book for both editions.
F&E Fighter Operations update 2016, SKU 3203
Federation Commander Reference Starship Book
Traveller Prime Directive Core Rulebook
New starships for the 2500 (1/3125) range including Klingon B10
New starships for the 2400 (1/3788) range including heavy war destroyers and the jumbo freighter.

PDF and EBOOK SALES:
ADB, Inc. continues its relationship with Steve Jackson Games and their Warehouse 23. We chose Warehouse 23 because they have a philosophy that agrees with ours -- our customers are honest and honorable and wouldn't aid people who want to steal our products. Furthermore, we know from experience how devastating a computer crash can be and want our customers to know that they don't have to worry about the loss of their e-products bought through Warehouse 23. What do we have there? We have created a new page that allows easy access to our PDFs for sale on Warehouse 23. From here you can see what we currently have posted and have links to those products.
RECENTLY RELEASED ON Warehouse 23
Captain's Log #41
Captain's Log #41 Color SSDs
For the Glory of the Empire
SFB: Module R11 Rulebook
SFB: Module C1 - New Worlds I (2015) Rulebook
SFB: Module C1 - New Worlds I (2015) SSD Book (B/W)
SFB: Module C1 - New Worlds I (2015) SSD Book (Color)
SFB: Module Y2 Rulebook
SFB Commander's Edition, Supplement #3
SFB: Module C6 Rulebook
SFB: Module C6 SSD Book (B/W)
SFB: Module C6 SSD Book (COLOR)
Federation Commander Scenario Log
Federation & Empire: Fighter Operations 2015 Rulebook
Battlewagon Article #6: Battlewagon Scenario
SFB Commander's Edition, Supplement #1
Star Fleet Battles Advanced Missions Rulebook
About Federation & Empire



RECENTLY RELEASED ON DRIVETHRU RPG and WARGAME VAULT
Federation Commander: ISC Ship Card Pack #1 (DriveThru RPG or Wargame Vault)
Star Fleet Times #41-#45 (DriveThru RPG or Wargame Vault)
Captain's Log #41 (DriveThru RPG or Wargame Vault)
Captain's Log #41 Color SSDs (DriveThru RPG or Wargame Vault)
For the Glory of the Empire (DriveThru RPG or Wargame Vault)
SFB: Module R11 Rulebook (DriveThru RPG or Wargame Vault)
Star Fleet Times #36-#40 (DriveThru RPG or Wargame Vault)
Captain's Log #18 (DriveThru RPG or Wargame Vault)
Federation Commander: Romulan Ship Card Pack #2 Available (DriveThru RPG or Wargame Vault)
Federation Commander: Lyran Ship Card Pack #1 Available (DriveThru RPG or Wargame Vault)
SFB: Module C1 - New Worlds I (2015) Rulebook (DriveThru RPG or Wargame Vault)
SFB: Module C1 - New Worlds I (2015) SSD Book (B/W) (DriveThru RPG or Wargame Vault)
SFB: Module C1 - New Worlds I (2015) SSD Book (Color) (DriveThru RPG or Wargame Vault)
Star Fleet Times #31-#35 (DriveThru RPG or Wargame Vault)
Captain's Log #17 (DriveThru RPG or Wargame Vault)
SFB: Module Y2 Rulebook (DriveThru RPG or Wargame Vault)
SFB: Module P6 - The Galactic Smorgasbord (DriveThru RPG or Wargame Vault)
SFB: Campaign Designer's Handbook (DriveThru RPG or Wargame Vault)
Star Fleet Times #26-#30 (DriveThru RPG or Wargame Vault)
Captain's Log #16 (DriveThru RPG or Wargame Vault)





RECENTLY RELEASED ON AMAZON - KINDLE

For the Glory of the Empire




Star Fleet Fiction
Wings over Arcturia
by John Sickels
PART 1 OF 1

Bridge, Federation Large Auxiliary Carrier Galeron
in Orbit over Arcturia, August 18, Y180

"Does the space station confirm the Rochefort's readings?"
"Affirmative, Admiral," replied the sensor officer. "Seven contacts, bearing 272 degrees mark nine, distance 700,000 kilometers, closing at warp seven. Cancel that, Sir, they are reducing to tactical velocities, warp four and dropping."
Guard Admiral Teraana Aphena's heart quickened. Could it be happening again? And will we be prepared this time?
"Tactical display on main viewer," she commanded firmly in the main Arcturian tongue. During the years of Klingon occupation, the Arcturian government-in-exile had built up the National Guard fleet using auxiliary ships built on freighter hulls, recruiting whatever Arcturians had been off planet at the time. The Galeron was the flagship, an auxiliary carrier with six F-101C heavy fighters and a dozen F-18Bs. Since the ship was crewed entirely by Arcturians, it wasn't necessary for her to give orders in the Federation Standard Language most of her species found difficult to master. On the tactical display, she saw the ship icons for the rest of her squadron: the large auxiliary cruiser Keob, the small auxiliary cruisers Morkaln, Then'kkah, and Tecpec, and the large auxiliary scout Joseph Rochefort. All of these ships except the Rochefort were named for important cities on Arcturia. The Rochefort was a Star Fleet ship on loan to the Arcturian Guard, and the only ship not crewed by her species.
Also under her command were a dozen FB-111 bombers and a dozen F-16 fighters based on the homeworld. The bombers were an impressive asset, but the fighters were manned by green pilots who'd only just begun their flight training. At least the F-16s were the powerful Gatling versions; being a member planet had its perks. A new battle station orbited Arcturia, but the station was only partially operational and wouldn't be complete for at least another month. The special sensors were working, but the station had only half of the powerful phaser-4 weapons on-line. One of the slow monitors was due to arrive in a few days, along with a shipment of defense satellites and mines, but that did Admiral Aphena no good today.
Two powerful Star Fleet squadrons centered on the dread-nought Star League and the carrier Yamamoto were supposed to be screening the system from Klingon attacks or another invasion, but something had obviously gone wrong. Arcturia had been retaken from the Klingons so recently that the system defenses were not yet up to par. The Klingons themselves had to know this. Could this be an attempt to retake the planet, or was it just a raid to keep things off balance?
"Admiral, we now have tactical identification of enemy forces. We are reading three standard cruiser hulls, one war cruiser, and three frigates or war destroyers. . .Sir, we are now reading smaller units detaching from one of the cruisersŠnow picking up six gunboats in addition to the ships."
"Any fighters?"
"Not yet, Sir."
"Get that information dispatched to the Star League and Yamamoto immediately! And get me a position report on where, exactly, their task forces are!" Damn Star Fleet to the Outer Darkness, she thought inside.
"Aye, Admiral."
There was no telling, yet, what the Klingons were going to do. It was interesting that they were committing some of their new gunboats to the attack, although it could still mean anything. She considered her options and decided on a plan.
"Order the Rochefort to switch from long-range scanning to tactical operations. Tell Commander Zheng that he will be called on to provide ECM support once we determine what the primary enemy target is. Launch all of our fighters, have them form up in standard deployment pattern at Buoy Nine and await further instructions. Order the bomber and fighter squadrons from Arcturia into space. Have the bombers form up with our fighters, but order the F-16s to hold back near the space station. They are on anti-drone duty for now, to protect the planet until further notice. All ships except the Rochefort will form up at Buoy Ten. They should hang back by the space station."
"Aye, aye, Sir."
Matthew Potter asks: Rule (P2.61) suggests that a large planet (greater than radius-1) generally has more than one hex-facing per hex the planet's surface occupies. [The radius-2 world pictured in (P2.611) has three hex-facings per surface-hex.] Are ground bases placed on a hex-facing or just in the hex? Referring to the illustration in (P2.611) as an example, would a ground base at 0622 always be at 0622/0522L (just "in the hex")? Or could there be a base at 0622/0523L, one at 0622/0522L, and one at 0622/0621L (one at each hex-facing of 0622)?
ANSWER: William Wilson replies: Nothing limits ground bases to one per hex or one per hexside, so you could build three bases in one hexside if you wanted, regardless of where they are facing. Of course, you have to pay for them and fit them into your command limits, so as a practical matter you cannot just completely cover a planet with bases.
According to (P2.61), all units in a planetary surface hex (whether landed or in an atmosphere) must be designated as to the "hexside" that they occupy. This is clarified, but not really modified, in the case of a larger planet by (P2.613). So yes, a ground base on a large planet would "face" a particular hexside. Rule (P2.62) specifies the firing arcs of a unit on a large planet, and the locations from which they can be fired at. Under (P2.62), these are the same regardless of the hexside: "In the case of a larger planet, the same 180° rule applies. A base in 1225 (either side) would have the firing arc designated by A."
A while back I asked if a unit on a planet can be hit by seeking weapons entering from hexes which are in their firing arc but not in the specific hex they are facing, and the answer was yes. Similarly, seeking weapons could be launched into any adjacent non-blocked hex, and did not have to go straight up. So the only real distinction is that bases that are not in the same hexside would not be able to link in a power grid (R1.28P). So, if you get to lay the bases out yourself, put them all in the same hexside, I do not see a hexside downside.
Follow-up Question: Would each of those three hex-facings be a different ground combat location (GCL)?
ANSWER: William Wilson replies: The number of GCLs on a hexside is not fixed; there may be any number. Rule (P2.751) specifies that each base is its own GCL. Of course, special scenario rules could state that more than one base in a given hexside could be at the same GCL.

Francois Lemay asks: A Klingon battle station in hex 2215 has a G2 docked to its #2 shield facing for repairs. The battle station is under attack by the Kzintis. The Kzinti force is in hex 0130, which does not appear to have a line of sight to the G2. Can the Kzintis launch drones at the G2 even though they cannot fire at it due to the battle station hull protecting the G2? Is lock-on achieved?
ANSWER: By (C13.723), the G2 can be targeted by seeking weapons, which implies the Kzinti force does have a lock-on to it. (If you wish, you can assume that the base is tilted slightly and the Kzinti can see it or that the scanners are targeting the G2's energy field.) However, as the G2 is a smaller unit docked to a larger unit, any seeking weapons launched at it would target the larger unit instead under (F2.335).
(
End of Admiral Vanaxilth
)

THOSE POOR CONQUERED THOLIANS

Q: If the Tholians lose their Dyson Sphere (511.2), can they build a new capital/shipyard somewhere else?
A: It will have to be at a starbase within the original Tholian space per (511.31).

Q: If the Coalition sends a truly massive force and destroys all Tholian supply points in a single turn, while also capturing the Tholian capital (511.2), are the Tholians toast? Under the literal wording of (511.31) the Tholians may not designate a new capital at all, because of the "must be in original home territory" provision cannot be satisfied.
A: If every hex of Tholian space is occupied, the Tholians are conquered. By rule, they cannot create a new capital until some of their space is liberated. Any ships left would have to be adopted by allies as homeless ships or be out of supply permanently. In either case, with or without help from allies, they could try to recapture some part of their space and build a new capital there. This applies to any empire, but the Tholians are uniquely vulnerable to it because they have a very small empire with no off-map area where they can hide.

Q: If the Tholian capital is attacked on Turn #10, before they are at war, is there any way to build/create things like prime teams, APT/PTRs, POLs, or other non-standard type units during the enemy's turn using deficit spending and/or salvage?
A: As they are not at war until they are attacked and have no source of diplomatic income, there isn't much they can do other than place their PWC as best they can and survive the onslaught, if they can. It takes time to gear up for war, and if you can destroy them in one turn, you can prevent them from gearing up. This is true of any empire but only the Tholians are small enough for a one-turn blitzkrieg to really work.

Q: Let us suppose that 36 Tholian ships escaped the destruction and capture of all of Tholian space. Twelve ships could be adopted by the Federation immediately as homeless (410.5). If the Gorn adopt 12, and the Kzintis then adopt the last 12, would those ships be considered in supply for their trips back to Kzinti/Gorn space?
A: Yes, as long as each empire adopting had a supply path along that route.

Q: Can the Gorns adopt 12 homeless Tholian ships even though they are not yet at war?
A: The Gorn player would have to have some source of income to pay for the six economic points required for this, e.g. (540.23), but yes, per (410.5).

Q: If the Tholians are completely pushed out of their home space (503.3), could the Federation cede them a province and planet that they could then use as a home through (448.1), even though they own nothing adjacent? This would then give them "territory" and if they could magically make 90 EP appear, they could build a new shipyard for their impressive production schedule (i.e., four PC hulls per turn).
A: While a good idea to help out the poor Tholians, who are galactic invaders by the way (448.13), the adjacency clause requires the Tholians to have adjacent territory to the Federation to receive this ceded province. Without any territory, they cannot meet that requirement. The Tholians could capture a neutral zone hex adjacent to Federation space and then meet that requirement. If the Klingons don't destroy the Tholians in the first shot (but do put the Tholians in a tiny surviving area) the Federation could cede them a province.

Q: Suppose the Klingons capture 2219 and reactivate their old colonies, then the Feds capture the hex. What happens? Are the Klingon colonies now captured and pay EPs to the Feds? Can the Feds liberate Tholia but keep the Klingon colonies?
A: The Klingon colonies (511.223) only function under Klingon control. The Federation could cede the hex to the Tholians.

Q: Can one or more crippled ships be included in the initial formation of a pinwheel?
A: Nothing within (322.2) prohibits this.
(End of F&E Q&A)


Dear Aunt Jean,
Just what have you been doing the last month?
A: I finally was able to return part-time to work in February after I was taken off daytime oxygen. When I started checking on the status of "my job," I found lots of things had been neglected since November when all the serious health issues started coming to the fore. With Traveller Prime Directive on hold until the print version is released, I focused on all the other parts of my job (proofreading books that needed me to do that so they can be released, getting new PDFs up, getting our Kindle book out, and catching up on mundane paperwork), going to my many doctors (all of the news is positive), and chatting with an author who is interested in doing another version of Prime Directive (until we get his outline approved, the rest of the information is under wraps). I believe that good things are coming for Prime Directive and ask that you go on this ride with me.
Send questions to Jean at
design@StarFleetGames.com
and SVC will decide which one Jean will answer next.
(End of Ask Aunt Jean )
Cool Stuff on the Website
In this section we will provide links to various web pages and items that we think you will find "cool".
We have recently updated the look and design of the Rangers Page, check it out here:
Rangers Page
Here are links to various flyers you can use to advertise your Demos and Game Days:
Ranger Resources
Here are links to the new pages of Starline 2500 miniatures pictures.
Starline 2500 Battleships page
Starline 2500 Federation Miniatures
Starline 2500 Klingon Miniatures
Starline 2500 Romulan Miniatures
Starline 2500
Traveller Prime Directive
Call to Arms Star Fleet
We have also uploaded new Xander wallpapers to our Wallpapers section on the website.
Wallpapers
We have new images of our game Star Fleet Marines posted on our BBS topic page.
STAR FLEET ALERTS
These are the press releases we send to the wholesalers, retailers, and media. You can get on the mailing list for them by asking Marketing@StarFleetGames.com to add you to the list. (Obviously, they are free.) They are uploaded to the Star Fleet Alert page

Alert 150331 Captain's Log #50 (Adobe Acrobat Required)
Alert 140707 FC: Tactics Manual and Captain's Log #49 (Adobe Acrobat Required)
Alert 140418 PRICE 2500 (Adobe Acrobat Required)
Star Fleet Alert 140320 CL48, Away Team Log (Adobe Acrobat Required)


FC Tactic of the Month
ENERGY ALLOCATION THE FEDCOM WAY
- Commander Anthony Cutcliffe, HMS Devonshire

As Federation Commander players, we tend to think of Energy Allocation as an anachronism hailing back to the days of Star Fleet Battles and its tax-form accounting system.
But, as good captains, we definitely still need to plan our energy usage! It is really important to have a rough idea of what you want to do with your power for the turn, so as to avoid running out of it before your opponent does - with all the obvious disadvantages of that position - and to get the best possible use out of your ship and its systems for the turn. Energy allocation in this way is especially important if you are thinking of cloaking. Only then will you know the true cost with respect to your other systems that need power.
So, as you receive your shiny new energy points at the start of the turn, you must carefully tally your available juice and work out what you want to do with it. You will not necessarily use the power exactly as you have planned but still the thinking needs to be there. Once you have determined what you want to be able to do, allocate your power mentally then declare your baseline speed with your other plans still in mind. It may help to physically sort your pile of energy tokens into accelerations, batteries, phasers, and spare power (out of sight of your opponent). You must always include your batteries in your thinking, so you know how much flexibility you have towards the end of the turn. In fact, I usually make a small stack of tokens off to one side, so that I can easily see when my power usage will involve tapping into the batteries. It does not matter if my opponent can see them, as it is something he could always work out for himself.
For example, the thought process for a Romulan FireHawk (45 points of power with full batteries) fighting a Hydran ship might look something like this:
He is probably going to launch his Stingers this turn, so I will need at least Speed 16, plus let's say another six points of power for discretionary speed changes, making my top speed this turn 22, the lowest 10. Next, I set aside eight points to charge up two plasma-S torpedoes in their third turn of arming [I will actually arm them as two plasma-G torpedoes and add the last point of power upon launch]. That uses 30 points of power so far, which leaves me 15 points of power for phasers, tractors/negative tractor, and/or reinforcement, all as required. I do not think I will want to cloak when there are Stingers around, or they will be waiting as I come back up again. Batteries: Five, so let's try to leave five power tokens unused this turn if possible.
This is a useful little exercise, which takes all of 20 to 30 seconds and is definitely time well spent.
Granted most good players will already do something like this unconsciously, but it helps if you make the conscious effort to do so. However you do it, you must still do it!

(End of FC Tactic of the Month)

SFB Tactic of the Month
ANDROMEDAN PLANETARY INVASION BLITZ
- Captain Scott Tenhoff, USS California

While the Andromedans can beam satellite ships directly to planets [rule (G19.416) explicitly says so], they can also be beamed directly into the atmosphere/low orbit over a planet and immediately begin low-atmospheric flight [rules (P2.4112) and (P2.80)] by going Speed 1.
Doing this will allow any satellite ships to fire at any ground base which is on the hexside where they are flying (possibly after any such ground base fired on the mothership at Range 5). While tractor-repulsor beams add five hexes to their range under (P2.544) and maulers to lose 25% of their damage, phasers only add one to their die roll. This allows a Cobra/Viper with four phaser-2s to deal 20-24 points of damage on average with its phasers alone. This is enough to damage a ground base, but probably not enough to destroy it. It is enough, however, to drop a shield and allow a hit-and-run raid against any heavy weapon.
A Terminator/Asp can use its mauler and definitely destroy a ground base (every time it can fire while power is available) because they can choose the damage output of the mauler.
Deploying to flying/low-orbit allows any satellite ship to be protected from ground bases on hexsides adjacent to your target, and also gains the atmosphere effects for any enemy ship firing at it. When all of the ground bases are destroyed on your target hexside you can then fly to the adjacent hexsides and start over or be picked up by your mothership to be repaired.
(End of SFB Tactic of the Month)
Demotivationals
Throughout the month our graphics director places on the website various cards called Demotivationals. These are like postcards with an image and a phrase that is often used for humor. Here are the newest demotivationals since our last newsletter:

HALT!
To see our previous Demotivationals click here.
Facebook Highlight of the Month
Empire insignia by Xander Fulton