Star Fleet Universe News

BIG NEWS: CAPTAIN'S LOG #52 AND STARLINE MINATURES


CAPTAIN'S LOG #52
The Long Wait is over, and was well worth it. This issue has everything and more.
An Orion crime team must Escape from Xylad with their kidnapped prisoner.
Federation Commander gets four new commando ships, four scenarios, command notes, eight battle-groups, and complete rules for ground combat.
Star Fleet Battles gets 12 new ships, 5 new scenarios, 35 new battlegroups, the data file on the Wild Alunda, a Zosman update with two new ships, two Omega command cruisers, and the Jumokian Primer.
Federation & Empire gets new Middle Years rules and a special scenario.
A Call to Arms gets the WYN Cluster and five ships.
Starmada gets the first four ships from the new Unity Edition and the shocking plans for the free upgrade.
Star Fleet Marines gets a new scenario.
STARLINE MINIATURES
When we ship Captain's Log #52, we will also ship the new Heavy Freighter, Jumbo Freighter, and the revised Large Freighter. But that's not all.
The Klingon HF5 heavy war destroyer has been sent to the factory in both 2450 and 2500 scale. The Romulan SaberHawk heavy war destroyer has also gone to the factory in both scales. But even that's not all.
We will begin releasing a few "print to order" ships on Shapeways. It will be the end of March before our store is open, but we should have two or three new ships (including the long-awaited Vulture for 2500) on line by the early April. After that, we're going to work very hard to add a new ship or two every month. (The existing CGIs require tedious conversion work to go on Shapeways, so it won't be an instant release of lots of ships.) We plan to include the missing 2500 dreadnoughts (Klingon B10 and C9, Kzinti DN, Romulan Condor and Vulture) by the end of summer. They will be offered in both metal and plastic. Watch for more news as it happens. We're learning as we go, so be patient.
WEBSITE:
Our website,
www.StarFleetGames.com
, continues to grow and improve. You are welcome to send us your requests, comments, and suggestions. Simone Dale, our graphics director, continues to update the website, do covers for the new products, shut down pirate websites, help out around the company, and learn more about the game business.

FACEBOOK:
Jean continues to improve our page on Facebook, adding many new photos and other features.
If you haven't seen the 1,000+ pieces of art in the albums, you should drop by and visit. You don't have to be a member of Facebook to see our page, but if you are, please become our friend so you can get information in your newsfeed.
If you've already liked us on Facebook, but are not seeing our posts, then remember to check your new "Pages Feed" on the left menu. You can also go to our page and hover over the "Liked" button. Be sure that "Get Notifications" is checked.
TWITTER:
ADB has a Twitter feed. We are ADBInc_Amarillo. You'll find news as well as links to pictures. Check us out and retweet news of interest to your own followers. We're excited and our next goal is to get 200 followers. Help us reach that, please.


VIDEOS:
StarFleetGames has taken its act to YouTube and we now have a YouTube channel. Our goal is to create a video for the new product releases during each month. We have "In the Box" videos to show you what you will see when you unpack your new game. We have also done "Spotlights" on a single product or product line. So pull up a chair and join us at the movies! Our newest uploads are:
Star Fleet Marines Part 1
Star Fleet Marines Part 2
ADB Late May 2011
Starline 2500 Miniatures Review
Star Fleet Battle Force in the box
DOING VIDEOS OF THE SFU
A customer asked about posting "tutorial videos" for our games. We like it when people do that (and even give commendation medals) but you need to have us check the videos to make sure you aren't violating something somehow (or that you didn't make a rules error). Doing such videos to make money is not cool. Please drop us an email before you post the videos.
STARBLOG:
Our StarBlog has moved to a new URL and all links on StarFleetGames.com websites have been changed to match. The new site is http://federationcommander.blogspot.com
The blog covers all aspects of the company.
STAR FLEET'S LEGIONS EXPAND:

Star Fleet Legions isn't a new game; it is all of you who play any of our Star Fleet Universe games.
For a game universe that is 36 years old, it seems odd (but very gratifying) that the number of active players is growing, not diminishing. We can tell this by the number of people on the fan pages, the number of Rangers and battle groups, the number of new Starlist entries, and of course by the sales numbers.
Starlist is growing by an average of 10 new entries and five updates per month. There are 1,240 active names on the list (plus overseas, Canada, and those who last contacted us in 1991-2004). Not on Starlist? Fill out your application here:http://www.starfleetgames.com/starlist.shtml.
Battle groups have been forming up left and right. We started with one in Tennessee. Now there are battle groups in California, Colorado, Florida, Idaho, Indiana, New York, North Carolina, Ohio, Texas, and Washington. We've gone international with groups in Canada, England, and Taiwan. Battle groups are doing demos, tournaments, and game days in stores and conventions. Do you have a group you game with? Join us here: http://www.starfleetgames.com/battlegroup/index.shtml
How have these battle groups been forming? Usually through the hard work of a Ranger. Rangers run demos, start game days, contact conventions, reach out to stores, and promote Star Fleet Universe games. Do you want to be a Ranger? Start here: http://www.starfleetgames.com/rangers/index.shtml
I am so excited! Since last issue, we've had battle groups start up in Alabama and Maryland. Let's take a look at Batttle Group Galaxy M31, located in Huntsville, Alabama. CO Dan Proctor reports that this group is forming, but has already played a game of Federation Commander. Even more impressive, they are planning on a demo at Nashcon in June! Check out Galaxy M31 here:
http://www.starfleetgames.com/battlegroup/battlegroup_galaxym31.shtml
Facebook Fan Pages

If you are on Facebook, you have no doubt heard of ADB's page on Facebook. Did you know there are fan pages galore? Fan pages are groups that are started and administered by fans. They are independent of ADB, so we may not know about all of them. These are ones we know about that support the Star Fleet Universe:
So join us on Facebook and get a fix of your favorite game there, too!


RANGERS:
The Rangers are up, fully operational, and doing demos! There are currently 50 Rangers listed in our database with 30 of them having advanced past Ranger Recruit, meaning they've held at least one demo.
Star Fleet Rangers are our front-line recruiters in introducing new people to our games. They are hard working, tireless promoters of the SFU. They go to conventions, stores, game clubs, and other public venues to
show our games and to teach potential players some basics.
Why should you be a Ranger? Well, one of the reasons is purely selfish -- you teach people to play your favorite games and "grow your own" opponents. With enough interested people you can form a battle group and even get in on playtesting if you want. You get your name in Captain's Log and awards on your plaque on the Wall of Honor. You even get Star Fleet Bucks which will help you with purchases from our storefront. Still, being able to play games face-to-face has to be one of the best reasons to do it.
So visit our Ranger page here: http://www.starfleetgames.com/rangers/index.shtml
Register and join the the Star Fleet Rangers!
And there is exciting news for Rangers on Facebook! We've started up a closed group for Rangers to discuss ideas, best practices, and to simply hang out with serious enthusiasts. You must be on Jean's list of Rangers before you can become a member. Join it here: https://www.facebook.com/groups/517647465103651/


AMBASSADORS:
Jean Sexton has succeeded in recruiting two ambassadors (Michael C. Baker and A. David Merritt) to carry the word of the Star Fleet Universe to other websites. They (and Jean) were awarded the first ever "Star Fleet Ambassador Badges" as well as appropriate medals for their service to date. These ambassadors do not just repeat press releases; they answer questions, encourage discussion, and help people find the relevant documents on our website. Contact Jean Sexton if you want to volunteer for ambassador duty.
Forum
BBS

JAGDPANTHER
Take a journey with us to an ancient age, just one step up from carving game rules on clay tablets. The year 1973 was at the very dawn of the independent wargame publishing companies. Typesetting was done with a manual typewriter, print-on-demand meant the photocopier at the library, counters were printed on paper (and drawn by hand), page layout was done with scissors and cellophane tape, and two guys in a garage could turn out a wargame magazine that won two Origins Awards. The point was creativity, new ideas, and imagination. Production values would have to come later.
That magazine was JagdPanther (Hunting Panther), created and run by the same Stephen V. Cole who later co-founded Task Force Games and then went on to found Amarillo Design Bureau. We found the ancient archives of this game company (which ran from 1973-1976, producing 15 magazines, about 50 games, hundreds of variants, and dozens of game reviews) and have placed them on Warehouse 23 so they are available to collectors. (Old issues have been selling on Ebay for over $100 each.) Issue #1, Issue #2, Issue #3, Issue #4, Issue #5, Issue #6, Issue #7, Issue #8, Issue #9, Issue #10, Issue #11, Issue #12, Issue #13, Issue #14 and Issue # 15 are uploaded.
Custom Decals for Starline ships
Tenneshington Decals continues to provide custom decals for all currently produced Federation Starline 2500 miniatures.
In addition to the legacy fleet and squadron box sets, decals for each of the ships are available as individual sheets, along with special sheets to detail any ship with additional window blocks, sensors, hatches, and even phaser scars.
As with all of their products, the names on the ships are up to the customer and all sheets are custom-printed to order.
*** Newly announced in November, decals sheets for Starline 2400 Federation miniatures are well into design, with decals for other empires in both Starline 2400 and Starline 2500 lines in development. ***
For more information or to download the order sheet, check them out at www.tenneshington.com. Or if you prefer, email Will McCammon at: will@tenneshington.com or Tony L. Thomas at: scoutdad@tenneshington.com.
Jupiter IV Decals is a source of decals for the 2400 line and will do custom decals as well as all official SFB names. In the near future Jupiter IV will move into the 2500 line and will work to get every listed name on the Starfleet registry completed in both scales.
Rated Ace Tournament 47 is up and going with first round games being played and a second round game finished!. Bill Schoeller is the judge.

The sixth annual Star Fleet Battles Platinum Hat tournament is now finished. Congratulations to Bill Schoeller who flew the Klingon ship and defeated Peter Bakija in the Kzinti.Paul Scott was the judge for this tournament; Steven Petrick was the Tournament Marshal, with Peter Bakija assisting them.
Rapier 2017 was a great success according to Rangers Michael Baker and Christian Rekowski. Both the
Star Fleet Battle Force
and
Star Fleet Battles
demos went well.
Ranger Matthew Lawson reports that his
Federation Commander
demo at DayConGaming 2017 went well.
Star Fleet Battles
was demoed at RadCon 7 held February 17-19, 2017. Ranger Harlan Haskell III reports it was successful.
Battle Group Galaxy M31 plans on holding a
Federation Commander
Demo Derby at Nashcon 2017 June 2, 2017 from 2 to 6 pm in the Franklin Marriott at Cool Springs in Franklin, Tennessee.
http://www.nashcon.org/
It will be a frigate battle royal in miniature (Starline 2400)
Are you going to GenCon in August 2017? Make plans to play Star Fleet Battles with Randy Blair as the Ranger in charge. He'll be holding four demos there. August 17 at 11:00 am is Eastern Plight, August 18 at 11:00 am is Western Plight, August 19 at 10:00 am and again at 3:00 pm is Survivor! (each is stand-alone). GenCon is held in Indianapolis, Indiana.
Star Fleet Battles
games are held weekly in Tempe Arizona each Friday at Game Depot from 2:00 -7:00 pm. Eric Phillips is the person to contact.
Star Fleet Battles
games are held regularly in Indianapolis, Indiana at Family Time Games. Anthony Harding is the contact person. For more information see: http://www.meetup.com/Star-Fleet-Battles-Indy/.
Star Fleet Battles
games are played regularly in Columbus, Ohio, on Sunday afternoons at the Soldiery. Lee Hanna is the contact person.
Games are held in Spokane, Washington on an irregular basis. Contact them to see if there's a game scheduled. They meet at The Gamer's Haven, 2114 N. Pines St., Suites 1 & 2, Spokane Valley, WA 99206, (509) 443-5992
http://www.thegamershaven.net/gamers_haven.php
Ranger Harlan Haskell III reports that the last gameday went well and folks enjoyed themselves.
HAILING FREQUENCIES: This is our newsletter and will let you know all the news for all our games. You can subscribe here. Have you missed an earlier newsletter? Click here to get caught up!
COMMUNIQUE: The latest Communique brings you more Ship Cards, scenarios, and more news from the Star Fleet Universe! It can be downloaded from the Commander's Circle.

COMMANDER'S CIRCLE: We continue to improve the Commander's Circle. All of the ships and scenarios are available as separate documents (the ships are organized by empire) so you can quickly see what is available. The FC Scenario Database and Master Ship Chart documents are also here. Our newest project was suggested by our players and is uploading low-toner Ship Cards. The Commander's Circle is the best place to find free additions to Federation Commander!



The Federation Commander site and Forum continue to grow as more gamers continue to find them. All of our games currently have topics in the Forum. If you have any comments, questions, or requests for our Graphics Director, this is the place to let her know. Come see what the commotion is about and join the Federation Commander Forum now.
We are very pleased to see the medals, honor bars, and ribbons awarded to players being incorporated into their signatures. It is exciting to see lots of interesting conversations about a wide variety of subjects. Get in on the activity!
While for new players the Federation Commander Forum is a little easier to manage, the original (Discus-based) BBS is where most product development takes place. If you have a proposal you'd like to see worked on, don't forget to make sure it is mentioned here. It also has active F&E and SFB forums where players run campaigns, Rated Ace tournaments and other SFB tournaments are organized (most FC tournaments are organized on the Forum), SVC's "My Day" appears, along with current news and strategies dealing with Prime Directive, and each issue of Captain's Log is created. While less colorful (no avatars or sigs), it is a vital part of ADB, Inc.'s communications.

F&E Strategy of the Month
SEND THE ALLIANCE COMMERCIAL CONVOY OFF-MAP!
- Captain Trent Telenko, USS Texas

The economics of the early war period dictate that the Kzinti-Fed commercial convoy takes the shortest possible route between the Federation and Kzinti Supply Grids. Most F&E players think that is between the Federation Fourth Fleet starbase at 2204 and the Kzinti Marquis starbase at 1704; it is not. The shortest and safest route is between the Federation and Kzinti off-map areas.
Rules (443.51) and (443.52) make it clear that if the commercial convoy arrives at 1704, while the Marquis is detached from the Main Supply Grid to the capital, it delivers nothing. This is something smart Coalition players can and do arrange.
There is also the further danger of raids per (443.24). A lowly E4 or Lyran frigate can raid the commercial convoy for one-to-six Economic Points per raid without risk of destruction. Escorts for the commercial convoy only reduce the number of Economic Points lost rather than increasing the chance of the raider being destroyed.
The on-map route counter-tactic to this plan is to move the commercial convoy from battle station to battle station to starbase so that the raider must fight under the guns of a base before rolling for the results of the raid on the commercial convoy. This is something that even a light dreadnought with a Prime Team would balk at.
That being said, there is also the danger of drone/fighter raids from Planetary Operations, which can still strike the commercial convoy at a battle station, risking only the chance of an interception battle. Plus, when the Coalition has fast patrol ships with CPX counters for their light dreadnoughts, while the Federation and Kzintis do not, any unsupported Alliance battle stations start to worry about themselves rather than the commercial convoy.
Do not take the risk of losing that income; send your commercial convoy off-map.
(End of F&E Strategy of the Month
)

WARP SPEED, MONGOOSE!
or How to Speed up an Already Fast-Paced Game



ACTASF is designed to be a fast-paced game where large fleet actions can be completed in as little as one hour or as much as a single evening, but there are tricks and tips that can reduce the time required to play a battle significantly.
1. Squadrons: In games of 2,000 points or more, form your ships into three-ship squadrons. Squadrons move and fire as one unit. If you have 15 ships on each side, formed into five squadrons of three each, you've cut the required actions by 66%.
2. Special Actions: Have a series of Special Action markers printed up and have enough for each ship in the game. Simply throwing down a Special Action marker beside a ship as it declares its actions will save tons of time later in the turn as you try to remember or look up which ships had performed which actions.
3. Dice: Have plenty of dice available in multiple colors. When it's time for your Federation heavy cruiser to unload an alpha strike, simply pick up the dice and declare, "The red dice are photons, the yellow dice are phaser-1s, the white dice are phaser-3s, and the green die is the drone!" Roll all the dice at once and remove any 1's, 2's, or 3's as those are misses. Whatever is left are hits and you can simply pick up any 6's and re-roll them for damage on the Attack Table... Next ship, please.
4. Movement: When it's your turn to nominate and move a ship, leave the mini in place and utilize a spare die as the movement token. Using the appropriate rulers and turn gauges, you move the die through the desired moves the ship will make. Once satisfied, pick up the ship miniature and place it where the die ended up. This way, if you decide to retract all or part of the move and go a different route, there's no question about where the ship was at the start of the Movement Phase.
5. Targeting: Many times you will want to place a ship so that its desired target is on the boundary line between two firing arcs. [A Call to Arms rules allow weapons in both firing arcs to fire at a target on the boundary line.] In a friendly game, it's often advantageous to place the ship in its final position and state: "the captain has maneuvered this ship so that your battlecruiser is located on the boundary between these two arcs" (or simply "I centerlined you"). That will often save several minutes of arguing and measuring exact angles with compass and protractors to confirm that you did indeed angle the firing ship just right.

(End of A Call to Arms: Star Fleet Tactic of the Month
)
New Releases
Communique #135 has been posted to the Commander's Circle
Click here to see our previous issues of Hailing Frequencies.
To be released in 2017
A new Starmada book for both editions.
Federation Commander Reference Starship Book
Traveller Prime Directive Core Rulebook
New starships for the 2500 (1/3125) range including Klingon B10
New starships for the 2400 (1/3788) range including heavy war destroyers and the jumbo freighter.

PDF and EBOOK SALES:
ADB, Inc. continues its relationship with Steve Jackson Games and their Warehouse 23. We chose Warehouse 23 because they have a philosophy that agrees with ours -- our customers are honest and honorable and wouldn't aid people who want to steal our products. Furthermore, we know from experience how devastating a computer crash can be and want our customers to know that they don't have to worry about the loss of their e-products bought through Warehouse 23. What do we have there? We have created a new page that allows easy access to our PDFs for sale on Warehouse 23. From here you can see what we currently have posted and have links to those products.
RECENTLY RELEASED ON Warehouse 23
Prime Directive PD20 Modern Core Rulebook
Federation PD20 Modern
Klingons PD20 Modern
Romulans PD20 Modern
FC: Romulan Ship Card Pack #4
SFB: Module M -- Star Fleet Marines Rulebook
SFB: Module M -- Star Fleet Marines SSD Book (B/W)
SFB: Module M -- Star Fleet Marines SSD Book (Color)
FC: North Polar Ship Card Pack
Captain's Log #43
Captain's Log #43 Color SSDs
Romulan Master Starship Book
FC: Klingon Ship Card Pack #4
The War of the Worlds
FC: Federation Ship Card Pack #4
Star Fleet Universe Coloring Book #1: Starships
Cerberus
SFB: Module C2 - New Worlds II (2016) Rulebook
SFB: Module C2 - New Worlds II (2016) SSD Book (B/W)
SFB: Module C2 - New Worlds II (2016) SSD Book (Color)
FC: Lost Empires Preview Ship Card Pack






RECENTLY RELEASED ON DRIVETHRU RPG and WARGAME VAULT
Captain's Log #26 (DriveThru RPG or Wargame Vault)
FC: Romulan Ship Card Pack #4 (DriveThru RPG or Wargame Vault)
SFB: Module M -- Star Fleet Marines Rulebook (DriveThru RPG or Wargame Vault)
SFB: Module M -- Star Fleet Marines SSD Book (B/W) (DriveThru RPG or Wargame Vault)
SFB: Module M -- Star Fleet Marines SSD Book (Color) (DriveThru RPG or Wargame Vault)
SFB: Stellar Shadow Journal #1 (DriveThru RPG or Wargame Vault)
FC: North Polar Ship Card Pack (DriveThru RPG or Wargame Vault)
Captain's Log #43 (DriveThru RPG or Wargame Vault)
Captain's Log #43 Color SSDs (DriveThru RPG or Wargame Vault)
Captain's Log #43 Supplement (DriveThru RPG or Wargame Vault)
Captain's Log #25 (DriveThru RPG or Wargame Vault)
Romulan Master Starship Book (DriveThru RPG or Wargame Vault)
FC: Klingon Ship Card Pack #4 (DriveThru RPG or Wargame Vault)
The War of the Worlds (DriveThru RPG or Wargame Vault)
Captain's Log #24 (DriveThru RPG or Wargame Vault)
FC: Federation Ship Card Pack #4 (DriveThru RPG or Wargame Vault)
Star Fleet Universe Coloring Book #1: Starships (DriveThru RPG or Wargame Vault or DriveThru Comics)
Cerberus (DriveThru RPG or Wargame Vault)





RECENTLY RELEASED ON AMAZON - KINDLE

For the Glory of the Empire




Star Fleet Fiction
A Measure of Fear
by John Sickels
Part 3 of 5

Briefing Room, USS Alfred the Great


A sense of businesslike concern hung in the air, as the department heads sat at the briefing room table. A serving dish with doughnuts along with a carafe of hot coffee sat ignored on a side service tray.
Captain Winter cleared the tickle from his throat. "Commander Jiang, let's begin the briefing."
Jiang nodded and began. "An hour ago, we received the following message from Outpost Eight."
The XO slid a data cassette into the playback mechanism and tapped the on-switch. A three-second burst of static came through the speaker, followed by what sounded like an Andorian voice. "This is Outpost Eight. . .we are under attack. .
.buzz
. . .vessel. . .no identi-
buzz-crackle
...shields gone. . .repeating, this is Feder-
buzz
-distress. .
.buzz
..."
Jiang switched the message off. "That's all we have. Outpost Eight won't respond to our hails or any Star Fleet signals. The computer matches the voice with Ensign Vetjhe, an Andorian officer assigned to the outpost's weapons department. While the message is fragmentary, the carrier wave contained this week's verification code for this sector, so it is extremely unlikely that this is a faked signal. The post is commanded by Lieutenant Commander Liddi, but since she didn't send the message and Vetjhe is well down the command chain, an attack which caused casualties seems likely."
Winter nodded, agreeing with Jiang's assessment. "Background on Outpost Eight? Anything unusual?"
"No. The outpost was built almost 90 years ago on a large asteroid in an outer orbit around the star. The system has six planets, all small gas giants, along with the standard assortment of comets and asteroids. The star is an M7V red dwarf, very old, very quiet, very few flares or electromagnetic disturbances, the perfect place for a listening post. The asteroid itself is quite large, virtually a planetoid or small moon."
"What about the other outposts, any trouble with them?" asked Kaktu.
"Outposts Six, Seven, and Nine respond to hails and report no problems," replied Jiang. "However, Outpost Six reports they were unable to raise Outposts Two and Three on their most recent check-ins."
"So this isn't an isolated problem," commented Winter. "Whatever happened to Outpost Eight could have happened further down the line as well."
"Could this be something other than an attack, perhaps an ion storm?" asked Dr. Catek.
"Unlikely," said Jiang. "Meteorology reports no storms or space weather disruptions in this area. It could be some other natural phenomenon I suppose."
"This close to the Neutral Zone, it has to be the Romulans," commented Herman Kleist, the ship's Marine Major, in his thick Bavarian accent. "With the early warning listening posts gone, the base stations beyond them would be next, and the whole front would be wide open for invasion."
"Possibly, but we don't know that for sure," responded Jiang "It could be Orion Pirates, or a space monster."
(Continue reading
here
)
Ask Admiral Vanaxilth
TRACTOR BEAMS

Matthew Potter asks: I am facing an interesting situation. A fast-moving ship puts an MRS shuttle in a tractor beam (6B4). The MRS replies by launching a drone (6B6). The drone is in the tractor-tunnel (G7.9433) at this time. During the next impulse, the ship moves and the drone moves. Per (G7.541), the shuttle is destroyed in place and does not move with the ship. My opponent claims there is a ruling that the drone would be carried along with the ship and thus would impact on this impulse. This would cause the drone to move twice in an impulse: once during the ship's movement and once during its own movement. This is despite similar cases in the tractor rules to prevent units from gaining two hexes of movement (G7.36).
I note that the exact wording of (G7.541) states ". . . the shuttle is destroyed in the hex where it was before the movement." (Emphasis mine). Common sense leads me to believe that the tractor beam is shut off at the moment of the shuttle's destruction. The text of (G7.541) says this is before movement is completed. Therefore I claim the tractor beam does not exist to carry the drone in the tunnel. How is this supposed to work?
ANSWER: Kommodore Ketrick replies: The drone is in the tractor tunnel, but is not itself tractored. It is carried along by the tunnel, and when called on to move it will move. The fact that it is carried along by the tunnel does not affect its own movement. So in the normal course of events if a unit held in a tractor three hexes from the tractoring unit launches a drone, and the drone is "fast" (Speed 32) and the tractoring unit were moving Speed 30 (the tractored unit in this case being a fighter with a nominal top speed of 15 and thus would not be death-dragged at Speed 30), the ship would move on three consecutive impulses, and so would the drone in the tractor tunnel (leading to impact). The tractor tunnel does not prevent the drone from moving on each of the impulses because the drone itself is not "held." If the drone were a Speed 20 unit, it would still move when called on, but it would not move towards the target on every impulse like a Speed 32 drone would, but only when Speed 20 was called on to move. Note: A tractor tunnel carries the drone along, but is not a link to the drone, thus the drone moves normally. The limitations are that the launching unit could only launch a drone at the tractoring unit and thus the drone is always in the tractor tunnel.
The tractor tunnel effect will not end until after movement (e.g., destroyed tractor beams do not cease to have their effect until after resolution of damage during movement, so the tractor effect of an undestroyed beam that was holding a shuttle remains until after movement even though the shuttle was destroyed), even if the shuttle's destruction is in the initial hex. If there is no unit to take control of the drone, the drone loses tracking and if not self-guiding will go inert under (F3.32), i.e., the "any point" rule of losing tracking, the drone will lose tracking as a result of the ship's movement destroying the shuttle and before the drone itself can move. If there is a unit to assume tracking from the now destroyed shuttle, then the drone will move and impact the target (in this case).

Kerry Mullan asks: If two high-speed units are tractored and each are moving in the same direction so there is near constant hold over movement (because if both ships did move they would move two hexes), what happens if one speed changes to a slower speed that gets called during that movement?
For example, both ships are the same size class. Both Ship A and Ship B have pseudo speed 15. Impulse #N, both ships move. Ship A has hold over movement. During impulse activity, Ship B changes to a speed whose pseudo speed moves on Impulse #N+1, and is still slower than ship A. On Impulse #N+1, we have ship A having its holdover movement and ship B having its new speed movement. If both move, they move two hexes. Who moves? Can the holdover movement be pushed again?
ANSWER: Per (G7.36-C3), the delayed movement is executed first. If the other movement would result in the two ships moving more than one hex, that new move would be delayed.
(End of Admiral Vanaxilth)



Q: Can a wounded Prime Team (522.5) be restored to full status at any time? The rules make mention of being able to move it via strategic movement and it can be restored, but that it cannot leave the capital again that same turn
A: This rule implies that the wounded team can be "healed" at any time, but restricting them to the capital for the remainder of the turn. There is no shipyard requirement. So, yes, you can "heal" a wounded prime team at any time they reach the capital with or without a shipyard.

Q: Under rule (534.224), a successful E&S mission destroys half of a given carrier's fighters. How does that interact with CVAs that have two squadrons, CVDs that operate a very large squadron, or other special cases?
A: You do just what it says and destroy one half of the fighters, rounded down, for all carriers. You are looking for special cases where there are none. Remember, though, the destroyed fighters are replaced during the normal Sequence of Play.

Q: In reference to (522.0) and (534.3), does a prime team assigned to the target ship in the previous combat phase modify the success roll of such a mission?
A: Defensive missions for prime teams are assigned in Phase 2B7 in the SoP. E&S missions are in step 3A-2B. Prime teams can be moved to any friendly unit in 5-6X5. The defensive missions are assigned in your player turn, though. So, you would need to assign them as a defensive mission during your Production Phase to protect a target from an E&S mission in the following player turn.
(End of F&E Q&A)


Dear Aunt Jean, what can you tell me about this Prime Directive PD20 Modern Supplement?
A: Back when we first created a book that was compatible with d20 games, some species were omitted due to space considerations. This was carried over when we converted the book to PD20 Modern. The missing species for the Federation and Klingons were added in those sourcebooks, but entire empires were still missing from the
PD20 Modern
line.
I wanted to do a short Prime Directive book using Word on a PC to make sure that I could create a professional-looking book. Creating a supplement for the PD20 Modern Core Rulebook seemed to be the perfect candidate. I decided to include the Federation and Klingon species for those folks who hadn't bought those sourcebooks. I looked at the original GURPS Prime Directive books and also at the original Prime Directive books to find out more about the more obscure species. There are only a couple of stories that featured the ISC species and bits of information had to be reconciled. A couple of those turned into Captain's Log articles. (They may well be the start of a future ISC sourcebook.)
I also wanted to add some value for people who had bought the three existing sourcebooks (Federation, Klingon, and Romulan). Weapons charts were scattered all over and I decided that as a GM, I would love to have those united. Thus you will find unified charts at the end. I also thought that as a player, I would like to know where to find a piece of information that I remembered reading, but couldn't remember where. So I created a unified index.

I know there are some people who wanted us to give this book away. However, it did take time and effort to create and covers don't spring full-formed, in glorious color from Simone's forehead. We tried to price it reasonably so that it would be easy to add to your library. I, personally, hope that you enjoy it.

Cool Stuff on the Website
In this section we will provide links to various web pages and items that we think you will find "cool".
We have recently updated the look and design of the Rangers Page, check it out here: Rangers Page
Here are links to various flyers you can use to advertise your Demos and Game Days: Ranger Resources
Here are links to the new pages of Starline 2500 miniatures pictures.
Starline 2500 Battleships page
Starline 2500 Federation Miniatures
Starline 2500 Klingon Miniatures
Starline 2500 Romulan Miniatures
Starline 2500
Traveller Prime Directive
Call to Arms Star Fleet
We have also uploaded new Xander wallpapers to our Wallpapers section on the website: Wallpapers
We have new images of our game Star Fleet Marines posted on our BBS topic page.
STAR FLEET ALERTS
These are the press releases we send to the wholesalers, retailers, and media. You can get on the mailing list for them by asking Marketing@StarFleetGames.com to add you to the list. (Obviously, they are free.) They are uploaded to the Star Fleet Alert page

Alert 160531 Cart (Adobe Acrobat Required)
Alert 160518 Captain's Log #51 (Adobe Acrobat Required)
Alert 160317 For the Glory (Adobe Acrobat Required)
Alert 150331 Captain's Log #50 (Adobe Acrobat Required)
Alert 140707 FC: Tactics Manual and Captain's Log #49 (Adobe Acrobat Required)
Alert 140418 PRICE 2500 (Adobe Acrobat Required)



FC Tactic of the Month
WHICH PANEL BANK TO SACRIFICE
- Terry O'Carroll, HMAS New South Wales

By carefully choosing which power absorber panel bank to allocate "drone" (power absorber panel) damage points to, Andromedan ships can help to spread power between their power absorber panel banks and clear their power absorber panels more efficiently.
Andromedan ships will often find themselves with a full power absorber panel bank (usually the front) and empty power absorber panels on the other facing when they take damage and must pick a power absorber panel box to disable. The default choice is to mark a power absorber panel box of the empty power absorber panel bank as disabled, leaving the other power absorber panel bank still full. It is better to mark one of the full power absorber panel bank's power absorber panels as disabled, causing it to release energy. The released energy will go into the empty power absorber panel bank. At the end of the turn, both power absorber panel banks will contain energy and be eligible to radiate power to space and transfer power to batteries.
For example, an Intruder has 60 points of power in its forward power absorber panel bank and zero in its rear power absorber panel bank. It takes a "drone" damage point, and marks off a front power absorber panel box. Ten points of power go to the rear power absorber panels. At the end of the turn, through dissipation and battery transfer, it is able to clear eight points of energy from its rear power absorber panels and 10 points of manufacture energy from its forward power absorber panels, six points of energy more than it would have otherwise.
As a rule, Andromedans should strive to have the power in their power absorber panels spread over as many power absorber panels in as many power absorber panel banks on as many ships as possible, to maximize their ability to manipulate the power levels.
(End of FC Tactic of the Month)

SFB Tactic of the Month
REVERSE SPEED TRICKS
- Cadet Michael Kenyon, USS Colorado

A long-held tactic is to use mid-turn speed changes to gain a speed one hex greater than the break in your Turn Mode by selecting the top end of the break, selecting a speed one lower for the middle part of the turn, and then the maximum again at the end of the turn. By selecting the impulses of transition, you can gain one more hex of movement than the chosen break while maintaining the lower Turn Mode. For example, in a Turn Mode C ship, which has a Turn Mode of four at Speeds 15-20, you can get 21 hexes of movement by plotting:
Speed 20 until Impulse #8,
Speed 19 until Impulse #17,
Speed 20 thereafter.
Interestingly, you can do the same, in reverse, to maintain a higher speed than desired (for future acceleration purposes). For example, it may be tactically useful to move four hexes, but you want to maintain acceleration options for the next turn. With the following plot:
Speed 5 until Impulse #6 (zero movement),
Speed 6 until Impulse #14 (move one hex),
Speed 5 thereafter (move three hexes).
Thereby moving four hexes, but you can still accelerate to Speed 15 next turn under (C12.33). There are very limited speeds where you can perform this trick, but at low speeds it provides flexibility both now and later.
(End of SFB Tactic of the Month)
Demotivationals
Throughout the month our graphics director places on the website various cards called Demotivationals. These are like postcards with an image and a phrase that is often used for humor. Here are the newest demotivationals since our last newsletter:

To see our previous Demotivationals click here.

Mini of the Month
Every month we will feature one or more of our miniatures that has been painted by a fan. If you paint miniatures, submit pictures of your minis and they may be selected for the next Mini of the Month!
Dan Proctor shared his photo of this mini!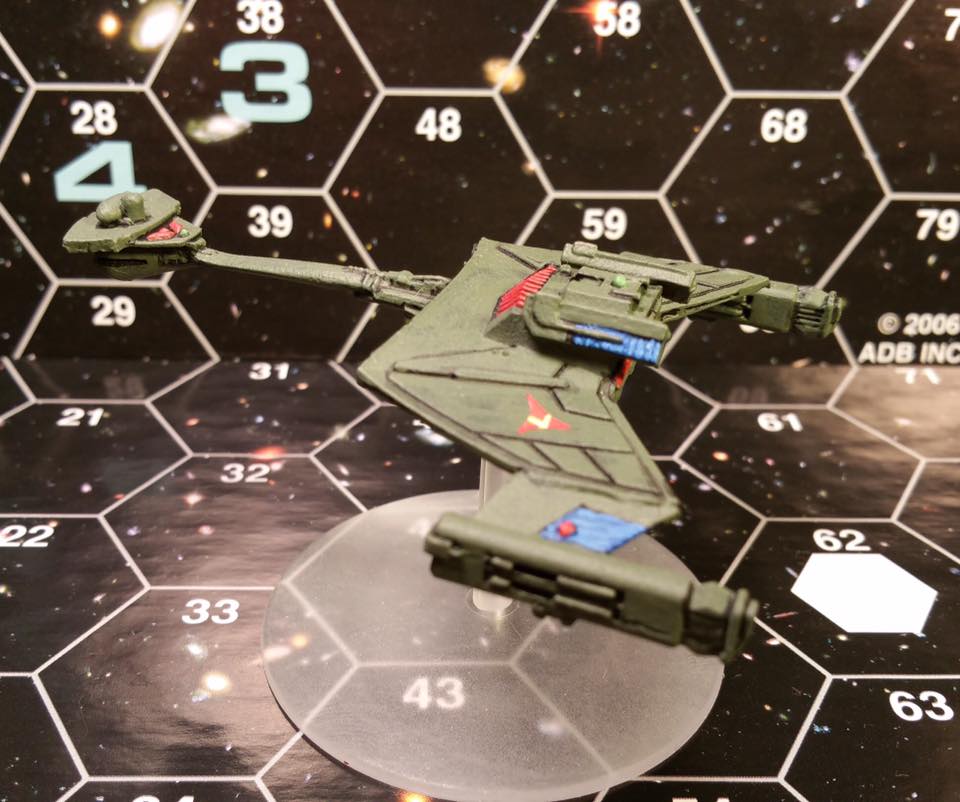 Help us pick the mini of the month on our page on Facebook. The mini with the most likes and shares will become the mini of the month. Vote for the ones you like!
Facebook Highlight of the Month

Matthew G. Lawson reports: Federation Commander demo at Daycon today. With 1 other player, did a 2 on 2. I played Klingons and lost badly as I never play Klingons. But was fun and most importantly, have contacts for other games!