pinecone
Fleet Captain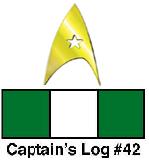 Joined: 03 May 2008
Posts: 1865
Location: Earth
Posted: Thu Jul 23, 2009 2:42 pm

Post subject:

---

Scoutdad wrote:

Wolverin61 wrote:

Scoutdad wrote:

junior wrote:

And if you think that the Fed Pol is bad, you should try the Hydran Gendarme without the Stingers (according to SFB, Gendarme sans Stingers is the typical configuration).



But the mini looks really nice...



Reminds me of a Dustbuster. Not that there's anything wrong with that....



Ahhh man, now I have to go get another one and paint it as a you-know-what...



I'd love to see the picture of that when You're done
_________________
Doomed to live in secret since discovering that the Air Force Tapes were a fantasy...

"Your knowledge of my existence must be punished"