| | |
| --- | --- |
| | NON-GAME PRODUCTS |
NON-GAME PRODUCTS

What? You're not a gamer? No problem!

We have products for non-gamers as well as our many game product lines, and we are developing more!

CLOISONNÉ PINS

We have three pins in production so far,each spectacular 1.25" designs. The CAPTAIN'S PIN shows the world's most famous starship and the emblem of the Federation. The KLINGON PIN shows the deadly D7 battlecruiser and the emblem of the Klingon Empire. The ROMULAN PIN shows the predatory War Eagle cruiser the signet of the Romulan Empire.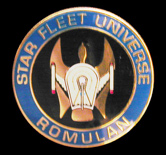 and
While created for use as game pieces, our line of pewter starships are excellent as collector's items for non gamers. We have the classic ships from television, including the Federation Heavy Cruiser, the Klingon D7 Battlecruiser, the Romulan War Eagle, the Tholian Patrol Ship, and the Orion Pirate Raider. You can learn more about our miniatures here.


Now in development, large-size (5.5 x 8.5 inch) paperback books compiling fiction from Star Fleet Universe products, as well as new fiction written specifically for this series.

Now in development, reference books of our starships, including complete external blueprints, technical specifications, ship histories, and more.


OK, Star Fleet Battle Force IS a game, but an easy one to learn and a fun one for the entire family. Check it out!



| | |
| --- | --- |
| Copyright © 1991-2023 Amarillo Design Bureau, All Rights Reserved | Updated 22 April 2014 |