Star Fleet Universe News

THE BIG NEWS: CENTURY SERIES

Any game system using die rolls has a problem with "granularity" or how much a "-1" modifier changes the result. A "-1" on an Phaser-1 Table can increase the damage by 12-25%. Things that cause a shift of one are in some ways very "clunky" in that (in Star Fleet Marines for example) there is no way to distinguish between wooden, brick, and stone buildings; all are +2.

All of that will change with the new "Century Series" products. SFB, FC, F&E, Star Fleet Marines, ACTASF, and Starmada will all change to use d100 dice. There will now be 100 possible outcomes for any attack, not just six or 11. Die roll modifiers will be adjusted (the old +1 for electronic warfare will now be +17) and the modifiers will be broken down into more discrete elements. Instead of a town hex in Star Fleet Marines being +2, it will be +3 for tents, +9 for a shantytown, +18 for wooden buildings, + 28 for brick buildings, +33 for masonry, and +38 for reinforced concrete.

Steve Cole said: "This will allow me to precisely define every situation in engineering terms."

Steve Petrick commented: "I am already working on new 11x17 SSDs printed on both sides. The PDF version will have four pages for each ship, with the ship, its weapons, and an information page with its design history, three-view drawings, lists of ship names, plus construction and destruction dates for each ship."

Leanna Cole noted: "With all of our customers repurchasing every SSD book and every rulebook, we'll become much more profitable in no time."


Jean Sexton remarked: "I cannot wait to start marketing these things. Plus, Galactic Conquest can now use those new crew training rules, so there won't be any more "Outstanding Crews," but instead, "Outstanding Crew-16" through "Outstanding Crew-32."
Tony Thomas was very happy: "I have had the new ACTASF rulebook finished (in Century Series format) since last December, and we can finally ship it!"

Daniel Kast announced the new "Centurion Edition" of Starmada, with all of the die rolls converted to 1-100.
For more information on the Century Series of products go
here
.
WEBSITE:
Our website,
www.StarFleetGames.com
, continues to grow and improve. You are welcome to send us your requests, comments, and suggestions. Simone Pike, our graphics director, continues to update the website, do covers for the new products, shut down pirate websites, help out around the company, and learn more about the game business. One of our newest pages is for
Starline 2500
where we display photos and 3d renders of the new starships.
FACEBOOK: Jean continues to improve our page on Facebook, adding many new photos and other features.


If you haven't seen the 1,000+ pieces of art in the albums, you should drop by and visit. You don't have to be a member of Facebook to see our page, but if you are, please become our friend so you can get information in your newsfeed.

If you've already liked us on Facebook, but are not seeing our posts, then remember to check your new "Pages Feed" on the left menu. You can also go to our page and hover over the "Liked" button. Be sure that both "Show in News Feed" and "Get Notifications" are checked.
TWITTER: ADB has recently started a Twitter feed. We are ADBInc_Amarillo. You'll find news as well as links to pictures. Check us out and retweet news of interest to your own followers. We're excited and our first goal is to get 100 followers. Help us reach that, please.


VIDEOS: StarFleetGames has taken its act to YouTube and we now have a YouTube channel. Our goal is to create a video for the new product releases during each month. We have "In the Box" videos to show you what you will see when you unpack your new game. We have also done "Spotlights" on a single product or product line. So pull up a chair and join us at the movies! Our newest uploads are:
Star Fleet Marines Part 1
Star Fleet Marines Part 2
ADB Late May 2011
Starline 2500 Miniatures Review
STARBLOG: Our StarBlog has moved to a new URL and all links on StarFleetGames.com websites have been changed to match. The new site is
http://federationcommander.blogspot.com
The blog covers all aspects of the company.

RANGERS: The Rangers are up, fully operational, and doing demos! There are currently 50 Rangers listed in our database with 30 of them having advanced past Ranger Recruit, meaning they've held at least one demo.

Star Fleet Rangers are our front-line recruiters in introducing new people to our games. They are hard working, tireless promoters of the SFU. They go to conventions, stores, game clubs, and other public venues to show our games and
to teach potential players some basics.

Why should you be a Ranger? Well, one of the reasons is purely selfish -- you teach people to play your favorite games and "grow your own" opponents. With enough interested people you can form a battle group and even get in on playtesting if you want. You get your name in Captain's Log and awards on your plaque on the Wall of Honor. You even get Star Fleet Bucks which will help you with purchases from our storefront. Still, being able to play games face-to-face has to be one of the best reasons to do it.

So visit our Ranger page here: http://www.starfleetgames.com/rangers/index.shtml

Register and join the the Star Fleet Rangers!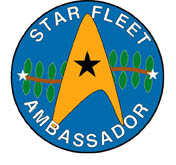 AMBASSADORS: Jean Sexton has succeeded in recruiting two ambassadors (Michael C. Baker and A. David Merritt) to carry the word of the Star Fleet Universe to other websites. They (and Jean) were awarded the first ever "Star Fleet Ambassador Badges" as well as appropriate medals for their service to date. These ambassadors do not just repeat press releases; they answer questions, encourage discussion, and help people find the relevant documents on our website. Contact Jean Sexton if you want to volunteer for ambassador duty.
Forum
BBS

JAGDPANTHER
Take a journey with us to an ancient age, just one step up from carving game rules on clay tablets. The year 1973 was at the very dawn of the independent wargame publishing companies. Typesetting was done with a manual typewriter, print-on-demand meant the photocopier at the library, counters were printed on paper (and drawn by hand), page layout was done with scissors and cellophane tape, and two guys in a garage could turn out a wargame magazine that won two Origins Awards. The point was creativity, new ideas, and imagination. Production values would have to come later.

That magazine was JagdPanther (Hunting Panther), created and run by the same Stephen V. Cole who later co-founded Task Force Games and then went on to found Amarillo Design Bureau. We found the ancient archives of this game company (which ran from 1973-1976, producing 15 magazines, about 50 games, hundreds of variants, and dozens of game reviews) and are now placing them on e23 so they are available to collectors. (Old issues have been selling on Ebay for over $100 each.) Issue #1, Issue #2, Issue #3, Issue #4, Issue #5 and, Issue #6 are already there and further issues are being prepared for upload.
Custom Decals for Starline ships
Tenneshington Decals is proud to now offer three new decals sets, made to fit the Starline 2500 Federation BB battleship, CB heavy command cruiser, and DNL light raiding dreadnought miniatures.

Tenneshington Decals also continues to provide custom decals for all currently produced Federation Starline 2500 miniatures, as well as special sets encompassing the contents of the Federation Fleet Box and Federation Squadron Boxes 1 and 7. Decals for each of these ships are available as individual sheets along with special sheets to detail any ship with additional window blocks, sensors, hatches, and even phaser scars.

As with all their products, the names on the ships are up to the customer and all sheets are custom-printed to order.

In addition, Tenneshington Decals continues to develop decals sheets for other empires in the Starline 2500 line and the Starline 2400 miniatures.

For more information or to download the order sheet, check us out at www.tenneshington.com. Or if you prefer, email Will McCammon at: will@tenneshington.com or Tony L. Thomas at: scoutdad@tenneshington.com.
Rated Ace Tournament #42 is well started. All of the first round games have been played. Only one of the second round games and two of the third round games are left to play. Bill Schoeller is the judge for this tournament.
NetKill Patrol first quarter is in its final month on SFBOL. With a week left, Joshua Driscol, Matthew Potter, Gregory Flusche, and John Rigley were in the top four spots. Richard Schirmer maintains the statistics that make this tournament possible.

The Platinum Hat 2013 International Online SFB Tournament has only one game to play before the final game. Paul Scott is the judge.
The Masters 2013 Tournament is nearly done This challenging tournament has the winner of each match take his opponent's ship to fly in the next match. Only one fourth-round game is left to be played before the final game starts. The judge is Andrew Koch.
.

STRATCON 2014
This all-
SFU
convention will be held in the southern Nashville region 7-14 June 2014 (eight days) at Clarion Inn & Suites, 2227 Old Fort Parkway, Murfreesboro, Tennessee 37129 (615) 896-2420. Ask for the StratCon room rate. StratCon is organized primarily by and for the
F&E
community but is open to all
SFU
games and gamers. The cost will be under $75 per player for the entire week, a fraction of the entry and gaming costs charged by Origins. (That is why it is not being held at Origins. It was announced in the last issue of Communique that ADB, Inc., will no longer attend that convention.) Contact
stratcon@starfleetgames.com
for more information.
On April 6, 2014 from 1:00 -5:00 pm Battle Group Columbus will be playing Star Fleet Battles at The Soldiery, Inc. at 4256 N. High St. Columbus, Ohio 43214. Lee Hanna is the organizer.


GnomeCon will be held in Savannah, Georgia April 11-14, 2014. Michael Baker will be running Shootout in the Asteroid Belt, a Star Fleet Battles Cadet Game on Saturday, April 12 from 8:00 pm to midnight. There will be room for up to 6 players flying Federation, Klingon, and Kzinti ships. Michael also said that you can show up early for an introduction to Star Fleet Battle Force.

On April 19, 2014 there will be a demo starting at noon of
Star Fleet Battles
at Books, Comics, and Things in Fort Wayne, Indiana. Randy Blair is the Ranger in charge. For more information see:
http://www.meetup.com/Fort-Wayne-Gaming/events/172008152/
MISCON's Sanctioned Tournament for
SFB
with miniatures will be held on Sunday May 25, and Monday May 26, 2014 in Missoula, Montana and will accommodate 16 players. The all Miniatures Sanctioned Tournament will start on Sunday, at 10:00 am and run for 10 hours, with up to three elimination games. The finals will start 10:00 am, Monday, and run up to 6 hours if necessary. This will be a single elimination tournament, and wild cards will only be used if necessary to fill a bracket, if players do not wish to continue, even if winning. Judge Harlan Haskell III will have all necessary materials, and miniatures for each player, during the tournament. For more information about the con, see:
http://www.miscon.org/
On August 17, 2014 at SPOCON, at the DoubleTree, Spokane, WA there will be an
SFB
sanctioned game or games (depending on turnout) using the tournament rules, with miniatures. Judge Harlan Haskell III will provide all materials for this event.
Star Fleet Battles games are held weekly in Tempe Arizona each Friday at Game Depot from 2:00 -7:00 pm. Eric Phillips is the person to contact.


Games are held in Spokane, Washington on an irregular basis. Contact them to see if there's a game scheduled. They meet at The Gamers Haven, 2114 N. Pines St., Suites 1 & 2, Spokane Valley, WA 99206, (509) 443-5992
http://www.thegamershaven.net/gamers_haven.php
HAILING FREQUENCIES: This is our newsletter and will let you know all the news for all our games. You can subscribe here. Have you missed an earlier newsletter? Click here to get caught up!
COMMUNIQUE: The latest Communique brings you more Ship Cards, scenarios, and more news from the Star Fleet Universe! It can be downloaded from the Commander's Circle.

COMMANDER'S CIRCLE: We continue to improve the Commander's Circle. All of the ships and scenarios are available as separate documents (the ships are organized by empire) so you can quickly see what is available. The FC Scenario Database and Master Ship Chart documents are also here. Our newest project was suggested by our players and is uploading low-toner Ship Cards. The Commander's Circle is the best place to find free additions to Federation Commander!



The Federation Commander site and Forum continue to grow as more gamers continue to find them. All of our games currently have topics in the Forum. If you have any comments, questions, or requests for our Graphics Director, this is the place to let her know. Come see what the commotion is about and join the Federation Commander Forum now.
We are very pleased to see the medals, honor bars, and ribbons awarded to players being incorporated into their signatures. It is exciting to see lots of interesting conversations about a wide variety of subjects. Get in on the activity!
While for new players the Federation Commander Forum is a little easier to manage, the original (Discus-based) BBS is where most product development takes place. If you have a proposal you'd like to see worked on, don't forget to make sure it is mentioned here. It also has active F&E and SFB forums where players run campaigns, Rated Ace tournaments and other SFB tournaments are organized (most FC tournaments are organized on the Forum), SVC's "My Day" appears, along with current news and strategies dealing with Prime Directive, and each issue of Captain's Log is created. While less colorful (no avatars or sigs), it is a vital part of ADB, Inc.'s communications.
F&E Strategy of the Month
LYRANS - DO NOT BUILD TUGS
- Lieutenant JG Tom Ostergaard, USS Nevada

The Lyrans should not build tugs, since the Lyran survey cruiser and new survey cruiser are fully functional tugs and scouts, with a heavy cruiser's defense factors and with decent attack factors when you put a battle or carrier pallet or pods on them. In addition these ships can do survey work which regular tugs and scouts cannot.
Pay the extra five economic points to build a survey ship instead of a tug. When your on-map survey ship is not doing something as a tug, it can survey a hex on the map and earn an extra economic point for your treasury for the next turn. In addition, when possible, convert your four starting tugs to survey ships [although if you are building a survey ship per year instead of a tug, you cannot do this except once under (450.3)]. Just have a survey ship take an occasional break from tug duties to survey five hexes and you have paid for the upgrade of a ship that can produce economic points. Those economic points pay for the upgrade and give your tug inherent scout capabilities, while it can still carry and use a pallet or two K-pods, so build as many survey cruisers as you can and start using them on the map.
You must protect these survey ships well, especially the ones you do not put battle or carrier pallets or pods on, as your opponents will try to kill them as fast as they can as soon as they realize what a great multi-purpose ship you have.
You can use the existing pre-war tugs for the risky front-line missions that cannot be avoided.

(End of F&E Strategy of the Month
)

DRAG THEM TO THEIR DOOM



Tired of the enemy avoiding your heavy weapons arc, especially when you are flying a Gorn dreadnought, Romulan Condor, or Kzinti heavy battlecruiser or dreadnought? Make sure the enemy ship just happens to come into your firing arc instead of floundering around trying to get a more agile enemy into your sights. How can you accomplish this?
Have another ship tractor your target and drag it into your heavy weapons firing arc! This, however, takes some advanced planning and positioning. You have to think a turn ahead to put the ship you need where you're going to need it, without the enemy realizing what you're doing.
Ideally you want a ship that is significantly larger than the ship to be dragged (e.g., a Federation heavy cruiser versus Klingon D7 or D5). During the dragging ship's activation, which should be after the target ship has moved, have it use the Engage Tractor Beam! special action. Next, end your ship's movement within two inches of the ship to be tractored. During the Attack Phase, when your ship is activated, tractor your target.
The following turn, the tractored ship may roll to break the tractor when it is activated. It does this by making an opposed Crew Quality Check against the ship tractoring it. See the rules for the procedure. If the tractored ship fails to break free, it is meat on the table. Drag it in front of the ship that intends to fire at it or drag it to a point that the designated killer ship can get it into arc. Remember that you can only move if you have more starting damage points than the enemy ship, and you can only move up to six inches (seven inches if flying a "fast" ship).
Be careful to not blow up the ship that was dragged, as the explosion will damage friendly ships. Also try to arrange your positioning so that the tractored ship cannot fire its heavy weapons at the ship that is tractoring it.
(End of A Call to Arms: Star Fleet Tactic of the Month
)
Demotivationals
Throughout the month our graphics director places on the website various cards called Demotivationals. These are like postcards with an image and a phrase that is often used for humor. Here are the newest demotivationals since our last newsletter:

Invasion
Heroism

To see our previous Demotivationals click here.
Mini of the Month
Every month we will feature one or more of our miniatures that has been painted by a fan. If you paint miniatures, submit pictures of your minis and they may be selected for the next Mini of the Month!

Starline 2500 Federation CA. Painting by Tony L. Thomas.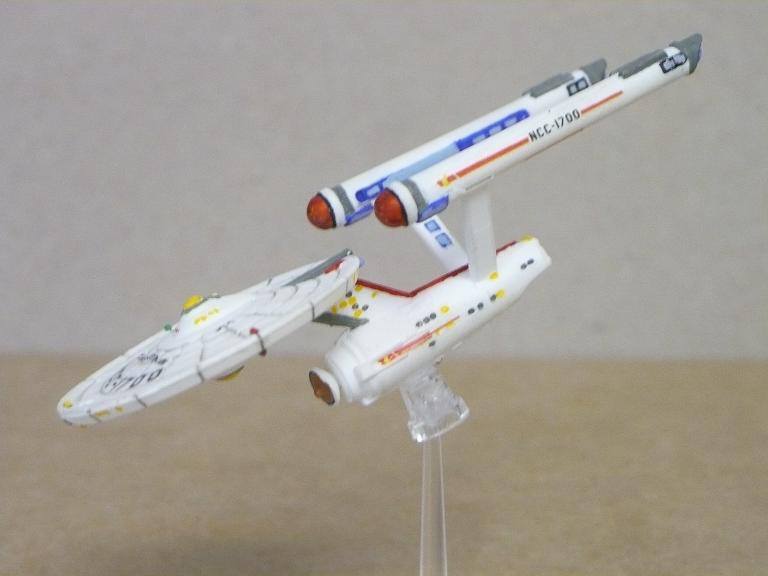 Help us pick the mini of the month on our page on Facebook. The mini with the most likes and shares will become the mini of the month. Vote for the ones you like!

New Releases
Communique #100 has been posted to the Commander's Circle
Click here to see our previous issues of Hailing Frequencies.

To be released in 2014
Fed Com Tactics Manual, SKU 4009, $TBA
SFB Fed Master Starship Book, SKU 5432, price $TBA
Traveller Prime Directive Core Rulebook, price $TBA
A Call to Arms Star Fleet: Book One Revision Two, $TBA
F&E Minor Empires, SKU 3214, price $TBA
Starmada: War & Peace (Admiral and Nova editions), $TBA
New starships for the 2500 (1/3125) range including Tholian PC, DD, CA, TK5, DN; Klingon B10; Orion BR, DW, BC, BCH, DN. $TBA
New starships for the 2400 (1/3788) range including heavy war destroyers and the jumbo freighter. $TBA
Tribbles vs Klingons. $TBA
Federation Admiral, Stock #4080, $TBA
PDF SALES: ADB, Inc. continues its relationship with Steve Jackson Games and their Warehouse 23. We chose Warehouse 23 because they have a philosophy that agrees with ours -- our customers are honest and honorable and wouldn't aid people who want to steal our products. Furthermore, we know from experience how devastating a computer crash can be and want our customers to know that they don't have to worry about the loss of their e-products bought through Warehouse 23. What do we have there? We have created a new page that allows easy access to our PDFs for sale on Warehouse 23. From here you can see what we currently have posted and have links to those products.
RECENTLY RELEASED ON Warehouse 23 (e23 been joined with and is now known as Warehouse 23.)
Captain's Log #48 Supplemental File
Captain's Log #34
Asteroid Zero Four
Prochorovka: Armor at Kursk
Captain's Log #33
Battlewagon Article #2: The Battle of San Bernardino Straits
Battlewagon Article #1: Rulers of the High Seas
Captain's Log #32
Federation Comander: Academy
Federation Comander: Romulan Ship Card Pack #3
Module C6 Preview (FREE!)
SFB Commander's Rule Book Update #2




RECENTLY RELEASED ON DRIVE THRU RPG
Federation & Empire 2010 Rulebook
Captain's Log #48 Supplemental File
Captain's Log #2
Federation Commander Reference Rulebook
Starmada Nova Edition: Alien Armada
Starmada Admiral Edition: Alien Armada
Star Fleet Battles Designer's Edition, Expansion #1
Asteroid Zero Four
Star Fleet Battles Designer's Edition
Starmada Nova Edition: Romulan Armada
Starmada Admiral Edition: Romulan Armada
Starmada Nova Edition: Klingon Armada
Starmada Admiral Edition: Klingon Armada





Star Fleet Fiction
DOOMWARD AND THE VORTEX
by Michael C. Grafton
PART 8 OF 9

Bridge, Lyran CW Doomward
"Special Team boarding units returning. We have 20% red or yellow and no missing. We also have prisoners and equipment."
"That's great, but now we need to get away. Fire all bearing weapons into Unknown Three and drop the tractor. All reserve priority to negative tractor if we need it. Get moving towards the vortex, but keep our down shield away from Unknown Four as much as possible."
"Captain, Unknown Three is trying to tractor us. They have a lock. Applying reserve power. Attempt defeated; no reserve power remaining. Phasers and disruptors firing. Good hits. Unknown Three is crippled. UIM is still good."
"Very well.
"Marine control, what is the status of our guests?"
"Junior Lieutenant Yqq'Ure here ... in command. We had to use the command post squad and the guards from the Bridge entrance to intervene at main engineering, so the tactical operations center is unmanned and locked down. Senior Lieutenant Dfe'Tlee is wounded and out of the chain. We have effectively five squads remaining in action." In the background Thr'Uule could hear sporadic grenade blasts as compartments were cleared. "I think we got them all. Some transported out though. Their actions convince me that they were trying for a capture attempt. Pretty pitiful job if you ask me. No living prisoners. The officers' larder has been cleaned out. I think the aliens have captured our supply of tunni for interrogation."
Tunni would fight if you didn't scent them with the proper pheromone before entering their enclosure, so they would be struggling just as hard as a live Lyran, if not with any intelligence. Besides, boarding combat is tough on everyone in the area. If the compartment didn't transmit a coded pulse when challenged it received a stun or flash grenade and then an inspection.
"Bridge, Damage Control Team Three here. We've gotten that phaser back in battery. K'urq has inhaled a bunch of toxic fumes, but refuses to report to sickbay."
"Understood; Damage Control Team Three. Move to engineering and see if you can get me more power. And K'urq is now officially on my list."
"Captain, Special Team One-Six here. My boarding team says what we thought were bow-mounted internal drone launch bays are instead two separate shuttle bays with armored cross connects. Each bay has what we think is an accelerating launch tube, a giant Klingon-style drone rack in an armored compartment with lots of superconductor cabling and control runs leading into it, and a couple of shuttles with locked hatches. What we think are their admin shuttles do not appear to be armed. Both bays were basically identical. We blew up some unarmored parts of equipment we could not identify. We are still working on the rest of the data. We have a lot of pieces ripped off of various systems to look at."
"Understood. Keep at it. And well done."
"Captain, Unknown Three is launching a drone designated Vampire Ten, closing at warp 2.6 on a skew heading; it has two control channels dedicated to it. We have no bearing weapons and no reserve power available. Unknown Four is clear of their jamming field. Unknown Four is now making a High Energy Turn towards us. Unknown Four is launching drones. Range sixty thousand kilometers. Drones designated Vampire Eleven and Vampire Twelve are approaching at warp 5.3!"

George Duffy asks: A remote-controlled Borak hunter-killer fighter, one hex away from its target, in remote-mode loses guidance control due to (G24.22) by a scout 15 hexes. The hunter-killer began moving back toward the carrier (J15.32) on the next impulse and winds up in the same hex as its original target. Can the carrier controlling the hunter-killer under (JB100.121) switch it over to seeking mode immediately to regain the lock-on so that it can detonate?
ANSWER: In a word, no. You cannot order the fighter to change its targeting because you do not control the fighter. If you controlled the fighter, it would not be flying back to its mothership on its failsafe programming for when it is uncontrolled.

Mike Kenyon asks: A Romulan ship is cloaked at Range 2 from a Kzinti ship. Rule (D6.1262) implies that you can fire an overloaded disruptor within the true range but outside of the effective range of an overload, even beyond the "overload range limit." What then is the to-hit number for such a roll at an effective range of 9?
ANSWER: Per (D6.1262), you use the regular to-hit number (i.e., the number you would use for a standard shot) at the effective range. The overloaded disruptor would hit on 1-4, scoring eight points of damage if it hit. That damage would then be modified by the table under (G13.37).

Carl Herzog asks: I am a little confused about damage control. Rule (D9.712) says continuous damage repair can work in conjunction with (D9.2), "Repairing Shields in Combat." So if I have a damage control rating of 4, does this mean I could repair two shield boxes with continuous damage repair and allocate four energy points to repair two more shield boxes in the same turn?
ANSWER: Yes, although you have a limited number of systems that can be repaired with continuous damage repair, so continuous damage repair is not typically used to repair shield boxes. (It is not unheard of, though. It can be a good thing to do when facing a ship with hellbores, for example.)
Follow-up question: If that shield gets hit during the turn that repairs are underway, do I lose the repairs or can I take other shield boxes and recoup the repaired boxes at the end of the turn?
ANSWER: Let me make these things clear: First, shield repairs are allocated to individual boxes. Second, you cannot allocate repairs to a system at the beginning of the turn that was not damaged at that point. If your shield had no damage at the beginning of the turn, you could not allocate repairs (of any type) to it. So, assuming the shield had some boxes destroyed at the beginning of the turn, you could allocate repairs to those shield boxes, and, regardless of what damage gets applied to other shield boxes, your repairs will proceed normally.

Alex Lyons asks: Within the rules for the Juggernaut missile dreadnought it specifically discusses what happens when controlling multiple Shriek missiles. Normally I would not give a second thought to it or care, however, while looking over the Shriek missile rules (SL246.462), I see Shriek missiles are self-guiding. If Shriek missiles are self-guiding, why would the Juggernaut missile dreadnought have to worry about control channels?
ANSWER: There are advantages to maintaining control over a seeking weapon even if it is capable of self-guidance, such as the ability of a ship-guided seeking weapon to benefit from the guiding ship's ECCM.

Eric Phillips asks: I find this rule to be vague: "(M2.21) IMMOVABLE OBJECT: ... Mines cannot be placed in orbit (P8.472)..." What does this mean? Orbits can be at different levels, so does this mean you cannot place them near planets, or can you if it does not move because it is not "in orbit?"
ANSWER: I sent this to Kommodore Ketrick who replied: While in reality any mine is by definition moving in an orbit because the whole galaxy is moving, for purposes of any given scenario or campaign, once a mine is laid in a given hex its location hex does not change until it is destroyed. So if your orbiting ship or base lays a mine (whether by transporter or rolling it out the hatch), whether the hex you laid it in is adjacent to the planet or not, it will not move from that hex. Note: Black hole gravity forms an exception to the immovability of mines, i.e., lay a mine near a black hole and the black hole's gravity will pull the mine in.

Scott Tenhoff asks: If I apply partial-X refits to a Romulan SparrowHawk-J (most notably upgrading the plasma-S torpedoes to plasma-M torpedoes), what is the modifier when I roll for shock?
ANSWER: There is no rule specifying increased shock in this case (maybe there should be), so shock rolls are the same as for the unmodified SparrowHawk-J.

Garth L. Getgen asks: I was reading rule (S8.0) on limitations of fleet composition. I recall seeing a rule someplace that requires one to have "x" amount of size-class-4 ships per "y" number of size class 3 or larger, but it is not in (S8.0). Am I simply mistaken about remembering that rule?
ANSWER: There is no rule preventing you from having a fleet composed entirely of size-class-3 ships. There is a rule like that for size-class-2 ships, and various restrictions on certain classes of ships, but no requirement to have size-class-4 ships in your fleet. Others have noted that Module C5 has requirements for size-class-4 units, and that you cannot take a multi-ship force made up entirely of size-class-3 units. See (MS1.22). This is of course limited to the empires of the Lesser Magellanic Cloud, not a general requirement. You might perhaps be confused by an F&E rule (Battle Groups) which allows you to replace two size-class-3 ships with three size-class-4 ships, assuming certain other conditions are also met.
(
End of Admiral Vanaxilth
)
MARINES TO THE ASSAULT!
Q: A tug with troop pods and a Marine major general is attacking my colony in a commando raid. Can I land the pods and still keep them when I leave, or does the fact that I am doing a raid count as "retreat" after one round of combat (causing me to lose the pods)?
A: The pods are not detached from the tug (320.4), so you keep them when you leave. You don't need to "land the pods" as there are means to separately land the troops.
Q: Do my G-factors get the +1 die roll bonus for "only one G defending" even though there are no actual Gs defending the colony? (I assume a colony has no intrinsic G factor.)
A: It takes two successful G attacks to destroy the colony (446.41). This represents elimination of the infrastructure and defeating the local civilian authorities. There are no G factors of defenders on the colony, so, yes the +1 does count as there is really no G factor, but significant obstacles exist to count as at least one G factor even though there are none present.
Q: Can I do one separate G attack (320.43) per G-factor I possess against the colony?
A: Yes, you may.
Q: Do ground combat attacks need to be "declared" before the Directed Damage Phase, or even before the Damage Allocation Phase? Some players seem to think this is necessary and others seem to think it is obvious if a G-ship is going to be making an assault or not. In order to qualify to make a Marine assault, you must pick a BIR of 4 (5 if picking both) and must have one or more G-ships in the battle force under (521.32) and (521.33). Also, per the SoP, the first time a player can designate units doing an assault is in 5-6X3.
A: You missed this entry in the SoP:
(5-4A5): Players identify units that are eligible to participate in troop assaults (521.3) during this round. This is during the damage determination just after the Variable Battle Intensity Rating is determined. This gives the attacker the option to use his troop ships or not.
That step, given an attacker chosen BIR of 4, should be enough for the defender to know a ground attack is possible. If the defender chooses to not use directed damage on those ships/units then he will take the lumps that are delivered later. Nothing further need be done until Step 5-6X3, when the attacker may use from zero to whatever number of GCEs he designated in (5-4A5) to perform the attacks.
Q: A planet has a single PDU but three GCEs were added to defend it. The attacker is making two Marine assaults. Can each GCE defend the PDU once, or can only one GCE total defend the PDU?
A: Each attack by a GCE can be defended by additional defending GCEs. So, in the example you presented above, two defending GCEs can support the single PDU, one in each attack being available to take losses. Of course, if you want to go into further detail you can use Star Fleet Marines: Assault to resolve your ground attacks. Rule (521.382) says you must attack the supported PDUs first.
Q: Can a prime team support a supported ground attack? Rule (521.35) provides that you get +1 for a supporting G and +1 for a supporting prime team. The rule says all bonuses and penalties are cumulative. However, Rule (521.36) states that no more than one additional ground unit can support a G attack, so there's an explicit limit there. Rule (522.42) (prime teams in Marine mode) provides no guidance on the issue. My opponent says that under (521.35) a supported G attack can itself be supported by a prime team, resulting in a net +2 to the roll. I say that a prime team supporting a G attack is equivalent to a supporting G, and thus the limit of one supporting unit applies under (521.36) and accordingly only a +1 to the roll results. Which is correct?
A: A prime team is not a Marine unit; they are a prime team. When they are acting in Marine mode it is just that, a mode. They are still a prime team not a Marine unit. Thus, you can have a supporting G and a supporting PT and get the +2 bonus.
Q: The counter for a Marine major general has two stars, while the counter for an admiral has one star. Which one out-ranks the other?
A: The admiral counters represent four-star and sometimes five-star admirals, but the point is that there is no rules situation in which one of them outranking the other one would matter.
(End of F&E Q&A)



Q: Dear Aunt Jean,
will the Century edition of Prime Directive slow down Traveller Prime Directive
A: Not a bit. I've promised Steve that I'll work late on that exclusively and now that I've nearly finished unpacking from the move I can certainly do that.

Send questions to Jean at
design@StarFleetGames.com
and SVC will decide which one Jean will answer next.
(End of Ask Aunt Jean )
Cool Stuff on the Website
In this section we will provide links to various web pages and items that we think you will find "cool".
We have recently updated the look and design of the Rangers Page, check it out here:
Rangers Page
Here is a link to our new page about our new upcoming game:
Tribbles vs Klingons
Here are links to various flyers you can use to advertise your Demos and Game Days:
Ranger Resources
Here are links to the new pages of Starline 2500 miniatures pictures.
Starline 2500 Battleships page
Starline 2500 Federation Miniatures
Starline 2500 Klingon Miniatures
Starline 2500 Romulan Miniatures
Starline 2500
Traveller Prime Directive
Call to Arms Star Fleet
We have also uploaded new Xander wallpapers to our Wallpapers section on the website.
Wallpapers
We have new images of our next game Star Fleet Marines posted on our BBS topic page.
STAR FLEET ALERTS
These are the press releases we send to the wholesalers, retailers, and media. You can get on the mailing list for them by asking Marketing@StarFleetGames.com to add you to the list. (Obviously, they are free.) They are uploaded to the Star Fleet Alert page

Star Fleet Alert 140320 CL48, Away Team Log (Adobe Acrobat Required)
Alert Valentines Day (Adobe Acrobat Required)
Alert New Year (Adobe Acrobat Required)
Alert 131221 Joint Venture (Adobe Acrobat Required)
Alert 131220 Schedule (Adobe Acrobat Required)



FC Tactic of the Month
Hack And Slash just got a lot tougher
- Ensign Robert W. Eldridge

One of the most significant tactical changes from SFB is that with four "movement sub-pulses" for each firing opportunity (and the acceleration rules will always let your target use more of them than he thought he would need), there are no more "drop his shield on one impulse and hammer him on the next" shots. SFB was always so fun because you could use those leftover phasers on Impulse #32 to weaken a shield, then use Energy Allocation to load up the heavy weapons for the crippling blow (since there were few ways to turn a new shield in Impulse #1, and those all came with drawbacks so nobody wanted to make a habit of using them).
The target is always going to be able to move (perhaps as many as four times!) and getting a second shot on the same down shield is going to be tough. You need to really learn maneuvering, specifically closer-quarter battle tactics, if you want to get that followup shot. Of course, you can still move, turn, sideslip, and even do a high energy turn, but you can also accelerate or decelerate, which gives a whole new dimension to maneuver.
(End of FC Tactic of the Month)



THE SUBLIGHT TANGO
- Cadet Mike Strain, USS Texas

If you are in command of a sublight ship, your mobility is very limited. One way to increase your flexibility and keep your opponent guessing is to use reserve impulse power to either move forward, backward, engage Erratic Maneuvering, or use a Sublight Tactical Maneuver as the situation requires.
Instead of committing to a particular tactic, keep your options open using reserve impulse power.
(End of SFB Tactic of the Month)

N. Eric Phillips provided the picture and wrote: Here is a pic of the remains of the game at Game Depot! Taught a new person the game, and had a knockdown battle of the Kzinti NCC vs. a Fed NCA. It was scatter-pack mania. BTW: The guy in the pic is Darryl Bing, author of "The Death Probe" from Captain's Log #1.