Star Fleet Universe News

THE BIG NEWS: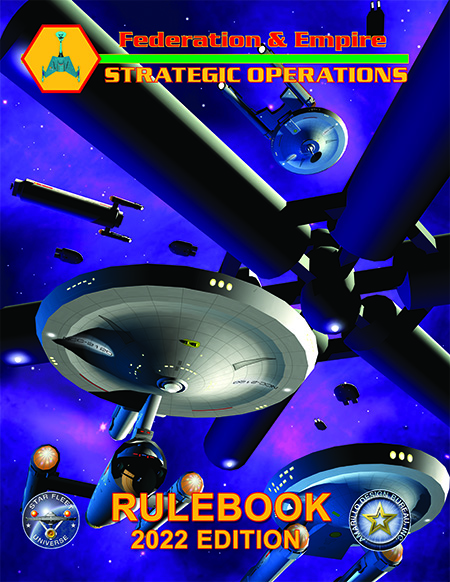 The big news this month is the release of the 2022 version of F&E Strategic Operations. The PDF is now in the online stores; the print copy will follow in a few weeks.
Included with this newsletter is a new ship, the Helix CA, for both SFB and Federation Commander.
Steve Petrick is back at his desk and has completed the update for the SFB Module R1 SSD Book. He is working on updating the rulebook. These will be released in PDF and hard copy as soon as they are ready.
WEBSITE:
Our website,
www.StarFleetGames.com
, continues to grow and improve. You are welcome to send us your requests, comments, and suggestions. Simone Dale, our graphics director, continues to update the website, do covers for the new products, shut down pirate websites, help out around the company, and learn more about the game business.

FACEBOOK:
Jean continues to improve our page on Facebook, adding many new photos and other features.
If you haven't seen the 1,000+ pieces of art in the albums, you should drop by and visit. You don't have to be a member of Facebook to see our page, but if you are, please become our friend so you can get information in your newsfeed.
If you've already liked us on Facebook, but are not seeing our posts, then remember to check your new "Pages Feed" on the left menu. You can also go to our page and hover over the "Liked" button. Be sure that "Get Notifications" is checked.
TWITTER:
ADB has a Twitter feed. We are ADBInc_Amarillo. You'll find news as well as links to pictures. Check us out and retweet news of interest to your own followers. We're excited and our next goal is to get 400 followers. Help us reach that, please.


VIDEOS:
StarFleetGames has taken its act to YouTube and we now have a YouTube channel. Our goal is to create a video for the new product releases during each month. We have "In the Box" videos to show you what you will see when you unpack your new game. We have also done "Spotlights" on a single product or product line. So pull up a chair and join us at the movies! Our newest uploads are:
Star Fleet Marines Part 1
Star Fleet Marines Part 2
ADB Late May 2011
Starline 2500 Miniatures Review
Star Fleet Battle Force in the box
DOING VIDEOS OF THE SFU
A customer asked about posting "tutorial videos" for our games. We like it when people do that (and even give commendation medals) but you need to have us check the videos to make sure you aren't violating something somehow (or that you didn't make a rules error). Doing such videos to make money is not cool. Please drop us an email before you post the videos.
STARBLOG:
Our StarBlog has moved to a new URL and all links on StarFleetGames.com websites have been changed to match. The new site is http://federationcommander.blogspot.com
The blog covers all aspects of the company.
STAR FLEET'S LEGIONS EXPAND:

Star Fleet Legions isn't a new game; it is all of you who play any of our Star Fleet Universe games.
For a game universe that is 36 years old, it seems odd (but very gratifying) that the number of active players is growing, not diminishing. We can tell this by the number of people on the fan pages, the number of Rangers and battle groups, the number of new Starlist entries, and of course by the sales numbers.
Starlist is growing by an average of 10 new entries and five updates per month. There are 1,240 active names on the list (plus overseas, Canada, and those who last contacted us in 1991-2004). Not on Starlist? Fill out your application here:http://www.starfleetgames.com/starlist.shtml.
Battle groups have been forming up left and right. We started with one in Tennessee. Now there are battle groups in California, Colorado, Florida, Idaho, Indiana, New York, North Carolina, Ohio, Texas, and Washington. We've gone international with groups in Canada, England, and Taiwan. Battle groups are doing demos, tournaments, and game days in stores and conventions. Do you have a group you game with? Join us here: http://www.starfleetgames.com/battlegroup/index.shtml
How have these battle groups been forming? Usually through the hard work of a Ranger. Rangers run demos, start game days, contact conventions, reach out to stores, and promote Star Fleet Universe games. Do you want to be a Ranger? Start here: http://www.starfleetgames.com/rangers/index.shtml
Facebook Fan Pages

If you are on Facebook, you have no doubt heard of ADB's page on Facebook. Did you know there are fan pages galore? Fan pages are groups that are started and administered by fans. They are independent of ADB, so we may not know about all of them. These are ones we know about that support the Star Fleet Universe:
So join us on Facebook and get a fix of your favorite game there, too!

RANGERS:

As announced in Captain's Log #54, Jean Sexton Beddow's husband, Al Beddow has been appointed to take over the day-to-day of running the SFU Ranger demo team. He comes with a bit of experience both teaching various types of games as well as having been in quite a few demo teams (and ran/helped run a few). He is most familiar with GURPS Prime Directive but early on played ACTASF and spent Gencon 2012 demoing it in the Mongoose Publishing booth there.
They announce: We have big changes coming to the program. A new handbook, suggestions for demoing our games, and vastly improved rewards. All we can safely say about the (already approved) rewards is they will include ALL physical products and PDFs – but nothing on shapeways.com.
To kick all this off we are verifying everyone's email, plus getting their handles on the Federation Commander Forum and BBS. Our official comms will be the hidden Ranger section of the Forum, which are for handling business, answering questions, providing links to resources, etc. The Facebook group will be our more public social space, but no one is required to join FB if they don't want to.

So, we are asking each of you to email Al at the address below with the following:

- Name
- Email (preferably the one used on DTRPG/Wargame Vault)
- Forum Handle
- BBS Handle

Al will add you to the Ranger group on the forum once he has this info, which will let you access our area there. He is looking forward to working with all of you to spread the news of the Star Fleet Universe!

Current stats: We have heard from 22 of our Rangers and have three new ones! We are excited to see the Rangers becoming active as playing in person and cons once again start up.
Jean Sexton Beddow
Ranger Commandant
Al Beddow
Sergeant-Major for Ranger Operations
Ranger Email: adbrangerhq@gmail.com

FB Group: https://www.facebook.com/groups/517647465103651/

ADB Forums: http://www.starfleetgames.com/federation/phpbb2/index.php

ADB BBS: http://www.starfleetgames.com/discus/

AMBASSADORS:
Jean Sexton Beddow has succeeded in recruiting two ambassadors (Michael C. Baker and A. David Merritt) to carry the word of the Star Fleet Universe to other websites. They (and Jean) were awarded the first ever "Star Fleet Ambassador Badges" as well as appropriate medals for their service to date. These ambassadors do not just repeat press releases; they answer questions, encourage discussion, and help people find the relevant documents on our website. Contact Jean Sexton Beddow if you want to volunteer for ambassador duty.
Forum
BBS

JAGDPANTHER
Take a journey with us to an ancient age, just one step up from carving game rules on clay tablets. The year 1973 was at the very dawn of the independent wargame publishing companies. Typesetting was done with a manual typewriter, print-on-demand meant the photocopier at the library, counters were printed on paper (and drawn by hand), page layout was done with scissors and cellophane tape, and two guys in a garage could turn out a wargame magazine that won two Origins Awards. The point was creativity, new ideas, and imagination. Production values would have to come later.
That magazine was JagdPanther (Hunting Panther), created and run by the same Stephen V. Cole who later co-founded Task Force Games and then went on to found Amarillo Design Bureau. We found the ancient archives of this game company (which ran from 1973-1976, producing 15 magazines, about 50 games, hundreds of variants, and dozens of game reviews) and have placed them on Warehouse 23 so they are available to collectors. (Old issues have been selling on Ebay for over $100 each.) Issue #1, Issue #2, Issue #3, Issue #4, Issue #5, Issue #6, Issue #7, Issue #8, Issue #9, Issue #10, Issue #11, Issue #12, Issue #13, Issue #14 and Issue # 15 are uploaded.
Custom Decals for Starline ships
Tenneshington Decals is proud to announce that, as of June 10th 2022, they are now accepting orders for decal sets made to fit Federation starships in ADB's Shapeways 3788, 3125, 7000 "Elite", and 2500 "Prestige" scales. A wide selection of ships are available now, with more to come in the following months. The 3788 scale decals are also great to use on ADB's metal Starline 2400 ships and the 3125 scale decals can be used on ADB's metal Starline 2500 ships. Tenneshington will also continue to offer their legacy decals for Starline 2500 ships as special orders, for customers wishing to match their existing minis.

As with all of their products, the names on the ships are up to the customer and all sheets are custom-printed to order.

Additional decal sets are available for shuttlecraft and to sets to detail any ship with additional window blocks, sensors, hatches, and even phaser scars.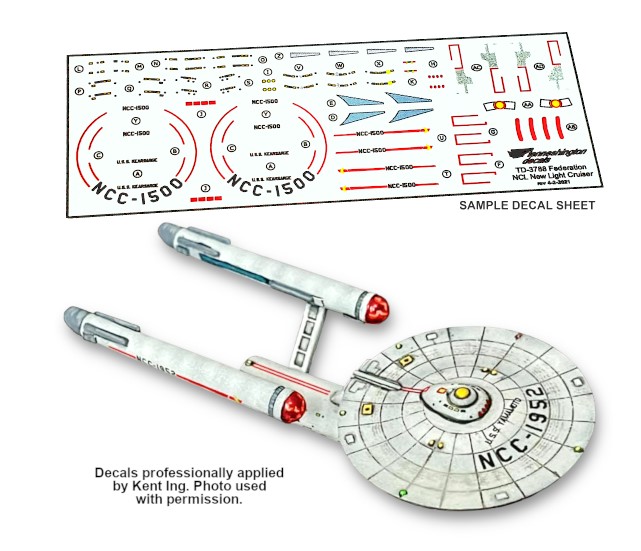 Jupiter IV Decals is a source of decals for the 2400 line and will do custom decals as well as all official SFB names. In the near future Jupiter IV will move into the 2500 line and will work to get every listed name on the Starfleet registry completed in both scales.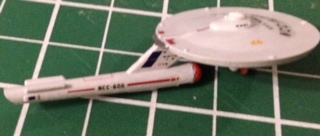 Update to Sapphire Star IX:
With Sapphire Star tournaments IX and X finished, XI is now running. The second Sapphire Crown tournament will kick off on 1 June with the four most recent winners.
Due to the COVID-19 virus, many conventions have been cancelled. We encourage you to check out Star Fleet Battles Online where there is a free demo version. It is a good way to hang out with others who play Star Fleet Battles and Federation Commander. Check it out here: https://www.sfbonline.com/index.jsp
Star Fleet Battles games are played regularly in Columbus, Ohio, on Sunday afternoons at the Soldiery. Lee Hanna is the contact person.
HAILING FREQUENCIES: This is our newsletter and will let you know all the news for all our games. You can subscribe here. Have you missed an earlier newsletter? Click here to get caught up!
COMMUNIQUE: This monthly magazine repeated much of the same information that Hailing Frequencies does. December 2019 was the last month it was published. Old issues can be downloaded from the Commander's Circle.

COMMANDER'S CIRCLE: We continue to improve the Commander's Circle. All of the ships and scenarios are available as separate documents (the ships are organized by empire) so you can quickly see what is available. The FC Scenario Database and Master Ship Chart documents are also here. Our newest project was suggested by our players and is uploading low-toner Ship Cards. The Commander's Circle is the best place to find free additions to Federation Commander!
Mini of the Month
Every month we will feature one or more of our miniatures. If you paint miniatures, submit pictures of your minis and they may be selected for the next Mini of the Month!
Kent Ing painted these specialty shuttles.


Help us pick the mini of the month on our page on Facebook. The mini with the most likes and shares will become the mini of the month. Vote for the ones you like!