Star Fleet Universe News
THE BIG NEWS: this month is that Star Fleet Marines: Assault finally has an official release date (April). The game was delayed by the cover art, which would not have been a factor previously but the wholesalers have made it clear that they are tired of having ADB release new products with no prior warning because we didn't have cover art until the last minute. (The wholesalers use the cover art in their catalogs to get retailers to place pre-orders. Getting the cover art and product info to the wholesalers two months in advance means more pre-orders and more stores carrying the product. We've always known this but our New Year's Resolution was to actually do the marketing job we have allowed to slide for too long.)

Mongoose continues to ramp up production and improve quality in the Starline 2500s, but despite trippling production still cannot meet the demand. They are now exploring several options, including mass production of the ships in third party facilities.
SHIPPING NEWS: We always hate to hear that either UPS or the US Postal Service has raised rates. In January, there was a double whammy in that both did. Unfortunately we do have to pass that on to our customers. While the shipping rates assume "worst case scenario," if we find we can ship it cheaper, then we'll refund the difference.
WEBSITE: Our website, www.StarFleetGames.com, continues to grow and improve. You are welcome to send us your requests, comments, and suggestions. Joel Shutts, our graphics director, continues to update the website, do covers for the new products, shut down pirate websites, help out around the company, and learn more about the game business. One of our newest pages is for Starline 2500 where we display photos and 3d renders of the new starships.
FACEBOOK: Jean continues to improve our page on Facebook, adding many new photos and other features.



If you haven't seen the 1,000+ pieces of art in the albums, you should drop by and visit. You don't have to be a member of Facebook to see our page, but if you are, please become our friend so you can get information in your newsfeed.
VIDEOS: StarFleetGames has taken its act to YouTube and we now have a YouTube channel. Our goal is to create a video for the new product releases during each month. We have "In the Box" videos to show you what you will see when you unpack your new game. We have also done "Spotlights" on a single product or product line. So pull up a chair and join us at the movies! Our newest uploads are:
Star Fleet Marines Part 1
Star Fleet Marines Part 2
ADB Late May 2011
STARBLOG: Our StarBlog has moved to a new URL and all links on StarFleetGames.com websites have been changed to match. The new site is
http://federationcommander.blogspot.com
The blog covers all aspects of the company.

AMBASSADORS: Jean Sexton has succeeded in recruiting two ambassadors (Michael C. Baker and A. David Merritt) to carry the word of the Star Fleet Universe to other websites. They (and Jean) were awarded the first ever "Star Fleet Ambassador Badges" as well as appropriate medals for their service to date. These ambassadors do not just repeat press releases; they answer questions, encourage discussion, and help people find the relevant documents on our website. Contact Jean Sexton if you want to volunteer for ambassador duty.
Forum
BBS

JAGDPANTHER
Take a journey with us to an ancient age, just one step up from carving game rules on clay tablets. The year 1973 was at the very dawn of the independent wargame publishing companies. Typesetting was done with a manual typewriter, print-on-demand meant the photocopier at the library, counters were printed on paper (and drawn by hand), page layout was done with scissors and cellophane tape, and two guys in a garage could turn out a wargame magazine that won two Origins Awards. The point was creativity, new ideas, and imagination. Production values would have to come later.
That magazine was JagdPanther (Hunting Panther), created and run by the same Stephen V. Cole who later co-founded Task Force Games and then went on to found Amarillo Design Bureau. We found the ancient archives of this game company (which ran from 1973-1976, producing 15 maazines, about 50 games, hundreds of variants, and dozens of game reviews) are are now placing them on e23 so they are available to collectors. (Old issues have been selling on Ebay for over $100 each.) The first issue is already there and the second will go on line next week. The other issues and games will follow.
Custom Decals for Starline ships
Have you ever wished you could accessorize your Starline 2500 Federation fleet with your own names and hull numbers? Well now you can!

Tenneshington Decals is pleased to announce that production of custom decals for the Starline 2500 miniatures line has begun. We are currently shipping Federation Squadron Box decal sheets with Fleet Box and individual blisters to follow upon shipment of those products. In the coming months we hope to add custom decals for all the empires of the Star Fleet Universe.

Our decals are printed in high resolution on waterslide transfer paper with the names / hull numbers of your choice. Each sheet comes with decals for the ship name, the hull number, warp engine stripes, secondary hull pennants, and various hatches, access ports, and windows. The Squadron Box sheet covers the five ships in the Squadron Box while the Fleet Box sheet covers all 16 ships in the Fleet Box and even has decals for the 6 shuttlecraft included.

For more information or to download the order sheet, check us out at www.tenneshington.com. Or if you prefer, email Will at: will@tenneshington.com or Tony L. Thomas at: scoutdad@tenneshington.com.

NetKill: NK11Q4 ended in January. Jon Taylor was declared the winner.

Rated Ace Tournament 37 has about half of its Round 3 games played. The games are exciting and the players are tough. There are some new names in the higher rounds. We think all the players are having a good time and good competition. The judge is Kerry Mullan.

Rated Ace Tournament 38 has a high number of players -- 43 people signed up! Maybe it was due to the generous "Rookie of RAT Award" offered by Troy Williams. Still, judge Peter Bakija seems excited about the turnout and we know that we are. Good luck everyone!

Master 2011 is a "just for fun" tournament, but the competition remains fierce. While the original captains of the two ISC cruisers, the Romulan King Eagle, and the Gorn cruiser were left behind in Round 1, four new captains are in Round 4, trying to see who can fly these challenging ships the best. Keep an eye out for the finals where the possibility remains of an ISC civil war!

Andromedan Playtest Tournament has seen five of the 16 scheduled games played. So far, there has been one Andromedan win under the control of Paul Scott.

Winter 2012 FCOL Tourney is just starting. There are twelve players competing. Jim Dauphinais is the judge.
Please send information to Jean via the email in her BBS profile, PM on the Mongoose or Federation Commander forums, or Message on Facebook. If you want convention support, please contact Mike Sparks at support@StarFleetGames.com. Your convention must meet a few simple requirements (one of which is being held in the United States due to shipping costs) which are here: http://www.starfleetgames.com/sfb/tournament/tourn_main.shtml

Genghis Con XXXIII is going to be held February 16-19, 2012 in Aurora, CO. Federation Commander, Star Fleet Battle Force, Star Fleet Battles should all be played on Saturday. For more information, see http://www.denvergamers.org/

Con of the North is going to be held February 17-19, 2012 in St. Paul, MN. Demos and games will be held for Federation Commander, ACTASF, and Star Fleet Battle Force. For more information, see http://www.conofthenorth.org/

Orccon is going to be held February 17-20, 2012 in Los Angeles, CA. An ACTASF demo will be held on Saturday at 7:00 pm. For more information, see http://strategicon.net/index.php?goto=events

Phoenix Vul-Con 2012 is going to be held February 25-26, 2012 in Phoenix, AZ. They plan on holding Star Fleet Battles games. For more information, see www.vul-con.com

A Call to Arms: Star Fleet First Official Tournament is going to be held March 17, 2012 in London, England at Mongoose's headquarters. For more information, see http://www.mongoosepublishing.com/miniatures/ctastarfleet/rulebooks/star-fleet-uk-tournament-ticket-mar-17th.html

Trumpeter Salute is going to be held March 30-April 1, 2012 in Vancouver, B.C. Canada There should be four demos of ACTASF on Saturday and Sunday. For more information, see http://www.trumpetersalute.com/

Diecon 12 is going to be held June 22-24, 2012 in Collinsville, IL. They will be offering A Call to Arms: Star Fleet. For more information, see http://www.diecon.com/D12/

STRATCON is going to be held June 23-30, 2012 in Cincinnati, OH. While primarily for F&E, all other SFU gamers are welcome to play other SFU games. For more information, see http://www.starfleetgames.com/discus/messages/37/27310.html?1328579665

Wolfcon 007 is going to be held November 23-5, 2012 in Chicago, IL. A Star Fleet Battles tournament is usually held on Sunday afternoon. For more information, see http://www.wolfcon.org/

GAME STORES WITH SFU DEMOS

Madison, WI. River City Hobbies. February 16, 2012. 5:00-8:00 pm. ACTASF

Madison WI. River City Hobbies. February 25, 2012. 2:00-8:00 pm. ACTASF
HAILING FREQUENCIES: This is our newsletter and will let you know all the news for all our games. You can subscribe here. Have you missed an earlier newsletter? Click here to get caught up!
COMMUNIQUE: The latest Communique brings you more Ship Cards, scenarios, and more news from the Star Fleet Universe! It can be downloaded from the Commander's Circle.

COMMANDER'S CIRCLE: We continue to improve the Commander's Circle. All of the ships and scenarios are available as separate documents (the ships are organized by empire) so you can quickly see what is available. The FC Scenario Database and Master Ship Chart documents are also here. Our newest project was suggested by our players and is uploading low-toner Ship Cards. The Commander's Circle is the best place to find free additions to Federation Commander!



The Federation Commander site and Forum continue to grow as more gamers continue to find them. All of our games currently have topics in the Forum. If you have any comments, questions, or requests for our Graphics Director, this is the place to let him know. Come see what the commotion is about and join the Federation Commander Forum now.
We are very pleased to see the medals, honor bars, and ribbons awarded to players being incorporated into their signatures. It is exciting to see lots of interesting conversations about a wide variety of subjects. Get in on the activity!
While for new players the Federation Commander Forum is a little easier to manage, the original (Discus-based) BBS is where most product development takes place. If you have a proposal you'd like to see worked on, don't forget to make sure it is mentioned here. It also has active F&E and SFB forums where players run campaigns, Rated Ace tournaments and other SFB tournaments are organized (most FC tournaments are organized on the Forum), SVC's "My Day" appears, along with current news and strategies dealing with Prime Directive, and each issue of Captain's Log is created. While less colorful (no avatars or sigs), it is a vital part of ADB, Inc.'s communication.


FC Tactic of the Month
IN PRAISE OF DRONES
- Ensign Manny Moreno, USS America
The greatest strength of drones is their power-to-damage ratio. For zero power, you get 12 points of warhead. No other weapon can hope to match that. While it may be discouraging that those 12 points are by no means guaranteed (particularly when you consider that phasers will always do damage up close), drones have much, much longer ranges.
Drones are such a good deal that the enemy cannot afford to let them hit. He must stop them, which means using weapons against the drone and not your ship.
Drones are also exceptional at controlling space and, more importantly, power. Outside of dedicated defenses (ADDs, phaser-3s, and counter-drones), each drone will require one point of power to stop. That is a two-point power gap: the point you did not spend, and the one your opponent did, and maybe another point to tractor it when the phaser misses and another point for a second phaser shot later.
(End of FC Tactic of the Month)


SFB Tactic of the Month
THE UNLIKELIEST STINGER KILLER
- Captain Ken Burnside, USS Wisonsin
While it doesn't happen often, one common tournament tactic with Hydran Tournament Lord Marshal is to hold the Stingers in the bay and launch them after the opponent has fired the bulk of his weapons at the Hydran ship. The Stingers get launched, loiter for eight impulses (usually trying to end a move in the target's hex for close combat maneuvers), and all is well (for the Hydran, anyway).
One interesting fly in the ointment is for the target to charge the Stingers; they want to get to Range 1 from the Stingers at a point in the turn where, on the next impulse, the following conditions are true:
1. An Admin shuttle moves,
2. The Stingers do not move,
3. The Stinger's weapons aren't able to fire yet.
The trick is that you can launch a suicide shuttle at a Stinger (or one at each Stinger if you've got two bays), which will impact on the next impulse. Because of the Sequence of Play, the Stinger cannot drop chaff in response to a suicide shuttle launch, as it could in response to a drone or plasma-D torpedo launch.
(End of SFB Tactic of the Month)
F&E Strategy of the Month
THE THIRD WAY TO FREE A SCOUT
- Cadet Jason E. Schaff, USS Virginia
The Third Way rules provide the Federation with a unique opportunity to add a second, almost damage-proof, free scout slot. Carrier battle groups (CVBGs) can include a single ship carrier as one of the two included carriers. By combining a standard carrier group with a CVL, the Federation gets an extra four-point scout that does not count against Command Rating limits, and boosts the survivability of the carrier group by adding a ship that is almost combat-equivalent to an NAE. Overstuffing the original carrier group with an extra DWA means that, with an FCR substitution, three Directed-Damage attacks will usually be required to force the extra scout off the line.
(End F&E Strategy of the Month)
Demotivationals
Throughout the month our graphics director places on the website various cards called Demotivationals. These are like postcards with a image and a phrase that is often used for humor.
These are the Demotivationals for the month of January:
Express Delivery
Logistics
Orion OK6
Transports
To see our previous Demotivationals click here.
Mini of the Month
Every month we will feature one or more of our miniatures that has been painted by a fan. If you paint miniatures, submit pictures of your minis and they may be selected for the next Mini of the Month!
Starline 2500 Klingon C8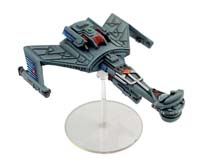 New Releases

Communique #74 has been posted to the Commander's Circle.

Recently Released
Captain's Log #44 Supplemental File
Star Fleet Times Issues #1 - #5
Playtest Module R107 - The Nicozians
Captain's Log #44, Stock 5744, $19.95
Star Fleet Battles Module E3: Borak Star League, Stock #7103, $12.00
Booster 31, Stock #4231, $9.95
Booster 32, Stock #4232, $9.95
Booster 33, Stock #4233, $9.95
A Call to Arms: Star Fleet, Stock #30000, $29.99
Starline 2500: Squadron Boxes #1, Stock #30002, $29.99
Starline 2500: Squadron Boxes #2, Stock #30003, $29.99
Starline 2500: Squadron Boxes #9, Stock #30004, $29.99
Starline 2500: Squadron Box #9a, Stock #30005, $39.99
Starline 2500: Federation Fleet Box, Stock #30006, $99.99

To be releases on March 2012
Romulan PD20 Modern, TBA

To be Released in 2012
Captain's Log #45, Stock #5745, $TBA
Captain's Log #46, Stock #5746, $TBA
Traveller Prime Directive (four or five books)
Federation Admiral, Stock #4080, $TBA
Star Fleet Marines Assault, Stock #2101, $TBA
Starmada: Battleships Armada, TBA
Federation Commander: Reinforcements Attack: TBA
A Call to Arms Star Fleet #2, TBA

PDF SALES: ADB, Inc. continues its relationship with Steve Jackson Games and their e23 Warehouse. We chose e23 because they have a philosophy that agrees with ours -- our customers are honest and honorable and wouldn't aid people who want to steal our products. Furthermore, we know from experience how devastating a computer crash can be and want our customers to know that they don't have to worry about the loss of their e-products bought through e23. What do we have there? We have created a new page that allows easy access to our PDFs for sale on e23. From here you can see what we currently have posted and have links to those products.

RECENTLY RELEASED ON e23
Jadgpanther Magazine #1
Captain's Log #44 Supplemental File
Star Fleet Times Issues #1 - #5
Playtest Module R107 - The Nicozians
Captain's Log #19
Module E3 Borak Star League SSD
Module E3 Borak Star League Rules
Module R3 SSD Book
F&E ISC War Rulebook
Captain's Log #18
Captain's Log #17
Star Fleet Battles: Playtest Module E2 - Triangulum Galaxy
Star Fleet Battles: Module R4 SSD book

RECENTLY RELEASED ON DRIVE THRU RPG
Prime Directive PD20M
Klingons PD20 Modern
Federation PD20 Modern

NEW MINIS
FC: Border Box #10, SKU 4410, $99.95
Federation LTT, SKU 0238, $9.95
Federation Old CA, SKU 0239, $8.95
Tholian TK5, SKU 0717, $7.95


Star Fleet Fiction
FLOTILLA COMMANDER
by Stephen V Cole
Part 1 of 3

Patrol Zone Gamma, Northwest Fleet, 17 Sept Y183

          I, Senior Lieutenant Terrik Korrell, became commander of the 747th DSF Gunboat Flotilla 12 hours and 14 minutes earlier than scheduled. Commander Koranik died with his 216 Boat on his last mission when the Kzinti cruiser that wasn't supposed to be there switched targets suddenly and caught him in a tractor beam. There were no survivors, which was just as well considering how the Tigermen treat prisoners.
The flotilla was operating short-handed since we lost the 839 boat a week earlier. Now, I was suddenly in command, and I had four boats left, with about half of their drones still in the racks. The mission was to hit an enemy convoy trying to work its way through our sector to supply a Tigerman force that broken through in Sector Delta a week earlier. I had to instantly decide if I was going to abandon that mission and go for the cruiser, or continue to target the convoy. No doubt, the cruiser was the more glorious target, but the Tigermen had plenty of cruisers and only one breakthrough on this front. By killing the convoy, I could do what an entire fleet had failed to do, and force the Tigermen to pull their squadron out of our space. To be sure, once the cruiser was dead the convoy would be an easy target, but the 431 Scout Boat had already reported more ships on the way and we just didn't have time.
Going after the convoy wasn't a popular decision. For one thing, ignoring an enemy cruiser is all too often fatal, and for another, there is more glory in killing a cruiser than a freighter, but the mission was, above all, the mission, and other Klingons were counting on us to get the job done. My own gunnery officer snarled at me, and two of the other boat commanders demanded that I confirm the order, but the iron discipline of the fleet prevailed. I had made a decision and the others had to assume I knew what I was doing. If I was wrong, I would answer for it later.
We salvoed our third wave of drones in a huge sheaf, more of them than the cruiser could stop with its remaining weapons. As we circled to port to line up for the fourth and last wave, Vorl reported hits on five of the six remaining freighters, two of which were obviously destroyed. That meant we had killed three of the original seven freighters and had damaged three of the rest. I considered ordering each boat to launch only one drone, but with the cruiser in the battle anything less than the full wave would be within his ability to kill. Ignoring phaser damage from the cruiser on my rear shields, I drove in to fire my disruptor and phasers on a wounded large freighter; the cruiser killed both of my drones before they could hit. For that matter, the Tigerman cruiser killed all but one of our drones, which hit one of the damaged freighters, leaving it dead in space. Slish-tak, my wingman, finished it off with disruptor fire. The cruiser used his last drones against us but between phasers and counter-drones we took only one hit, which badly damaged the 941 Boat.
(Continue reading here)



DRONES

Terry O'Carroll asks: Ken Burnside wrote, in a tournament report: "I specify that one of the drone racks is half empty (a cheesy trick to load the second ECM drone in one turn, rather than a turn spent unloading and a turn spent reloading)." Can someone tell me which rule allows this? I thought ships always started the game with full racks?
ANSWER: I am unaware of any rule that allows this with the exception of (FD3.45) for type-D drone racks and (FD3.85) for starbase drone racks. The applicable rules seem to be the following: (FD2.31), (FD2.422), and (FD2.451), none of which allows the partial unloading of a drone rack at any weapon status. Rule (S4.13) might seem to allow a partial exception in that you can have launched one drone from each rack during Turn #0.

Andy Vancil asks a follow-up question: I suppose at WS-III you could say that the drones in your scatter-packs came out of the drone racks, rather than the reloads? That would leave space in the racks to put special drones from storage in without delay.
ANSWER: Not if you are playing in accordance with the rules: (FD7.212) The drones used for a scatter-pack are drawn from the reserve stocks (FD2.44) or the drone racks of the ship which prepares and launches the scatter-pack. Drones loaded onto an scatter-pack at the start of a scenario under WS-II or WS-III are drawn from the ship's reload stockpile (FD2.44) and do not cost any BPV since they were paid for under (FD2.45). Any drones in the reload stockpile not prohibited by (FD7.12) can be loaded in the scatter-pack at start without regard to availability (FD10.6).

George Duffy asks a follow-up question: With regards to unloading drones from a drone rack. Is not the loading/unloading of a rack and the transferring of drones to/from a storage area done by drone-rack crews, while the tranferring of drones to/from the storage facility to either a fighter ready rack or a scatter-pack done by deck crews? [Based on what it says in (FD7.25).] If so, then could not the drone-rack crews unload a drone from the rack and place it the storage facility, while the storage facility was being pilfered by deck crews trying to load a scatter-pack at the same time? Could this be done during WS-II?
ANSWER: There is, to the best of my knowledge, no rule allowing you to begin a scenario with partially unloaded drone racks, except for some "special scenario rules" reflecting unusual circumstances. Unless such a rule is found (I have looked with no success), the answer has to be "no".

John Trauger asks a follow-up question: Could a ship start with voluntarily reduced rack loads if one accepted appropriately reduced reloads?
ANSWER: There is no rule that allows this, nor is there a need for such a rule. The only thing we can figure out is that you're looking for a way to reduce BPV cost and doing it that way is just not something that would be under the control of the ship's captain (or the player).
(Ask Growler continues here. )


SMALL SCALE COMBAT: THE TEAPOT OF VICTORY

Q: Under rule (310.14) [which was rule (323.14) when I first asked this], if you have an X-ship, you get a +1, and if you face an X-ship, you get a -1. There is a note saying to ignore the -1s if both sides have an X-ship, implying that both sides still get the +1 bonus. Can this be right?
A: It is right. X-ships are deadly, even to each other.
Q: Under rule (310.14), there is a -1 penalty for a differential of two-to-four points, and -2 for five or more points. These are on separate lines, so I think they could both apply. (My opponent says only one can apply.) So if I have two CWs (seven each) facing a frigate (five points) and two points of fighters, I think that I have a -1 and a -2 (i.e., a -3), but my opponent says the comparison is fourteen versus seven, and only a -2. Who is right?
A: Only one of those two modifiers can apply, and you use the one that is worse. In this case you would compare the frigate and the war cruiser one time and get a -1 modifier.
Q: Under rule (310.51), I can resolve a "casualty" (310.32) by retreating. Can the other side pursue and force another round of Small Scale Combat?
A: Yes you can pursue, and if SSC still applies, you do another round of SSC.
(End of F&E Q&A)


ASK AUNT JEAN

Q: A few questions about the "Mesmerizing Gaze" special rule for the Orion Slave Girl/Escort prestige class in PD20M (page 81):
1. The book says that the "opponent must attempt a saving throw"–what sort of a saving throw? I assume "Will"?
2. What is the consequence of failing this saving throw? The book says "The Orion Slave Girl with a successful gaze attack gains concealment relative to the opponent"–is this the consequence? If so, what degree of concealment?
3. Is there any disadvantage to the intended victim in averting their gaze in an attempt to avoid the saving throw? It seems like having to avert the gaze would provide some concealment?
The rule is a little bit confusing to me!

A: The save should indeed be a Will check.
This is one that got ported over from d20 and didn't have all the changes made to it. It should be a 20% chance of a miss (or one-half concealment).
I would think that if you are dodging the gaze, it would depend on how you were doing it. Using a mirror, then you'd just have whatever modifier the GM thought appropriate for having to use that–if your shooter were a trick shooter in a circus and used to doing stunts like that, then maybe there would be no penalty. Shutting your eyes would surely produce a worse modifier than failing your save.
In part, this is also a non-combat effect. Think of seeing her through a light fog-some subtle movements might be lost, such as her dropping a data chip in someone's pocket across the room or using sleight of hand to slip a sedative into your drink as she fixes it. While the skills provide a good opportunity for a courtesan, there are also some things that make her an excellent spy or even a "redistributer of your wealth."

Send questions to Jean at design@StarFleetGames.com and SVC will decide which one Jean will answer next.
(End of Ask Aunt Jean )

Cool Stuff on the Website

In this section we will provide links to various web pages and items that we think you will find "cool".
Here are links to the new pages of Starline 2500 miniatures pictures.
Starline 2500 Battleships page
Starline 2500 Federation Miniatures
Starline 2500 Klingon Miniatures
Starline 2500 Romulan Miniatures
Star Fleet Command
Starline 2500
Traveller Prime Directive
Call to Arms Star Fleet

We have also uploaded new Xander wallpapers to our Wallpapers section on the website.
Wallpapers

We have new images of our next game Star Fleet Marines posted on our BBS topic page.

STAR FLEET ALERTS

These are the press releases we send to the wholesalers, retailers, and media. You can get on the mailing list for them by asking Marketing@StarFleetGames.com to add you to the list. (Obviously, they are free.) They are uploaded to the Star Fleet Alert page

Alert 120123 Romulans PD20M (Adobe Reader Required)
Alert 111129 CL44 (Adobe Reader Required)
Alert 110830 OMRB (Adobe Reader Required)
Alert 110615 Mongoose (Adobe Reader Required)
Alert 110504 GURPS Fed & C3A (Adobe Reader Required)
Alert 110221 Schedule (Adobe Reader Required)
Alert 101231 New Year (Adobe Reader Required)
Alert 101026 Fight For A Cure (Adobe Reader Required)
Alert 101019 Video (Adobe Reader Required)



NEW MINIATURES!

Starline 2500 Federation Light Dreadnought