Star Fleet Universe News

THE BIG NEWS: MASTER MOLD #2501
MASTER MOLD #2501 has returned from the mold company. The bad news is that two of the Tholians (patrol corvette-PC and heavy cruiser-CA) collapsed under pressure and were ruined; we have a master modeller building new prototypes right now and every step is being taken for success. This does mean that those two ships (originally scheduled to release on 14 July) will be delayed until 11 August.
The good news is that six of the new ships did work. The Tholian DD (destroyer) and the Orion DW (war destroyer) and BR (battle raider, their war cruiser) will be on the cart in early July and the three Orion "heavies" (CA-heavy cruiser, BC-battlecruiser, BCH-heavy battle cruiser) will be on the cart in early August.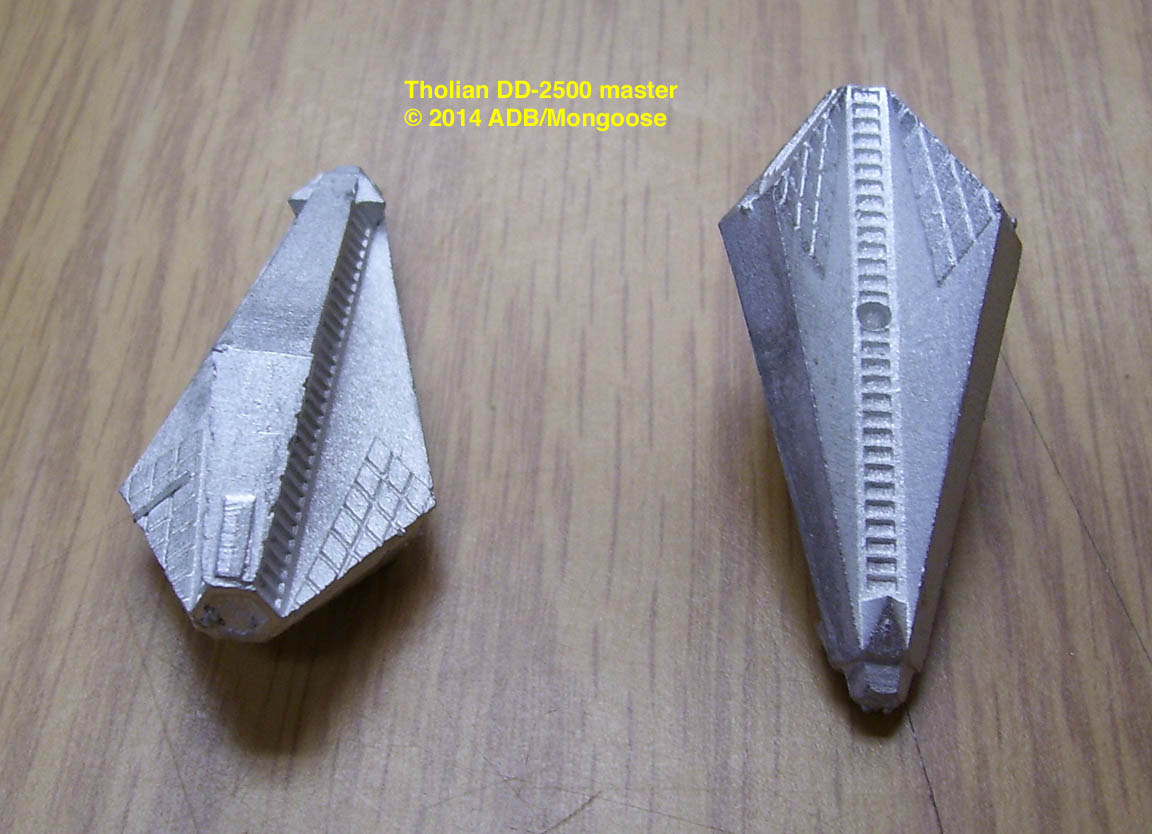 WEBSITE:
Our website,
www.StarFleetGames.com
, continues to grow and improve. You are welcome to send us your requests, comments, and suggestions. Simone Pike, our graphics director, continues to update the website, do covers for the new products, shut down pirate websites, help out around the company, and learn more about the game business. One of our newest pages is for
Starline 2500
where we display photos and 3d renders of the new starships.

FACEBOOK:
Jean continues to improve our page on Facebook, adding many new photos and other features.
If you haven't seen the 1,000+ pieces of art in the albums, you should drop by and visit. You don't have to be a member of Facebook to see our page, but if you are, please become our friend so you can get information in your newsfeed.
If you've already liked us on Facebook, but are not seeing our posts, then remember to check your new "Pages Feed" on the left menu. You can also go to our page and hover over the "Liked" button. Be sure that both "Show in News Feed" and "Get Notifications" are checked.
TWITTER:
ADB has recently started a Twitter feed. We are ADBInc_Amarillo. You'll find news as well as links to pictures. Check us out and retweet news of interest to your own followers. We're excited and our first goal is to get 100 followers. Help us reach that, please.


VIDEOS:
StarFleetGames has taken its act to YouTube and we now have a YouTube channel. Our goal is to create a video for the new product releases during each month. We have "In the Box" videos to show you what you will see when you unpack your new game. We have also done "Spotlights" on a single product or product line. So pull up a chair and join us at the movies! Our newest uploads are:
Star Fleet Marines Part 1
Star Fleet Marines Part 2
ADB Late May 2011
Starline 2500 Miniatures Review
Star Fleet Battle Force in the box
STARBLOG:
Our StarBlog has moved to a new URL and all links on StarFleetGames.com websites have been changed to match. The new site is http://federationcommander.blogspot.com
The blog covers all aspects of the company.

RANGERS:
The Rangers are up, fully operational, and doing demos! There are currently 50 Rangers listed in our database with 30 of them having advanced past Ranger Recruit, meaning they've held at least one demo.
Star Fleet Rangers are our front-line recruiters in introducing new people to our games. They are hard working, tireless promoters of the SFU. They go to conventions, stores, game clubs, and other public venues to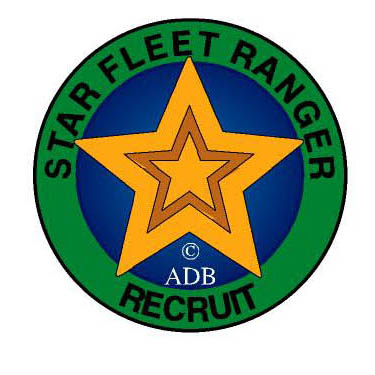 show our games and to teach potential players some basics.
Why should you be a Ranger? Well, one of the reasons is purely selfish -- you teach people to play your favorite games and "grow your own" opponents. With enough interested people you can form a battle group and even get in on playtesting if you want. You get your name in Captain's Log and awards on your plaque on the Wall of Honor. You even get Star Fleet Bucks which will help you with purchases from our storefront. Still, being able to play games face-to-face has to be one of the best reasons to do it.
So visit our Ranger page here: http://www.starfleetgames.com/rangers/index.shtml

Register and join the the Star Fleet Rangers!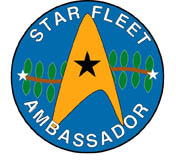 AMBASSADORS:
Jean Sexton has succeeded in recruiting two ambassadors (Michael C. Baker and A. David Merritt) to carry the word of the Star Fleet Universe to other websites. They (and Jean) were awarded the first ever "Star Fleet Ambassador Badges" as well as appropriate medals for their service to date. These ambassadors do not just repeat press releases; they answer questions, encourage discussion, and help people find the relevant documents on our website. Contact Jean Sexton if you want to volunteer for ambassador duty.
Forum
BBS

JAGDPANTHER
Take a journey with us to an ancient age, just one step up from carving game rules on clay tablets. The year 1973 was at the very dawn of the independent wargame publishing companies. Typesetting was done with a manual typewriter, print-on-demand meant the photocopier at the library, counters were printed on paper (and drawn by hand), page layout was done with scissors and cellophane tape, and two guys in a garage could turn out a wargame magazine that won two Origins Awards. The point was creativity, new ideas, and imagination. Production values would have to come later.
That magazine was JagdPanther (Hunting Panther), created and run by the same Stephen V. Cole who later co-founded Task Force Games and then went on to found Amarillo Design Bureau. We found the ancient archives of this game company (which ran from 1973-1976, producing 15 magazines, about 50 games, hundreds of variants, and dozens of game reviews) and are now placing them on e23 so they are available to collectors. (Old issues have been selling on Ebay for over $100 each.) Issue #1, Issue #2, Issue #3, Issue #4, Issue #5 and, Issue #6 are already there and further issues are being prepared for upload.
Custom Decals for Starline ships
Tenneshington Decals continues to provide custom decals for all currently produced Federation Starline 2500 miniatures and will be adapting their offerings to match ADB's new marketing for the miniatures.
In addition to the legacy fleet and squadron box sets, decals for each of the ships are available as individual sheets along with special sheets to detail any ship with additional window blocks, sensors, hatches, and even phaser scars.
As with all their products, the names on the ships are up to the customer and all sheets are custom-printed to order.
In addition, Tenneshington Decals continues to develop decals sheets for other empires in the Starline 2500 line and the Starline 2400 miniatures.
For more information or to download the order sheet, check them out at www.tenneshington.com. Or if you prefer, email Will McCammon at: will@tenneshington.com or Tony L. Thomas at: scoutdad@tenneshington.com.
Rated Ace Tournament #42 is heading into the final four players. Only one third-round game is left to play and then round four will be set. Bill Schoeller is the judge for this tournament.
Rated Ace Tournament #43 is starting up. Two of the first round games are finished. Good luck everyone! Brett Johnson is the judge.

NetKill Patrol second quarter is in full swing on SFBOL. Richard Schirmer maintains the statistics that make this tournament possible.
The Platinum Hat 2013 International Online SFB Tournament has finished. Stephen McCann is the winner. Congratulations to him and to all who played in this challenging tournament. Thanks to Paul Scott for being the judge. Watch for information about the 2014 tournament!
World League 2014 is starting up. There are 10 teams of three people. This year the players were drafted by Team Captains who were selected from Fleet Captains and then by Schirmer ratings. We look forward to this competition each year. The judge for the tournament is Peter Bakija who is busy creating the round robin pool.

.

STRATCON 2014
This all-
SFU
convention is now in full swing during 7-14 June 2014 (eight days) at Clarion Inn & Suites, 2227 Old Fort Parkway, Murfreesboro, Tennessee 37129 (615) 896-2420. You can still attend and play! Ask for the StratCon room rate. StratCon is organized primarily by and for the
F&E
community but is open to all
SFU
games and gamers. The cost will be under $75 per player for the entire week, a fraction of the entry and gaming costs charged by Origins. (That is why it is not being held at Origins. It was announced in Communique that ADB, Inc., will no longer attend that convention.) Contact
stratcon@starfleetgames.com
for more information.
Tony L. Thomas ran several A Call to Arms Star Fleet events at Nashcon 2014 May 23-25, 2014 in Nashville, Tennessee. He reports great fun was had by all
MISCON's Sanctioned Tournament for
SFB
with miniatures was held on Sunday May 25, and Monday May 26, 2014 in Missoula, Montana. Judge Harlan Haskell III reports more fun for the people.
There are reports there will be
SFU
events at GenCon. This con is being held August 14-17, 2014 in Indianapolis, Indiana.
http://gencon.com/
On their list is
Federation Commander
(three events) and
GURPS Prime Directive
(one event). Check it out!
On August 17, 2014 at SPOCON, at the DoubleTree, Spokane, WA there will be an
SFB
sanctioned game or games (depending on turnout) using the tournament rules, with miniatures. Judge Harlan Haskell III will provide all materials for this event.
Star Fleet Battles games are held weekly in Tempe Arizona each Friday at Game Depot from 2:00 -7:00 pm. Eric Phillips is the person to contact.


Games are held in Spokane, Washington on an irregular basis. Contact them to see if there's a game scheduled. They meet at The Gamers Haven, 2114 N. Pines St., Suites 1 & 2, Spokane Valley, WA 99206, (509) 443-5992
http://www.thegamershaven.net/gamers_haven.php
HAILING FREQUENCIES: This is our newsletter and will let you know all the news for all our games. You can subscribe here. Have you missed an earlier newsletter? Click here to get caught up!
COMMUNIQUE: The latest Communique brings you more Ship Cards, scenarios, and more news from the Star Fleet Universe! It can be downloaded from the Commander's Circle.

COMMANDER'S CIRCLE: We continue to improve the Commander's Circle. All of the ships and scenarios are available as separate documents (the ships are organized by empire) so you can quickly see what is available. The FC Scenario Database and Master Ship Chart documents are also here. Our newest project was suggested by our players and is uploading low-toner Ship Cards. The Commander's Circle is the best place to find free additions to Federation Commander!



The Federation Commander site and Forum continue to grow as more gamers continue to find them. All of our games currently have topics in the Forum. If you have any comments, questions, or requests for our Graphics Director, this is the place to let her know. Come see what the commotion is about and join the Federation Commander Forum now.
We are very pleased to see the medals, honor bars, and ribbons awarded to players being incorporated into their signatures. It is exciting to see lots of interesting conversations about a wide variety of subjects. Get in on the activity!
While for new players the Federation Commander Forum is a little easier to manage, the original (Discus-based) BBS is where most product development takes place. If you have a proposal you'd like to see worked on, don't forget to make sure it is mentioned here. It also has active F&E and SFB forums where players run campaigns, Rated Ace tournaments and other SFB tournaments are organized (most FC tournaments are organized on the Forum), SVC's "My Day" appears, along with current news and strategies dealing with Prime Directive, and each issue of Captain's Log is created. While less colorful (no avatars or sigs), it is a vital part of ADB, Inc.'s communications.
F&E Strategy of the Month
DO NOT FEAR THE REAPER
- Ensign Patrick Sledge, USS Ohio

Many players' first instinct when being pursued is to pick a Battle Intensity Rating of one to minimize losses. However this can result in lost opportunities for a retreating player to inflict meaningful damage on enemy forces.
Pursuit forces are generally designed to maximize combat potential density, meaning they tend to resolve damage less efficiently than a regular battle line. Further, the quest for density also means that valuable units may appear unprotected in a pursuit force, where they would rarely be seen on a regular battle line. For this same reason of density, scouts are less commonly seen in pursuit forces, meaning the odds are high of the retreating player having a favorable (or at least neutral) die roll shift due to electronic warfare. By selecting a high Battle Intensity Rating the retreating player gets a chance (under some of the most favorable conditions possible) to inflict a few points of extra damage on the enemy.
The cost to this is obviously the increased damage suffered in return. Going from a Battle Intensity Rating of one to a Battle Intensity Rating of four means accepting a 7.5% increase in damage received. From a typical pursuit force this means somewhere in the neighborhood of six extra damage points, or enough for your opponent to direct-kill an additional crippled destroyer. Obviously, there are times where the extra damage would allow an opponent to kill a key unit, and in these cases picking a low Battle Intensity Rating remains appropriate.
In short, next time you are retreating evaluate the damage your enemy can do (and the key units in his battle force) instead of reflexively picking a low Battle Intensity Rating. Sometimes, you have to fear the reaper. But if you do not, then consider turning around and kicking him in the chops.
(End of F&E Strategy of the Month
)

ASTEROID OR DISASTER-OIDS?



Many players of A Call to Arms: Star Fleet use terrain to control their opponent's movement or to provide coverage to their flanks. This is all well and good, unless your opponent happens to be a Romulan (or an Orion Pirate with cloaks). Most types of terrain completely block line of sight and some have potential penalties for passing through that are so severe that many people will spend turns going around rather than one turn going through.
So if you are on one side and your opponent is on the other, you can relax and take heart that you are relatively safe from enemy fire, right? Wrong! While asteroid fields and dust clouds can be of any size (up to and including the size of the entire map), most of us have created terrain pieces that are a few inches wide and about twice that many inches long. If your opponent is on one side of the terrain and cloaked, he may decide to uncloak on his next movement.
When uncloaking, units may move up to six inches in any direction and make one turn in lieu of making a standard maneuver. If the terrain separating you is less than six inches wide, you may suddenly find yourself facing an unexpected opponent. One who has suddenly crossed an entire asteroid field without having to face the risk of shield damage from collisions with wayward rocks, or has crossed a Tholian Web you thought would protect you for another turn or two.
So if you have a cloaking device, remember this tip and you will rarely have to worry about that bothersome terrain again. If you do not have a cloaking device, then make sure your terrain pieces are at least 6.1 inches in each dimension, and you will never have to worry about those pesky cloaking devices again!!!
(End of A Call to Arms: Star Fleet Tactic of the Month
)
Demotivationals
Throughout the month our graphics director places on the website various cards called Demotivationals. These are like postcards with an image and a phrase that is often used for humor. Here are the newest demotivationals since our last newsletter:

Teamwork
Valley of Death
Star Fleet Battles
Have fun!
Perseverance

To see our previous Demotivationals click here.
Mini of the Month
Every month we will feature one or more of our miniatures that has been painted by a fan. If you paint miniatures, submit pictures of your minis and they may be selected for the next Mini of the Month!
Jim Klein's Federation ship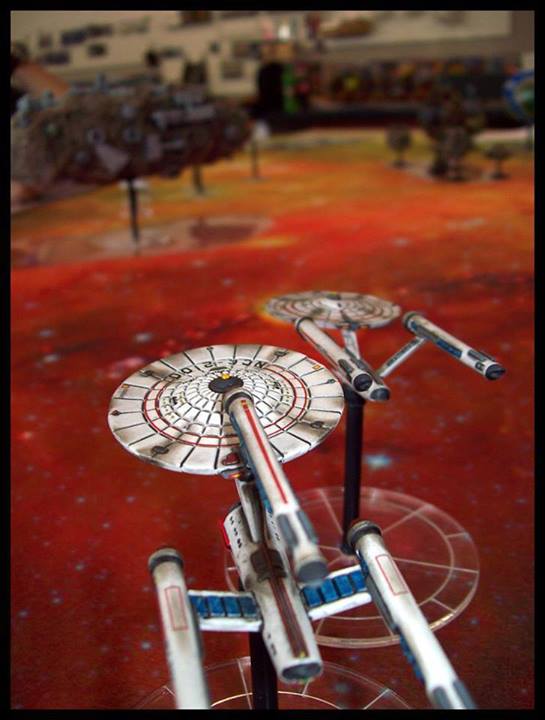 Help us pick the mini of the month on our page on Facebook. The mini with the most likes and shares will become the mini of the month. Vote for the ones you like!

New Releases
Communique #102 has been posted to the Commander's Circle
Click here to see our previous issues of Hailing Frequencies.

To be released in 2014
Fed Com Tactics Manual, SKU 4009, $TBA
SFB Fed Master Starship Book, SKU 5432, price $TBA
Traveller Prime Directive Core Rulebook, price $TBA
A Call to Arms Star Fleet: Book One Revision Two, $TBA
F&E Minor Empires, SKU 3214, price $TBA
Starmada: War & Peace (Admiral and Nova editions), $TBA
New starships for the 2500 (1/3125) range including Tholian PC, DD, CA, TK5, DN; Klingon B10; Orion BR, DW, BC, BCH, DN, CA. $TBA
New starships for the 2400 (1/3788) range including heavy war destroyers and the jumbo freighter. $TBA
Tribbles vs Klingons. $TBA
Federation Admiral, Stock #4080, $TBA
PDF SALES:
ADB, Inc. continues its relationship with Steve Jackson Games and their Warehouse 23. We chose Warehouse 23 because they have a philosophy that agrees with ours -- our customers are honest and honorable and wouldn't aid people who want to steal our products. Furthermore, we know from experience how devastating a computer crash can be and want our customers to know that they don't have to worry about the loss of their e-products bought through Warehouse 23. What do we have there? We have created a new page that allows easy access to our PDFs for sale on Warehouse 23. From here you can see what we currently have posted and have links to those products.
RECENTLY RELEASED ON Warehouse 23 (e23 been joined with and is now known as Warehouse 23.)
Klingon G1 Gunboat Deck Plans
Starmada Admiral Edition: Romulan Armada
Starmada Admiral Edition: Alien Armada
Starmada Admiral Edition: Klingon Armada
Starmada Admiral Edition: Distant Armada
Captain's Log #35
SFB: Module C3A Rulebook
SFB: Module C3A SSD Book (B/W)
SFB: Module C3A SSD Book (Color)
FC: Lesser Magellanic Cloud Playtest Pack
FC: Omega Playtest Rulebook
SFB Basic Set SSD Book 2011 (Color)
Battlewagon Article #5: Surigao Straits
Battlewagon Article #4: Operation Regenbogen




RECENTLY RELEASED ON DRIVE THRU RPG and WAR GAME VAULT
Klingon G1 Gunboat Deck Plans (DriveThru RPG or War Game Vault)
F&E ISC War Rulebook (DriveThru RPG or War Game Vault)
Captain's Log #35 (DriveThru RPG or War Game Vault)
Starmada Nova Edition: Distant Armada (DriveThru RPG or War Game Vault)
Starmada Admiral Edition: Distant Armada (DriveThru RPG or War Game Vault)
FC: Kzinti Ship Card Pack #1 (DriveThru RPG or War Game Vault)
SFB: Module C3A Rulebook (DriveThru RPG or War Game Vault)
SFB: Module C3A SSD Book (B/W) (DriveThru RPG or War Game Vault)
SFB: Module C3A SSD Book (Color) (DriveThru RPG or War Game Vault)
Captain's Log #4 (DriveThru RPG or War Game Vault)
F&E: Compendium (DriveThru RPG or War Game Vault)
FC: Lesser Magellanic Cloud Playtest Pack (DriveThru RPG or War Game Vault)
FC: Omega Playtest Rulebook (DriveThru RPG or War Game Vault)
FC: Romulan Ship Card Pack #1 (DriveThru RPG or War Game Vault)
SFB Basic Set SSD Book 2011 (Color) (DriveThru RPG or War Game Vault)
SFB Basic Set SSD Book 2011 (B/W) (DriveThru RPG or War Game Vault)





Star Fleet Fiction
YOU DO NOT HAVE TO DIE
by Olivette Roche
PART 1 OF 2

"The Frax are insane to have started this war," Kumerian said, setting his cup on the wardroom table.
"Then why did they start it?" Karisma asked. The question was an honest one, asked by a civilian who really did not understand war or politics, not a challenge of his opinion, which would have been typical of a military officer.
"Pride, certainly," Kumerian replied. "It's not so much a matter of greed, as your news channel reports, but a desire to keep what they have rather than continue to pay tribute to the Klingon Empire." The Ministry of Propaganda had pushed the idea that the Frax had declared war out of greed. Klingon civilians, who did not understand galactic economics, readily bought into the idea that not giving 30 percent of their gross national product to the Klingon Empire was simply a form of greed. The Empire considered that tribute to be its natural right, and any refusal to pay the tribute to be selfish greed on the part of the Frax.
"Surely they do not think they can win?" Karisma asked.
"Of course not," Kumerian answered, "that's not the point. They just have to avoid losing for a few weeks, and we cannot afford to allow that to happen."
"I am not following you," the reporter said. "The government embedded me with the fleet so that I could explain better to the population what is going on."
"No," Kumerian laughed, "they embedded you with my squadron so you could make the civilians admire their gallant military, understand our sacrifices, and respect our sense of duty. The last thing the government cares about is telling the civilians what is really going on. If you try to do that, your reports will be deleted and you won't ever get another chance to be embedded with the military." That, Kumerian thought to himself, would be a shame. He had been lonely since the death of his wife, and the young female reporter was the first woman who had interested him. Military women reminded him of his dead wife far too much. Karisma Karpenkor was very different, a sort of endearingly naive girl, one he really wanted to protect, and educate.
"Would it be dangerous for the civilians to know the truth?" Karisma asked. She had already taken the first steps to separate herself from thinking like a civilian. The Warrior Caste Klingons she had met in the Fleet, including the dashing commander of the Destruction, were twice the men of the civilians she had dated on Klinshai. She found herself physically intoxicated being around them, but Kumerian was the first one who actually seemed willing to carry on a conversation on an intellectual level.


Francois Lemay asks: A Kzinti battlecruiser has just launched four drones and is then placed in stasis. There is a Kzinti battle station in the battle and it has all three channels powered. Can the battle station use one of these channels to take control of the battlecruiser's just-launched drones even though it has not already declared the use of that special sensor for this purpose?
ANSWER: Yes. There is no defined point in the Sequence of Play or in (G24.24) for activating a special sensor's seeking-weapon control function, so it you can use a scout channel for this purpose at the point the control channels are needed. Normally, this would be at one of the steps in the 6B6 Seeking Weapons Stage, but in this case, we have an involuntary transfer, which overrides the normal sequence of play.

Ed Crutchfield asks: If you put a scout pod on a tug, do you pay the economic BPV for the tug or do you just pay the combat BPV? You would still pay the economic BPV for the scout pod. Also, how would that apply any other pods attached?
ANSWER: This one went to Kommodore Ketrick who replied: If the tug has a scout pod, the tug is a scout, i.e., any power systems on the tug and the second pod can be used to power the special sensors and operate them. Firing the weapons of the tug or the added pod will blind the special sensors, and if the tug was on passive fire control the pod could still lend the whole combination ECM. If you do not want to pay this penalty, do not fit your tug with a scout pod and other pods. When the tug drops the scout pod it will still be considered (for scenario victory point purposes) to have been the scout it was when it arrived if it is destroyed in combat.

Lieutenant Kilgore asks: My squadron is deployed with its back to an asteroid field. The Kzinti dreadnought has 12 drones in flight, some of them targeted on badly crippled ships in my squadron. The dreadnought transfers control of six of those drones to the scout (the only other ship), and launches six more. I then blow up the dreadnought and the scout. What happens?
ANSWER: You win.

(
End of Admiral Vanaxilth
)
TUG ON MY HEART STRINGS
Q: What happens if the Sabotage mission (534.223) targets a unit such as a Hydran battle tug and successfully cripples it?
A: The tug is crippled and the tug pods are inactive per (509.43). Any minus points are used up during the raid phase as it is its own single combat round per (302.53) with the "transfer or die" effect.

Q: Is a tug repairing a base (509.1-J1) required to be in any battle forces defending that base during the next turn?
Unlike base upgrades, base repairs are considered to take effect immediately, and (302.233) does not list them as a potential required unit. Due to the immediate turn-around of effect, I figured it kept a tug from performing any other function that turn, but that was about it. However, (509.1-J1) says a tug repairing a base is subject to (308.453), which itself mentions that a tug repairing a base is a non-slow unit treated as a slow unit for mauler Directed Damage purposes.
A: Rule (420.6) provides some guidance here even though it is not fully spelled out. Repairs of bases are in Step 2A3 of the SoP. As such, they are instantaneous and not a full turn activity like a conversion from a mobile base to a battle station for example. So, the reference in (509.1-J1) to (308.453) is inaccurate. The transport or set of transports performing the repair can move operationally on the turn of the repair, but do no other transport function that turn.

Q: Is there an enabling rule somewhere that permits the mixing of pod types (509.312) on the disruptor-armed tugs? I would be surprised if you aren't "supposed" to be able to do it, but by the rules it would seem to require the tug to take two different missions simultaneously.
A: Sorry, but rule (509.312) specifically prohibits this except for some Klingon-Lyran pods per (517.34).

Q: Someone asked me at a convention if the tugs in F&E had anything to do with "the pod people" but I had no idea what he was trying to ask. Do you?
A: He was referring to the classic 1955 science-fiction movie The Body Snatchers. In this movie, aliens would lay a pod next to a sleeping human, and the pod would "hatch" a copy of the human. The movie (and the remake) is worth watching.

(End of F&E Q&A)



Q: Dear Aunt Jean,
I found the
Federation medals image
on your website, but wasn't there a Captain's Log article explaining what each one with typically awarded for? If so, which issue was that in? Thanks!
Send questions to Jean at
design@StarFleetGames.com
and SVC will decide which one Jean will answer next.
(End of Ask Aunt Jean )
Cool Stuff on the Website
In this section we will provide links to various web pages and items that we think you will find "cool".
We have recently updated the look and design of the Rangers Page, check it out here:
Rangers Page
Here is a link to our new page about our new upcoming game:
Tribbles vs Klingons
Here are links to various flyers you can use to advertise your Demos and Game Days:
Ranger Resources
Here are links to the new pages of Starline 2500 miniatures pictures.
Starline 2500 Battleships page
Starline 2500 Federation Miniatures
Starline 2500 Klingon Miniatures
Starline 2500 Romulan Miniatures
Starline 2500
Traveller Prime Directive
Call to Arms Star Fleet
We have also uploaded new Xander wallpapers to our Wallpapers section on the website.
Wallpapers
We have new images of our game Star Fleet Marines posted on our BBS topic page.
STAR FLEET ALERTS
These are the press releases we send to the wholesalers, retailers, and media. You can get on the mailing list for them by asking Marketing@StarFleetGames.com to add you to the list. (Obviously, they are free.) They are uploaded to the Star Fleet Alert page

Alert 140418 PRICE 2500 (Adobe Acrobat Required)
Star Fleet Alert 140320 CL48, Away Team Log (Adobe Acrobat Required)


FC Tactic of the Month
FINESSING YOUR DAMAGE REPAIRS
- Lieutenant Commander Anthony Cutcliffe, HMS Devonshire

Consider carefully the order in which you allocate odd repair points to your damaged systems. For example, let's say you have a frigate with a warp hit and a few hull hits. Repairing the warp hit takes three repair points so, with your frigate's two repair points, it will take two turns to fix it.
Rather than allocating two points on one turn and then the final point to complete the warp repair on the next turn, do it like this. Spend one point to completely repair a hull box, and one point to begin repairs on the warp box. Then, on the next turn, allocate the two points for the turn to complete the warp repair.
This idea may sound pointless, but if you look at the damage charts you will see that hull boxes protect warp boxes. Repairing that hull box first may just protect another warp box during a later damage volley. This trick is also useful for larger ships and not just frigates, but the main point is to think about the order in which you allocate "odd" numbers of repair points.
If you have no damaged hull boxes, you could always perform a partial reload on a drone rack with that one point.
(End of FC Tactic of the Month)

SFB Tactic of the Month
HALF IS BETTER THAN NONE
- Ensign Troy Latta, USS Colorado

When fighting outside their transporter-link network, Ryn vessels suffer several serious disadvantages, not least of which is disrupted fire control for two impulses after each quantum transporter jump. Not only does this cut firing opportunities in half, but a jumping ship cannot control transporter-emitter missiles while its fire control is offline. Here is how to get at least partial use of these secondary weapon systems when "off the grid."
Let's say we have two heavy cruisers, Acinonyx and Bastet's Pride. On Impulse #1, both ships launch all their transporter-emitter missiles at an enemy. On Impulse #2, Acinonyx transfers control of its transporter-emitter missiles to Bastet's Pride, then jumps forward with its quantum transporters.
After Acinonyx's fire control comes back online on Impulse #4, Bastet's Pride transfers control of all the transporter-emitter missiles to Acinonyx and jumps forward itself.
On Impulse #6, the process can be repeated, with each ship retaining control of the transporter-emitter missiles while the other recovers from its jump.
In this way two ships can combine their seeking weapon control channels to handle up to six transporter-emitter missiles at a time. It is not as many as could be controlled inside the transporter-link network, but half is better than none.
(End of SFB Tactic of the Month)
F&E at StratCon