Star Fleet Universe News

THE BIG NEWS:
Now is the winter of our discontent made glorious spring by the boss being in a good mood. Ok, that's a mangled version of Steve Cole's favorite Shakespeare quote, but it has a point.


Last year, Steve Cole was recovering from his painful leg injury and working under a disadvantage (and far fewer hours than in previous years). You can tell because of how few new products appeared during 2013. Being down with the flu for almost three weeks in January did not make him any happier of a game designer.

But once he got past the point where he had written "the tribbles story" for Captain's Log #48, he's been in a joyous frame of mind, happily working long into the night to turn out dozens of pages of new material. His old happiness at creating new rules, ships, scenarios, and everything else has returned. (Maybe he just needed a year off to recharge his batteries?) Even the delay in producing the already finished Captain's Log #48, caused by the failure of the artist to deliver the cover on schedule, has not stopped him from plunging ahead into new projects including the CL#48 Supplemental File, this issue of Communique, and the "small projects list." He's got a solid plan regarding what to work on next.

The Federation Commander Tactics Manual will be next, as all he has to do is lay out the text and graphics from Patrick Doyle. Doing the art for the Federation Master Starship Book will be fun as he enjoys being a graphic artist more than anything else. F&E Minor Empires lacks only the countersheet graphics (more of his favorite thing). He'll also be doing the new counters for F&E Fighter Operations 2014, which is ready to print except for counters and the scenarios the staff is doing. It's going to be a race to see if those get done before Tony L. Thomas places the completed ACTASF Book 1.2 on his desk ready to be formatted and printed. Jean Sexton is already hounding Steve for the deck plans for Traveller Prime Directive, more of his favorite thing. Looks like 2014 will be a very fun year.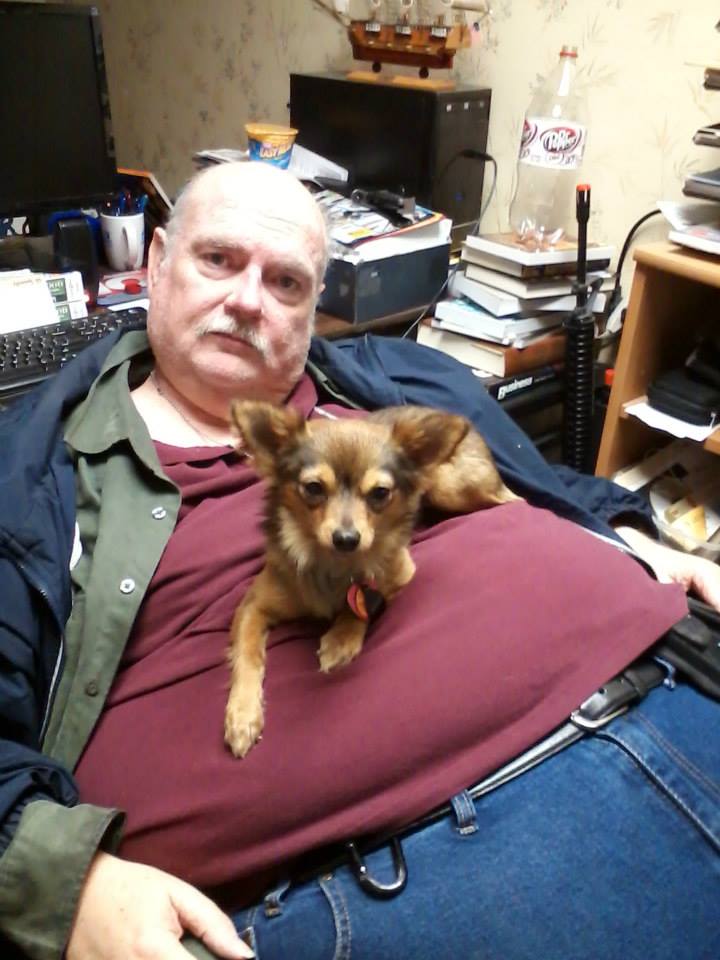 WEBSITE:
Our website,
www.StarFleetGames.com
, continues to grow and improve. You are welcome to send us your requests, comments, and suggestions. Simone Pike, our graphics director, continues to update the website, do covers for the new products, shut down pirate websites, help out around the company, and learn more about the game business. One of our newest pages is for
Starline 2500
where we display photos and 3d renders of the new starships.
FACEBOOK: Jean continues to improve our page on Facebook, adding many new photos and other features.


If you haven't seen the 1,000+ pieces of art in the albums, you should drop by and visit. You don't have to be a member of Facebook to see our page, but if you are, please become our friend so you can get information in your newsfeed.

If you've already liked us on Facebook, but are not seeing our posts, then remember to check your new "Pages Feed" on the left menu. You can also go to our page and hover over the "Liked" button. Be sure that both "Show in News Feed" and "Get Notifications" are checked.
TWITTER: ADB has recently started a Twitter feed. We are ADBInc_Amarillo. You'll find news as well as links to pictures. Check us out and retweet news of interest to your own followers. We're excited and our first goal is to get 100 followers. Help us reach that, please.


VIDEOS: StarFleetGames has taken its act to YouTube and we now have a YouTube channel. Our goal is to create a video for the new product releases during each month. We have "In the Box" videos to show you what you will see when you unpack your new game. We have also done "Spotlights" on a single product or product line. So pull up a chair and join us at the movies! Our newest uploads are:
Star Fleet Marines Part 1
Star Fleet Marines Part 2
ADB Late May 2011
Starline 2500 Miniatures Review
STARBLOG: Our StarBlog has moved to a new URL and all links on StarFleetGames.com websites have been changed to match. The new site is
http://federationcommander.blogspot.com
The blog covers all aspects of the company.

RANGERS: The Rangers are up, fully operational, and doing demos! There are currently 50 Rangers listed in our database with 30 of them having advanced past Ranger Recruit, meaning they've held at least one demo.

Star Fleet Rangers are our front-line recruiters in introducing new people to our games. They are hard working, tireless promoters of the SFU. They go to conventions, stores, game clubs, and other public venues to show our games and
to teach potential players some basics.

Why should you be a Ranger? Well, one of the reasons is purely selfish -- you teach people to play your favorite games and "grow your own" opponents. With enough interested people you can form a battle group and even get in on playtesting if you want. You get your name in Captain's Log and awards on your plaque on the Wall of Honor. You even get Star Fleet Bucks which will help you with purchases from our storefront. Still, being able to play games face-to-face has to be one of the best reasons to do it.

So visit our Ranger page here: http://www.starfleetgames.com/rangers/index.shtml

Register and join the the Star Fleet Rangers!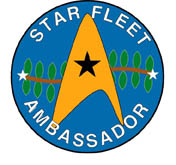 AMBASSADORS: Jean Sexton has succeeded in recruiting two ambassadors (Michael C. Baker and A. David Merritt) to carry the word of the Star Fleet Universe to other websites. They (and Jean) were awarded the first ever "Star Fleet Ambassador Badges" as well as appropriate medals for their service to date. These ambassadors do not just repeat press releases; they answer questions, encourage discussion, and help people find the relevant documents on our website. Contact Jean Sexton if you want to volunteer for ambassador duty.
Forum
BBS

JAGDPANTHER
Take a journey with us to an ancient age, just one step up from carving game rules on clay tablets. The year 1973 was at the very dawn of the independent wargame publishing companies. Typesetting was done with a manual typewriter, print-on-demand meant the photocopier at the library, counters were printed on paper (and drawn by hand), page layout was done with scissors and cellophane tape, and two guys in a garage could turn out a wargame magazine that won two Origins Awards. The point was creativity, new ideas, and imagination. Production values would have to come later.

That magazine was JagdPanther (Hunting Panther), created and run by the same Stephen V. Cole who later co-founded Task Force Games and then went on to found Amarillo Design Bureau. We found the ancient archives of this game company (which ran from 1973-1976, producing 15 magazines, about 50 games, hundreds of variants, and dozens of game reviews) and are now placing them on e23 so they are available to collectors. (Old issues have been selling on Ebay for over $100 each.) Issue #1, Issue #2, Issue #3, Issue #4, Issue #5 and, Issue #6 are already there and further issues are being prepared for upload.
Custom Decals for Starline ships
Tenneshington Decals is proud to now offer three new decals sets, made to fit the Starline 2500 Federation BB battleship, CB heavy command cruiser, and DNL light raiding dreadnought miniatures.

Tenneshington Decals also continues to provide custom decals for all currently produced Federation Starline 2500 miniatures, as well as special sets encompassing the contents of the Federation Fleet Box and Federation Squadron Boxes 1 and 7. Decals for each of these ships are available as individual sheets along with special sheets to detail any ship with additional window blocks, sensors, hatches, and even phaser scars.

As with all their products, the names on the ships are up to the customer and all sheets are custom-printed to order.

In addition, Tenneshington Decals continues to develop decals sheets for other empires in the Starline 2500 line and the Starline 2400 miniatures.

For more information or to download the order sheet, check us out at www.tenneshington.com. Or if you prefer, email Will McCammon at: will@tenneshington.com or Tony L. Thomas at: scoutdad@tenneshington.com.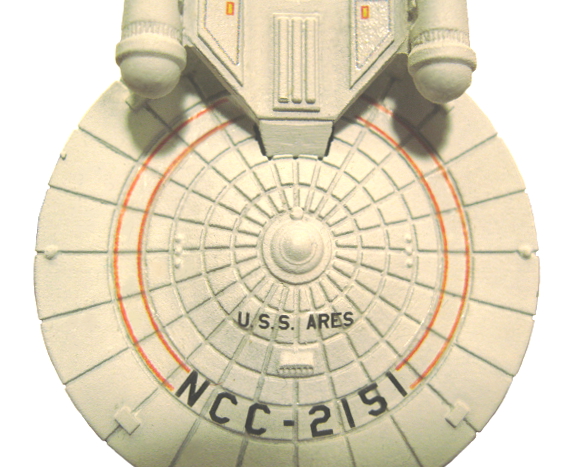 Rated Ace Tournament #42 is well started. All of the first round games have been played and only two of the second round games are left to play. Bill Schoeller is the judge for this tournament.
NetKill Patrol first quarter is in its final month on SFBOL. Richard Schirmer maintains the statistics that make this tournament possible.

The Platinum Hat 2013 International Online SFB Tournament has replaced a third round player who had to drop out. Everything is waiting on that third-round game. Paul Scott is the judge.
The Masters 2013 Tournament is well underway. This challenging tournament has the winner of each match take his opponent's ship to fly in the next match. Only one fourth-round game is left to be played. The judge is Andrew Koch.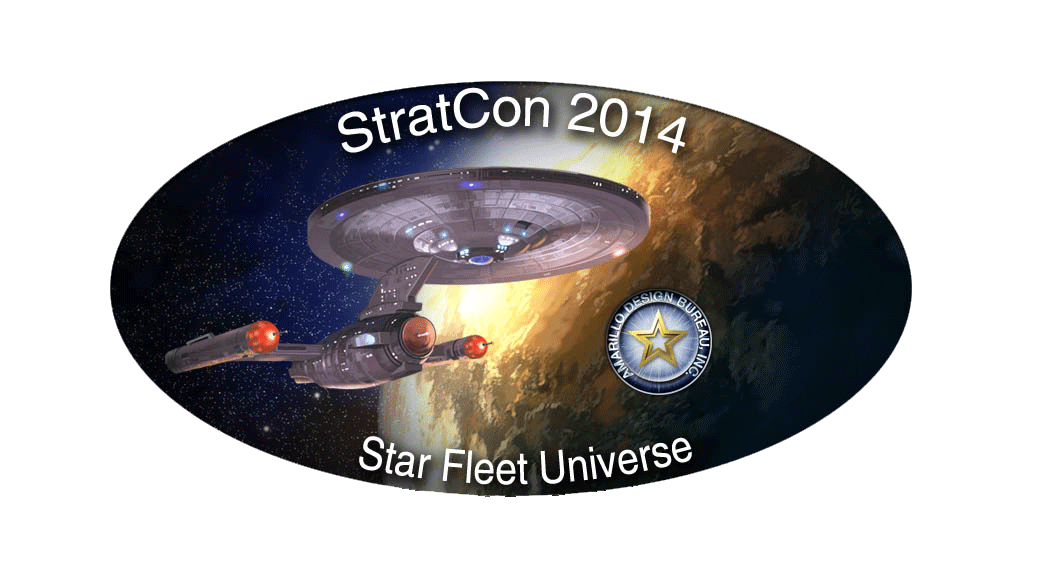 STRATCON 2014
This all-
SFU
convention will be held in the southern Nashville region 7-14 June 2014 (eight days) at Clarion Inn & Suites, 2227 Old Fort Parkway, Murfreesboro, Tennessee 37129 (615) 896-2420. Ask for the StratCon room rate. StratCon is organized primarily by and for the
F&E
community but is open to all
SFU
games and gamers. The cost will be under $75 per player for the entire week, a fraction of the entry and gaming costs charged by Origins. (That is why it is not being held at Origins. It was announced in the last issue of Communique that ADB, Inc., will no longer attend that convention.) Contact
stratcon@starfleetgames.com
for more information.
On March 15, 2014 a game of
Star Fleet Battles
will be held at Game Paradise in Indianapolis, Indiana. The game starts at 2:00 pm. Check out their website here:
http://www.gameparadisestore.com/
On March 23, 2014 SFB will be played at the VFW #889 Game Faire, Coeur d'Alene, Idaho. It will run from 9:00 am-6:00 pm. The scenario is a base station awaiting upgrade to a battle station of the Klingon Empire, attacked by many PF squadrons, and their PFT's, from surrounding Empires, as reports come in to the pending upgrade, to the other Empires. Harlan Haskell III is the Ranger in charge.
On March 30, 2014 a game of Star Fleet Battles will be held at Game Paradise in Indianapolis, Indiana. The game starts at 6:00 pm. Check out their website here: http://www.gameparadisestore.com/
On April 6, 2014 from 1:00 -5:00 pm Battle Group Columbus will be playing Star Fleet Battles at The Soldiery, Inc. at 4256 N. High St. Columbus, Ohio 43214. Lee Hanna is the organizer.

GnomeCon will be held in Savannah, Georgia April 11-14, 2014. Michael Baker will be running Shootout in the Asteroid Belt, a Star Fleet Battles Cadet Game on Saturday, April 12 from 8:00 pm to midnight. There will be room for up to 6 players flying Federation, Klingon, and Kzinti ships. Michael also said that you can show up early for an introduction to Star Fleet Battle Force.
MISCON's Sanctioned Tournament for
SFB
with miniatures will be held on Sunday May 25, and Monday May 26, 2014 in Missoula, Montana and will accommodate 16 players. The all Miniatures Sanctioned Tournament will start on Sunday, at 10:00 am and run for 10 hours, with up to three elimination games. The finals will start 10:00 am, Monday, and run up to 6 hours if necessary. This will be a single elimination tournament, and wild cards will only be used if necessary to fill a bracket, if players do not wish to continue, even if winning. Judge Harlan Haskell III will have all necessary materials, and miniatures for each player, during the tournament. For more information about the con, see:
http://www.miscon.org/
On August 17, 2014 at SPOCON, at the DoubleTree, Spokane, WA there will be an SFB sanctioned game or games (depending on turnout) using the tournament rules, with miniatures. Judge Harlan Haskell III will provide all materials for this event.


Games are held in Spokane, Washington on an irregular basis. Contact them to see if there's a game scheduled. They meet at The Gamers Haven, 2114 N. Pines St., Suites 1 & 2, Spokane Valley, WA 99206, (509) 443-5992
http://www.thegamershaven.net/gamers_haven.php
HAILING FREQUENCIES: This is our newsletter and will let you know all the news for all our games. You can subscribe here. Have you missed an earlier newsletter? Click here to get caught up!
COMMUNIQUE: The latest Communique brings you more Ship Cards, scenarios, and more news from the Star Fleet Universe! It can be downloaded from the Commander's Circle.

COMMANDER'S CIRCLE: We continue to improve the Commander's Circle. All of the ships and scenarios are available as separate documents (the ships are organized by empire) so you can quickly see what is available. The FC Scenario Database and Master Ship Chart documents are also here. Our newest project was suggested by our players and is uploading low-toner Ship Cards. The Commander's Circle is the best place to find free additions to Federation Commander!



The Federation Commander site and Forum continue to grow as more gamers continue to find them. All of our games currently have topics in the Forum. If you have any comments, questions, or requests for our Graphics Director, this is the place to let her know. Come see what the commotion is about and join the Federation Commander Forum now.
We are very pleased to see the medals, honor bars, and ribbons awarded to players being incorporated into their signatures. It is exciting to see lots of interesting conversations about a wide variety of subjects. Get in on the activity!
While for new players the Federation Commander Forum is a little easier to manage, the original (Discus-based) BBS is where most product development takes place. If you have a proposal you'd like to see worked on, don't forget to make sure it is mentioned here. It also has active F&E and SFB forums where players run campaigns, Rated Ace tournaments and other SFB tournaments are organized (most FC tournaments are organized on the Forum), SVC's "My Day" appears, along with current news and strategies dealing with Prime Directive, and each issue of Captain's Log is created. While less colorful (no avatars or sigs), it is a vital part of ADB, Inc.'s communications.
F&E Strategy of the Month
ARE YOU NUTZ?
- Captain Scott Tenhoff, USS California

When raiding, try to attack a battle station without a picket on it (any ship co-located with it). Do not attack the battle station unless you have over 14 combat potential, so use (for example) a Hydran Liege or PFT to conduct the raid.
Here is why. The battle station can alter its combat potential so that it falls below the 14-point cap for Small Unit Combat. Here are the steps to do it:
1. It dials its electronic warfare up to 3 (so the combat factor is reduced to six).
2. Six fighter factors (6 more combat factors).
3. A police ship (3 or 4 combat factors) that is 15-16 total.
4. Now, hold up to a third of the fighters in the bays, reducing the combat potential down to 13-14.
That is enough, for any single raider that is less than 14 combat potential to have multiple shifts on the (310.0) table.
-1: because enemy has a scout (the battle station).
-2: because the enemy has 14 combat factors and even a mighty Dragoon with 11 combat factors will get -1.
+1 if the raider has a prime team.
Net: -1 to -3 on the one die roll for your raiding ship to damage the battle station.
These are not good odds. So do not do it.

(End of F&E Strategy of the Month
)

PLANNING YOUR BATTLE FORCE FORMATION



Due to the movement and fire nature of A Call to Arms: Star Fleet some thought should be given to fleet formation and set up positions. [Unlike SFB or FC, there is only one firing opportunity per turn. You can fly right through the spot where the best enemy weapons are pointed and end your movement on the other side of the kill box without him being able to fire. This very different game system requires some very different tactics.]
One important thing to remember is whenever possible maintain a four-inch gap between ships because exploding ships in A Call to Arms: Star Fleet have a blast radius that will damage surrounding ships any nearer than that.
Command ships are usually the biggest and baddest ships in your battle force. Your first instinct might be to protect them by setting them up in the rear, but if you have multiple ships with the Command trait there is really not a reason to hold them back. You should seriously consider allowing them to lead from the front. This holds especially true of dreadnoughts and battleships which tend to be able to use the Boost Energy to Shields! special action raising their shields score by at least three dice a turn.
Typical screen ships, like frigates, destroyers, and light cruisers, will serve you better by setting up on flanks or slightly behind your big hitters.
Ships with the Escort trait, however, need to sit directly behind the ships they will be protecting. The reason for this is because of the way Intensify Defensive Fire! works. In other Star Fleet Universe games your escorts can sit in front of their charges and be able to shoot at seeking weapons and fighters as they fly past, sometimes being able to use weapons from two different sides of the ship. In A Call to Arms: Star Fleet you want your escort to be sitting straight behind its assigned charged with it centered it in the escort's fore arc. By doing this you can usually use both the port and starboard weapons to protect the more valuable ship. [Firing arcs are different in ACTASF than they are in SFB/FC. Changing weapons designed for six 60° arcs into weapons divided into eight 45° arcs often changes the arcs in tactically significant ways.] This also adds a little range to your opponent's attempt to target and destroy your escorts and might be enough to put him at a range penalty or out of the kill zone.

(End of A Call to Arms: Star Fleet Tactic of the Month
)
Demotivationals
Throughout the month our graphics director places on the website various cards called Demotivationals. These are like postcards with an image and a phrase that is often used for humor.
Here are the newest demotivationals since our last newsletter:

Accuracy
That's Amore
War
Keep Calm - Romulan
Convoy

To see our previous Demotivationals click here.
Mini of the Month
Every month we will feature one or more of our miniatures that has been painted by a fan. If you paint miniatures, submit pictures of your minis and they may be selected for the next Mini of the Month!

Federation CA entering a dry dock. Painting and photo by Kent Ing.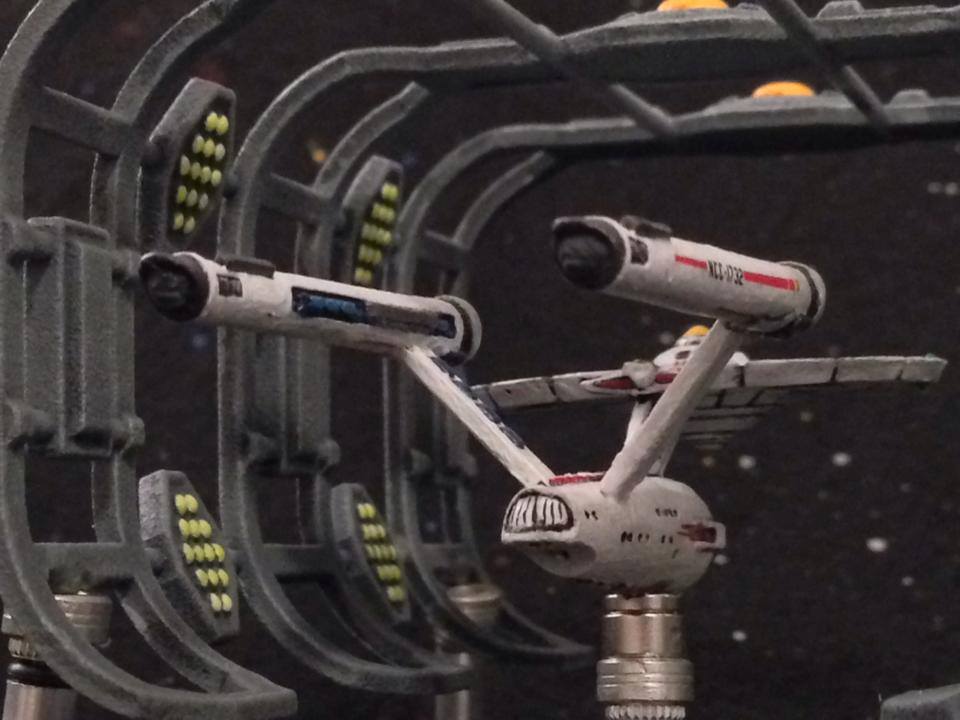 Help us pick the mini of the month on our page on Facebook. The mini with the most likes and shares will become the mini of the month. Vote for the ones you like!

New Releases
Communique #99 has been posted to the Commander's Circle
Click here to see our previous issues of Hailing Frequencies.
Recently Released
Module C6: Lost Empires Stock #5636 $27.95
Captain's Log #47 Stock #5747 $24.95
Captain's Log #47 Supplemental File Stock #5747-S $1.50
Star Fleet Marines: Last Stand Stock #2102 $34.95
Federation Commander: Reinforcements Attack, Stock # 4110, $29.95
Federation Commander Booster Pack 34 Escorts, Stock #4234, $9.95
Federation Commander Booster Pack 35 Cops & Raiders, Stock #4235, $9.95
Federation Commander Booster Pack 36 Heavies, Stock #4236, $9.95
Captain's Log #46, Stock #5746, $24.95
Starmada: Battleship Armada, Stock #6105, $16.95

To be released in 2014
Away Team Log Stock #8010 $24.95
Captain's Log #48 Stock #5748 $24.95
Fed Com Tactics Manual, SKU 4009, $TBA
SFB Fed Master Starship Book, SKU 5432, price $TBA
Traveller Prime Directive Core Rulebook, price $TBA
A Call to Arms Star Fleet: Book One Revision Two, $TBA
F&E Minor Empires, SKU 3214, price $TBA
Starmada: War & Peace (Admiral and Nova editions), $TBA
New starships for the 2500 (1/3125) range including Tholian PC, DD, CA, TK5, DN; Klingon B10; Orion BR, DW, BC, BCH, DN. $TBA
New starships for the 2400 (1/3788) range including heavy war destroyers and the jumbo freighter. $TBA
Tribbles vs Klingons. $TBA
Federation Admiral, Stock #4080, $TBA
PDF SALES: ADB, Inc. continues its relationship with Steve Jackson Games and their Warehouse 23. We chose Warehouse 23 because they have a philosophy that agrees with ours -- our customers are honest and honorable and wouldn't aid people who want to steal our products. Furthermore, we know from experience how devastating a computer crash can be and want our customers to know that they don't have to worry about the loss of their e-products bought through Warehouse 23. What do we have there? We have created a new page that allows easy access to our PDFs for sale on Warehouse 23. From here you can see what we currently have posted and have links to those products.
RECENTLY RELEASED ON Warehouse 23 (e23 been joined with and is now known as Warehouse 23.)
Captain's Log #34
Asteroid Zero Four
Prochorovka: Armor at Kursk
Captain's Log #33
Battlewagon Article #2: The Battle of San Bernardino Straits
Battlewagon Article #1: Rulers of the High Seas
Captain's Log #32
Federation Comander: Academy
Federation Comander: Romulan Ship Card Pack #3
Module C6 Preview (FREE!)
SFB Commander's Rule Book Update #2
Captain's Log #31
Federation Commander: Klingon Ship Pack #3





RECENTLY RELEASED ON DRIVE THRU RPG
Federation Commander Reference Rulebook
Starmada Nova Edition: Alien Armada
Starmada Admiral Edition: Alien Armada
Star Fleet Battles Designer's Edition, Expansion #1
Asteroid Zero Four
Star Fleet Battles Designer's Edition
Starmada Nova Edition: Romulan Armada
Starmada Admiral Edition: Romulan Armada
Starmada Nova Edition: Klingon Armada
Starmada Admiral Edition: Klingon Armada
Prochorovka: Armor at Kursk
Captain's Log #47 Supplemental File
Captain's Log #1






Star Fleet Fiction
DOOMWARD AND THE VORTEX
by Michael C. Grafton
PART 7 OF 9

Aboard Unknown Three
Sta'Lee arrived facing right into the "face" of some funny-looking alien, sort of a barrel shaped thing with a ball of some sort underneath it. It had some eyeball looking stalks waving about on top and a pair of arm tentacles on the sides that seemed to be reaching to grab him. With a quick slash of his saber, he cut off the questing arms and, dropping his carbine on its shock cord, grabbed the alien by its eye stalks. Then he looked about. Fri'Tazz, the team chemist and metallurgist, was rolling over the deck with three of the aliens in a tangle of flailing limbs. Dro'Phur, the team computer engineering warrant officer, had cut several of the aliens in half with a strong hacking stroke of his powered cutlass as they "stood" at some console. Their insides looked a lot like anyone else's. Gra'Laaki was tossing a couple of grenades out the door as he shot out what might be a boarding defense array with his hand disruptor; he had already shot the alien with what looked like some kind of heavy weapon in its tentacles. Then, as Sta'Lee and Gra'Laaki turned back to aid Fri'Tazz, the pile on the deck erupted in a yellow and red fountain with a tremendous explosion that threw all of them back. Someone in the pile had pulled a grenade pin.
Sta'Lee looked at his capture. It was still alive if blinking eyes were a reliable sign. The severed tentacle things weren't bleeding too much. Moving quickly, he took a restrainer cuff tie, snugged it around the stalks below the eyeball things and then tied it off to a stanchion. Unless this guy knows the release code, he isn't going anywhere until someone gets here with a torch. Or he pulls his eyes off.
"Sta'Lee, you got that one?"
"Yes, Sir. I've got him on a restrainer strap under our usual codes. He isn't wandering off."
Mike Kenyon asks: Rule (J1.635) says that enemy shuttle launches are part of the same rate as friendly launches (not landings) on a ship. If I have an enemy shuttle aboard and both of us want to launch on Impulse #4, who does? Does the host ship or the enemy get right of way out of the bay?
ANSWER: I sent this to Kommodore Ketrick who replied: This is one of those obscure questions that hardly ever comes up (so it does not seem to have a previous answer), but apparently it now has come up. There are other considerations.
Yes, rule (J1.634) is pretty specific that enemy shuttles landing aboard a ship do so at their own rate and irrespective of the rate of the ship they are landing on. Thus Andy Vancil could launch or land a shuttle from his ship on the very same impulse that you are landing aboard it. Your shuttles are, of course, then governed by (J1.52), i.e., they cannot take off for at least eight impulses (same, of course for Andy's shuttle).
So the crux does become that at least eight impulses previously you landed a shuttle in Andy's bay. Now both your shuttle and one of Andy's shuttles are trying to leave the bay, and under (J1.635) the "normal rules" apply, so only one shuttle can take off. We are assuming a normal bay, no Catastrophic Damage Impending Destruction, no minelaying, etc.
Toss a coin. Or roll a die, odds you get to launch, even he gets to launch.

Josh Driscol asks: On Impulse #1 of Turn #3 a voided wild weasel is recovered by tractor. Is the first opportunity to begin charging the shuttle as wild weasel again with reserve power Impulse #2 of Turn #4?
ANSWER: You have to service the shuttle (one deck crew action) before you can begin preparing it for another mission. It has been previously ruled (Captain's Log #32) that you cannot apply power to start arming it until it has been serviced, even though it is going to be used for the same mission. However, if both your informal deck crews are available, you could put them both to work on the shuttle (starting on Impulse #2 of Turn #3), and have it ready to start charging (with reserve power) on Impulse #18 of Turn #3. You could then launch the wild weasel as early as Impulse #18 of Turn #4.
Follow-up Question: If the ship were Hydran and it used two deck crew actions on the shuttle after recovering it, could it be started with reserve power on Impulse #17 of Turn #3?
ANSWER: As noted above, anyone could do this, but since you cannot start servicing the shuttle on the impulse it lands (J4.8172), you would have to wait until Impulse #18 of Turn #3.
Follow-up Question: In Module T-2000 it says that deck crews can repair fighters but not administrative shuttles. Can they even be used to service admin shuttles in a tournament game? Obviously deck crew repair of fighters and reloading fighter weapons rules are used, but the rules in (J1.865) - (J1.869) use deck crew actions for servicing admin shuttles also. Without deck crews how do the other empires' tournament ships get their admins serviced?
ANSWER: The restriction is on repairing, not servicing. Deck crews (formal or informal) can service shuttles, including unloading a scatter-pack, reactivating the weapons on an inert or aborted suicide shuttle, etc.SCOUTS

Francois Lemay asks: Once a scout starts to attract a drone, who controls the flight path of the drone: the scout or the drone owner?
ANSWER: Attracting a drone changes the target of the drone; it does not change the owner. The owner of the drone still controls its movement, within the constraints of (F2.2).

Roch Chartrand asks: Channel #1 was used to break lock-on on Turn #1, Impulse #31. Can the same channel be used for something on Turn #2 Impulse #1?
ANSWER: By (G24.12), yes it can.
(
End of Admiral Vanaxilth
)
WAR AND POLITICS
Q: Rule (430.24) describes what happens if the enemy occupies one of my provinces then leaves. My question is just what constitutes occupation. If the enemy entered the province on a given turn, destroyed my only units in the province, and then withdrew on the same Player Turn, did he "occupy" the province or was he just passing through to attack units?
A: To "occupy" a province you have to stay in it (at least temporarily) which means leaving ships in it at the end of the combat phase (not retrograding them out).
Q: At what point in the turn is the roll made for planetary rebellion?
A: This die roll is made in Step 3A-3K on the latest versions of the Sequence of Play.
Q: Rule (305.24) allows for two warring empires to exchange captured ships in neutral territory. Once the Federation enters the war, the WYN Cluster is the only neutral territory available to the Kzintis and Klingons for such an exchange, so can they do the exchange there?
A: Only if both ships are (each) six combat factors or less. The WYNs will simply steal anything bigger.
Q: Can a neutral planet conquered by the enemy be used as the source of an infiltration attack (537.12) against an enemy unit occupying the neutral planet?
A: No, there is not enough infrastructure in place for you to pull this off. (This opens a whole can of worms that we would prefer to keep closed.)
Q: Regarding hospital ships and captured/annexed planets, rule (448.28) says that a planet is annexed when the province it is in is annexed. At that point, the recovery clock of four turns starts (508.25) and the hospital ship (451.31) can cut the time down to two turns. If I understand this correctly, it means that a hospital ship can't help a captured planet until its annexed?
A: Correct. No doubt your hospital ship is conducting humanitarian missions to save lives, but none of them count for recovering from devastation.
(End of F&E Q&A)



Q: Dear Aunt Jean,
Why don't you have more Prime Directive articles in Captain's Log?
A: We do make sure to have one "official" page of
Prime Directive
hard data -- a new species or a new world. Many times the snapshots are of a character and lend themselves to character creation or as a "visitor" in a campaign. Since we know that much of
Captain's Log
doesn't lend itself to
Prime Directive
, we compiled
Away Team Log
which is currently available on both
Warehouse 23
and
DriveThru RPG
. It will soon be available in print.
Send questions to Jean at
design@StarFleetGames.com
and SVC will decide which one Jean will answer next.
(End of Ask Aunt Jean )
Cool Stuff on the Website
In this section we will provide links to various web pages and items that we think you will find "cool".
We have recently updated the look and design of the Rangers Page, check it out here:
Rangers Page
Here is a link to our new page about our new upcoming game:
Tribbles vs Klingons
Here are links to various flyers you can use to advertise your Demos and Game Days:
Ranger Resources
Here are links to the new pages of Starline 2500 miniatures pictures.
Starline 2500 Battleships page
Starline 2500 Federation Miniatures
Starline 2500 Klingon Miniatures
Starline 2500 Romulan Miniatures
Starline 2500
Traveller Prime Directive
Call to Arms Star Fleet
We have also uploaded new Xander wallpapers to our Wallpapers section on the website.
Wallpapers
We have new images of our next game Star Fleet Marines posted on our BBS topic page.
STAR FLEET ALERTS
These are the press releases we send to the wholesalers, retailers, and media. You can get on the mailing list for them by asking Marketing@StarFleetGames.com to add you to the list. (Obviously, they are free.) They are uploaded to the Star Fleet Alert page

Alert Valentines Day (Adobe Acrobat Required)
Alert New Year (Adobe Acrobat Required)
Alert 131221 Joint Venture (Adobe Acrobat Required)
Alert 131220 Schedule (Adobe Acrobat Required)



FC Tactic of the Month
INITIAL TACTICAL THOUGHTS
- Fleet Captain Sandy Hemenway

SFB players will have a certain amount of trouble adjusting to the new tactics in Federation Commander, perhaps enough time for new players to get ahead and stay ahead of them. Here are three specific points which caught my eye.
Federation Commander is more like Chess and less like Stratego. Out-guessing your enemy still exists in your tactics and maneuvers, but not in Energy Allocation. Since everything is (more or less) reserve power, and this is always public knowledge, you will always know if your opponent can overload his weapons (or already overloaded his photons). Your opponent can no longer "brick" (put a huge amount of unknown shield reinforcement in one shield) because of the battery rules. There will also be much less surprise in tractor auctions; you may decide to give up but you will know before it starts if you cannot win (unless he gives up trying, which in some cases he might).
Without Wild Weasels to block, closing in for an "anchor" attack isn't that necessary (unless you just don't want him to run away from seeking weapons). With a range of only one hex, tractors will be limited to drone defense and towing friendly ships.
"It's the Phasers, Stupid!" In a game where the enemy's energy is always known, efficient use of power will be critical. In that regard, phasers (especially Phaser-1s) will become the primary weapon system. Torpedoes will fall to second place and will be armed only when you know you have power for everything that you want to do. Two points in a disruptor will get four damage while those same two points in two phaser-1s will get twice as much (if you're close enough). There will be times when the all-or-nothing firepower of a heavy weapon is preferable, but in general terms and with limited power, phasers are always going to be your "go to weapon".

(End of FC Tactic of the Month)



STUPID SUBLIGHT TRACTOR TRICKS
- Senior Lieutenant Jim Davies, HMS England

Using tractors, a pair of sublight ships can go faster than light, if they are both the same size. This requires that they have tractor-1 or better in the Early Years.
Consider a pair of allied sublight ships the same size, A and B, in the same hex. Ship A tractors ship B and moves Speed 1, while ship B does not move. They both move on Impulse #32. Ship A maintains the tractor over the turn break and uses tractor rotation to push ship B forward one hex.
On the next turn, ship A drops the tractor, and ship B tractors ship A, pulling it forward by rotation at the start of the third turn after both ships move on Impulse #32 of Turn #2. Rinse and repeat as required.
Ideally this will all be done by reserve power on Impulse #31 to allow flexibility and remove the restrictions of (G7.9). Given enough tractors, this works for groups of any size, and takes a constant one point of energy per ship per hex. Half of this pseudo-movement power (the tractor link and rotation) can even come from an APR and can go in all sorts of directions, not only forward.
(End of SFB Tactic of the Month)
It is always nice to see someone enjoying a gift! You can show someone how much you really love them by naming a starship in the Star Fleet Universe after her! You can name starships for any or all of the women in your life: your mother, daughter, sister, cousin, or the secret object of your admiration! For only $5.00 we will name a Federation Star Fleet auxiliary cruiser after your lady friend (or male friend). Click here to name a starship.