Star Fleet Universe News

THE BIG NEWS: Captain's Log #50
This months' big news is that CAPTAIN'S LOG #50 is finished and just waiting for the cover art to arrive.
This is the Golden Issue, full of exciting new material:
Fiction: The Day of the Dragon (how the Gorns entered the General War) and two more Gorn stories.
Space Spider: A new monster for SFB and FC.
Star Fleet Battles: Platinum Victory, 12 Battlegroups, four scenarios, 12 new ships, the Zosman Empire for Omega.
Federation Commander: Four new scenarios, four new ships from a new empire (Peladine).
Federation & Empire: The Romulan Civil War scenario.
A Call to Arms: a new monster (Moray Eel) and four new ships.
Starmada: The Andromedans including rules and four ships.
And lots more new stuff: Traveller preview, Carnivons for SFBF, Paravians for Anarchist, a scenario for Star Fleet Marines.
WEBSITE:
Our website,
www.StarFleetGames.com
, continues to grow and improve. You are welcome to send us your requests, comments, and suggestions. Simone Pike, our graphics director, continues to update the website, do covers for the new products, shut down pirate websites, help out around the company, and learn more about the game business. One of our newest pages is for
Starline 2500
where we display photos and 3d renders of the new starships.

FACEBOOK:
Jean continues to improve our page on Facebook, adding many new photos and other features.
If you haven't seen the 1,000+ pieces of art in the albums, you should drop by and visit. You don't have to be a member of Facebook to see our page, but if you are, please become our friend so you can get information in your newsfeed.
If you've already liked us on Facebook, but are not seeing our posts, then remember to check your new "Pages Feed" on the left menu. You can also go to our page and hover over the "Liked" button. Be sure that "Get Notifications" is checked.
TWITTER:
ADB has recently started a Twitter feed. We are ADBInc_Amarillo. You'll find news as well as links to pictures. Check us out and retweet news of interest to your own followers. We're excited and our first goal is to get 100 followers. Help us reach that, please.


VIDEOS:
StarFleetGames has taken its act to YouTube and we now have a YouTube channel. Our goal is to create a video for the new product releases during each month. We have "In the Box" videos to show you what you will see when you unpack your new game. We have also done "Spotlights" on a single product or product line. So pull up a chair and join us at the movies! Our newest uploads are:
Star Fleet Marines Part 1
Star Fleet Marines Part 2
ADB Late May 2011
Starline 2500 Miniatures Review
Star Fleet Battle Force in the box
STARBLOG:
Our StarBlog has moved to a new URL and all links on StarFleetGames.com websites have been changed to match. The new site is http://federationcommander.blogspot.com
The blog covers all aspects of the company.

RANGERS:
The Rangers are up, fully operational, and doing demos! There are currently 50 Rangers listed in our database with 30 of them having advanced past Ranger Recruit, meaning they've held at least one demo.
Star Fleet Rangers are our front-line recruiters in introducing new people to our games. They are hard working, tireless promoters of the SFU. They go to conventions, stores, game clubs, and other public venues to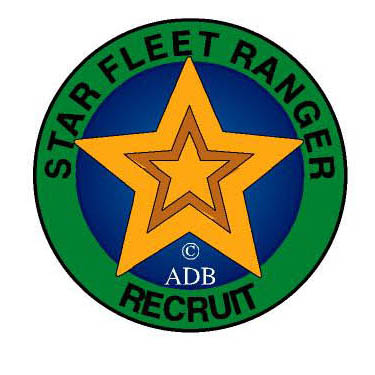 show our games and to teach potential players some basics.
Why should you be a Ranger? Well, one of the reasons is purely selfish -- you teach people to play your favorite games and "grow your own" opponents. With enough interested people you can form a battle group and even get in on playtesting if you want. You get your name in Captain's Log and awards on your plaque on the Wall of Honor. You even get Star Fleet Bucks which will help you with purchases from our storefront. Still, being able to play games face-to-face has to be one of the best reasons to do it.
So visit our Ranger page here: http://www.starfleetgames.com/rangers/index.shtml

Register and join the the Star Fleet Rangers!


AMBASSADORS:
Jean Sexton has succeeded in recruiting two ambassadors (Michael C. Baker and A. David Merritt) to carry the word of the Star Fleet Universe to other websites. They (and Jean) were awarded the first ever "Star Fleet Ambassador Badges" as well as appropriate medals for their service to date. These ambassadors do not just repeat press releases; they answer questions, encourage discussion, and help people find the relevant documents on our website. Contact Jean Sexton if you want to volunteer for ambassador duty.
Forum
BBS

JAGDPANTHER
Take a journey with us to an ancient age, just one step up from carving game rules on clay tablets. The year 1973 was at the very dawn of the independent wargame publishing companies. Typesetting was done with a manual typewriter, print-on-demand meant the photocopier at the library, counters were printed on paper (and drawn by hand), page layout was done with scissors and cellophane tape, and two guys in a garage could turn out a wargame magazine that won two Origins Awards. The point was creativity, new ideas, and imagination. Production values would have to come later.
That magazine was JagdPanther (Hunting Panther), created and run by the same Stephen V. Cole who later co-founded Task Force Games and then went on to found Amarillo Design Bureau. We found the ancient archives of this game company (which ran from 1973-1976, producing 15 magazines, about 50 games, hundreds of variants, and dozens of game reviews) and are now placing them on Warehouse 23 so they are available to collectors. (Old issues have been selling on Ebay for over $100 each.) Issue #1, Issue #2, Issue #3, Issue #4, Issue #5, Issue #6, Issue #7, Issue #8, Issue #9, Issue #10, Issue #11 and Issue #12 are already there and further issues are being prepared for upload.
Custom Decals for Starline ships
Tenneshington Decals continues to provide custom decals for all currently produced Federation Starline 2500 miniatures.
In addition to the legacy fleet and squadron box sets, decals for each of the ships are available as individual sheets, along with special sheets to detail any ship with additional window blocks, sensors, hatches, and even phaser scars.
As with all of their products, the names on the ships are up to the customer and all sheets are custom-printed to order.
*** Newly announced in November, decals sheets for Starline 2400 Federation miniatures are well into design, with decals for other empires in both Starline 2400 and Starline 2500 lines in development. ***
For more information or to download the order sheet, check them out at www.tenneshington.com. Or if you prefer, email Will McCammon at: will@tenneshington.com or Tony L. Thomas at: scoutdad@tenneshington.com.
Jupiter IV Decals is a source of decals for the 2400 line and will do custom decals as well as all official SFB names. In the near future Jupiter IV will move into the 2500 line and will work to get every listed name on the Starfleet registry completed in both scales.
The big news here is that Rated Ace Tournament #44 is moving along smartly. Only two round 2 round games are left to be played. Paul Scott is the judge.

The Platinum Hat 2014 is well underway.One fourth round game is left to see who will meet Paul Scott in the final round. Stephen McCann is the judge.
NetKill Patrol's fourth quarter winner is Brendan Lally. Congratulations! The first quarter matches are ongoing on 2015. Richard Schirmer maintains the statistics that make this tournament possible
Star Fleet Battles games and demos will be held at the Farpoint Convention in Timonium, Maryland on February 13-15, 2015. Ranger Joseph Dorffner will be holding these in the gameroom.

A Call To Arms: Star Fleet at will be played at Trumpeter Salute, in Vancouver, B.C. on March 27-29, 2015. Jon Woodland (who created the ACTASF ship roster cards) will be hosting two games Saturday morning and one Saturday afternoon.
http://trumpetergaming.weebly.com/con-2015.html
Star Fleet Battles and Federation Commander (and possibly A Call to Arms: Star Fleet) games and demos will be held at the Balticon Convention in Hunt Valley, Maryland on May 22-25, 2015. Ranger Joseph Dorffner will be holding these in the gameroom.
All SFU games are welcome at StratCon, held in the Nashville, Tennessee area on June 20-27, 2015. While there will certainly be Federation & Empire, other games include Star Fleet Battle Force, Federation Commander, Star Fleet Battles, and A Call to Arms: Star Fleet. Stay tuned to their page on Facebook: https://www.facebook.com/groups/151297821607520/

Star Fleet Battles games and demos will be held at the Shore Leave Convention in Hunt Valley, Maryland on August 7-9, 2015. Ranger Joseph Dorffner will be holding these in the gameroom.

Star Fleet Battles to be at the 73rd WorldCon at Spokane WA, on August 17-22, 2015! Prices are still $190 per person, thru January 31, 2015. Only a few days to reserve your spot in this five-day science fiction and fantasy convention which holds the voting/nominations for the Hugos. Nominations for the Hugos continues until March 10, with voting starting sometime after that. Only members of the con that pay by January 31, are eligible to nominate Hugo Awards. The SFB Giant Sanctioned Official Tournament will be run for 64 or more players, of the 7k guests expected to attend in downtown Spokane WA, USA NA. An all-miniature tournament, it will be run eight games at a time, every four hours, during the hours of 9-9, to take care of the first few rounds, with finals Saturday or Sunday depending on turnout. All materials mostly provided by Ranger Harlan Haskell III. Bring pen and paper, everything else provided, for the tournament. Queries? Turtle test available starting Thursday evening, upon demand, with cards available.

Star Fleet Battles games are held weekly in Tempe Arizona each Friday at Game Depot from 2:00 -7:00 pm. Eric Phillips is the person to contact.
Star Fleet Battles games are played regularly in Columbus, Ohio, on Sunday afternoons at the Soldiery. Lee Hanna is the contact person.

Games are held in Spokane, Washington on an irregular basis. Contact them to see if there's a game scheduled. They meet at The Gamer's Haven, 2114 N. Pines St., Suites 1 & 2, Spokane Valley, WA 99206, (509) 443-5992
http://www.thegamershaven.net/gamers_haven.php
HAILING FREQUENCIES: This is our newsletter and will let you know all the news for all our games. You can subscribe here. Have you missed an earlier newsletter? Click here to get caught up!
COMMUNIQUE: The latest Communique brings you more Ship Cards, scenarios, and more news from the Star Fleet Universe! It can be downloaded from the Commander's Circle.

COMMANDER'S CIRCLE: We continue to improve the Commander's Circle. All of the ships and scenarios are available as separate documents (the ships are organized by empire) so you can quickly see what is available. The FC Scenario Database and Master Ship Chart documents are also here. Our newest project was suggested by our players and is uploading low-toner Ship Cards. The Commander's Circle is the best place to find free additions to Federation Commander!



The Federation Commander site and Forum continue to grow as more gamers continue to find them. All of our games currently have topics in the Forum. If you have any comments, questions, or requests for our Graphics Director, this is the place to let her know. Come see what the commotion is about and join the Federation Commander Forum now.
We are very pleased to see the medals, honor bars, and ribbons awarded to players being incorporated into their signatures. It is exciting to see lots of interesting conversations about a wide variety of subjects. Get in on the activity!
While for new players the Federation Commander Forum is a little easier to manage, the original (Discus-based) BBS is where most product development takes place. If you have a proposal you'd like to see worked on, don't forget to make sure it is mentioned here. It also has active F&E and SFB forums where players run campaigns, Rated Ace tournaments and other SFB tournaments are organized (most FC tournaments are organized on the Forum), SVC's "My Day" appears, along with current news and strategies dealing with Prime Directive, and each issue of Captain's Log is created. While less colorful (no avatars or sigs), it is a vital part of ADB, Inc.'s communications.

F&E Strategy of the Month
D6 CRUISERS OVER THE BATTLE STATIONS
- Ensign Michael Tisdel, USS Texas

When it comes time to bust up Alliance battle stations, consider committing one or two D6s to the battle. A force with a D6 as the leader, a F5S, and another D6 with an escort carrier group and a squadron of F5 frigates will provide the necessary combat potential to reduce an undefended battle station.
When taking damage, be sure to cripple a D6 after giving up the escort carrier group's fighters. After the battle, retrograde the crippled D6 to a starbase and use conversion during repair to convert it to one of the D6 variants. This way you get a discounted conversion plus the use of the hull in one of the smaller battles of the invasion.
(End of F&E Strategy of the Month
)

CRITICAL-AND-RUN RAIDS



At first glance, the Transport Marines! special action does not seem to be all that great. You have to be within two inches of your target, and you have to drop the facing shield. At least in the ACTASF-1.2 rules using this doesn't block you from using a second special action.
But let's take a closer look. Through judicious use of movement, you can often arrange to use this special action with no return action possible. If all of the enemy's ships have moved, you can move your remaining ships to within two inches of a target ship with down shields (or shields you expect to knock down during the attack phase) in such a manner as to enable you to drop a facing shield and have no enemy ships in arc to fire through the gap. Since your opponent has already moved his units, he cannot move anything to a position that will let it take advantage of the gap.
Two out of six rolls on the die will generate a successful attempt. This gives you a 33% chance of inflicting a critical hit on your helpless target, and it can be done once for every transporter on board in addition to regular weapons fire. That is five times for a Klingon D7 or Federation BC, and if you are flying a Klingon C8 you have eight transporters! Or if you have a crippled ship that is limited to firing only one weapon system, and it can get within two inches of a valid target, go ahead and try for a critical-and-run raid.
(End of A Call to Arms: Star Fleet Tactic of the Month
)
Demotivationals
Throughout the month our graphics director places on the website various cards called Demotivationals. These are like postcards with an image and a phrase that is often used for humor. Here are the newest demotivationals since our last newsletter:

To see our previous Demotivationals click here.
Mini of the Month
Every month we will feature one or more of our miniatures that has been painted by a fan. If you paint miniatures, submit pictures of your minis and they may be selected for the next Mini of the Month!
Starline 2500 Federation ships. Photo and painting by Bill Stec.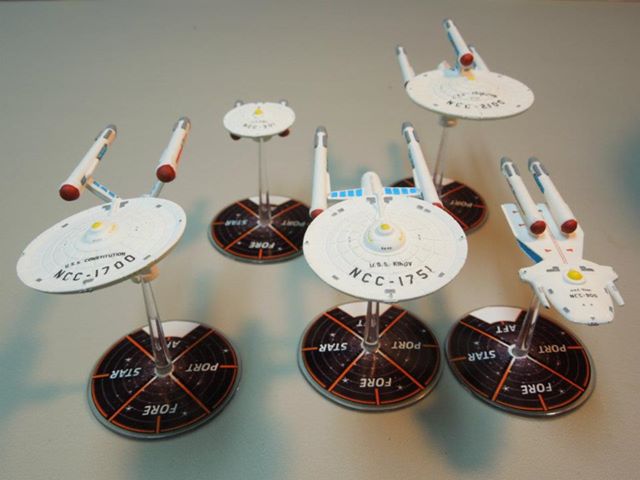 Help us pick the mini of the month on our page on Facebook. The mini with the most likes and shares will become the mini of the month. Vote for the ones you like!

New Releases
Communique #111 has been posted to the Commander's Circle
Click here to see our previous issues of Hailing Frequencies.

To be released in 2015

Traveller Prime Directive Core Rulebook

F&E Minor Empires, SKU 3214, price $TBA
A new Starmada book for both editions.
New starships for the 2500 (1/3125) range including Tholian PC, DD, CA, TK5, DN; Klingon B10; Orion BR, DW, BC, BCH, DN.
New starships for the 2400 (1/3788) range including heavy war destroyers and the jumbo freighter.
Tribbles vs. Klingons (assuming Kickstarter works!)
F&E Fighter Operations update 2014, SKU 3203
Federation Commander Reference Starship Book
Captain's Log #50, SKU 5750
PDF SALES:
ADB, Inc. continues its relationship with Steve Jackson Games and their Warehouse 23. We chose Warehouse 23 because they have a philosophy that agrees with ours -- our customers are honest and honorable and wouldn't aid people who want to steal our products. Furthermore, we know from experience how devastating a computer crash can be and want our customers to know that they don't have to worry about the loss of their e-products bought through Warehouse 23. What do we have there? We have created a new page that allows easy access to our PDFs for sale on Warehouse 23. From here you can see what we currently have posted and have links to those products.
RECENTLY RELEASED ON Warehouse 23
Captain's Log #10
SFB Module D3 (B/W)
SFB Module D3 (Color)
Captain's Log #38
Captain's Log #38 Color SSDs
JagdPanther #12
SFB Module R4 SSD Book (B/W)
SFB Module R4 SSD Book (Color)
JagdPanther #11
Hydran Master Starship Book
Star Fleet: Galactic Conquest (Fifth Edition)
Federation Commander: Briefing #1
JagdPanther #10





RECENTLY RELEASED ON DRIVETHRU RPG and WARGAME VAULT
Captain's Log #36 Color SSDs(DriveThru RPG or Wargame Vault)
ACTASF Book 1.2: Civilian Ship Roster Card Pack (DriveThru RPG or Wargame Vault)
Captain's Log #10 (DriveThru RPG or Wargame Vault)
ACTASF Book 1.2: Tholian Ship Roster Card Pack (DriveThru RPG or Wargame Vault)
ACTASF Book 1.2: Orion Ship Roster Card Pack (DriveThru RPG or Wargame Vault)
ACTASF Book 1.2: Gorn Ship Roster Card Pack (DriveThru RPG or Wargame Vault)
SFB Module D3 (B/W) (DriveThru RPG or Wargame Vault)
SFB Module D3 (Color) (DriveThru RPG or Wargame Vault)
Captain's Log #38 (DriveThru RPG or Wargame Vault)
Captain's Log #38 Color SSDs (DriveThru RPG or Wargame Vault)
ACTASF Book 1.2: Kzinti Ship Roster Card Pack (DriveThru RPG or Wargame Vault)
ACTASF Book 1.2: Romulan Ship Roster Card Pack (DriveThru RPG or Wargame Vault)
ACTASF Book 1.2: Klingon Ship Roster Card Pack (DriveThru RPG or Wargame Vault)
ACTASF Book 1.2: Federation Ship Roster Card Pack (DriveThru RPG or Wargame Vault)






Star Fleet Fiction
THE NATURE OF THE BEAST
by Randy O. Green
PART 3 OF 7
Shuttle Bay, U.S.S. Colin Powell

All was controlled chaos inside the shuttle bay of the Powell. It had often been remarked during the General War that the quickest way to get killed on a carrier was to work inside a carrier's shuttle bay during flight operations. As with most sayings, this was not entirely true, of course. Despite their constant work with explosive warheads, super-corrosive fuel mixtures, and multi-ton machines, all moving in a synchronized dance that was a wonder to behold, the average crewman loading the drones and servicing the shuttles had a much higher chance of living to see the end of the conflict than the fighter pilots riding their deadly metal steeds of war.
If the Powell's fighter pilots were dismayed about their lowly chances at survival, it did not show. Inside the cockpit of Snake-one one, the Powell's lead F-111 for this flight, Lieutenant Eric "Sidewinder" Hildebrandt finished calling out his launch checklist over the low, growling rumble of the engines. Beside him, his electronic warfare officer, Lieutenant Joan "Muzik" Rogers, punched up her own checklist on her PADD. With a clipped, professional tone, she began calling it out.
Hildebrandt followed along, visually checking each setting and physically setting each switch as she did so.
It was a routine they had done many times in the past, both for training missions and for actual combat missions. Most of the checklist was automated, and within moments, they were done. Hildebrandt looked out of the cockpit and flashed his Orion crew chief a smile and a thumbs-up. His crew chief nodded, came to attention and saluted. Hildebrandt returned the salute and pressed the canopy closure switch. He closed his helmet and settled back into his seat. Carefully, he reached for the big fighter's control stick. He felt Rogers immerse herself in the electronic displays that were her bread and butter.
Hildebrandt did not envy her. The EWO had a demanding job, made even more demanding by the software package that her navigational computer was loaded with. Normally it allowed their F-111 to provide the Powell's fighter squadron with advanced electronic countermeasures or electronic counter-countermeasures. It also allowed the other members of the flight group to designate them with the affectionate nickname "Spark Vark." But this time, the capabilities of the software package would be used to augment the formidable intelligence-gathering ability of the Powell itself.
He turned his attention back to flying the shuttle. He keyed his mike. It was time to let their controllers know that they were ready to perform their mission.
"Launch Control, this is Snake one one."
"Go ahead Snake one one." The disembodied voice of the controller sounded "tinny" in his ears.
"All systems are go. We're ready to launch."
"You're clear to launch Snake one one. Snake one two has just finished loading their sensor pod and should be joining you shortly."
He clicked the mike button twice in reply, then eased the throttles forward slightly and pulled back on the stick. With astonishing smoothness, the Aardvark lifted off the deck and glided toward the open shuttle bay doors.
Once outside, Snake one one took up station off the port bow of the Powell. It was not long before it was joined by Snake one two. To the viewers on the ship, both of them seemed to hang suspended in space - tiny, insignificant, metallic insects silhouetted against the overpowering glory of the nebula.

Josh Driscol asks: Going over Energy Allocation forms following a game I came across something odd in a hellbore. It was allocated five points of power, but normally I see three points of power for rolling and six points of power for an overload or batteries used to overload. When we checked (H7.64) it seemed clear that you could overload a weapon with not enough power to fire it as overload. The weapon would depend on reserve power at some point during the turn or it could not fire as standard or overload. I just have a few questions on how this could be used. I was under the impression that nearly every heavy weapon had to be charged, not charged, or overloaded. Are there any weapons other than the plasmatic pulser device, which seems to have its own rules for reserve power, which cannot use this partial overload?
ANSWER: If you allocate partial overload energy to a weapon, it is irrevocably committed to being an overload and cannot fire (as a standard or overload) unless you allocate the remaining reserve power. Any weapon that cannot use (H7.6) will say so in its rules. Doing this is usually not a good idea.

Follow-up question: Can a disruptor be partly armed with one point of power? That is not enough for the standard charge. It says in (H7.52) that you can use reserve power at the time of firing or not to finish a weapon to standard charge. How about three points of power doing what the hellbore ship in my game did, but with a disruptor?
ANSWER: Weapons are generally allowed to use contingent allocation under (H7.61). You could allocate one point of power to a disruptor, but would need to allocate the remaining point from reserve in order to fire it. Otherwise, the single point of energy would be discharged at the end of the turn.


Follow-up question: In the case of a fusion beam that is charged already, the player allocates one point of energy to hold it and three points of overload energy (four points total). Could it fire as an overload or would it depend on reserve power to bring it to the full suicide overload power or be unfirable in any mode?
ANSWER: Fusion beams have a special rule in regards to suicide overloads (E7.442). If you allocate part of the energy for a suicide overload (i.e., more than the normal overload energy but less than the full suicide overload energy), the weapon can be fired as a regular overload, but this will still result in the consequences of (E7.421). (The weapon will be destroyed and cause an additional point of internal damage whether or not you fire it.)

Follow-up question: Could a plasma torpedo be allocated more than holding but less than standard arming energy? For example: I allocate three points of power to a plasma-S torpedo tube on its third turn of arming. Could it be either fired or finished with reserve power (and held) at any impulse in the turn?
ANSWER: If you apply 2+2+3 points of energy to a plasma-S launcher, you will get a plasma-G. See (FP1.96); this is a fairly common tactic. You could launch it as a plasma-S if you apply an extra point from reserve power. Rule (FP1.22) says it would not be legal to allocate, say, 2.5 points of energy to the torpedo on the third turn of arming. Your choices for the third turn of arming are to allocate two points of energy and use (FP1.221) rolling delay, or allocate full energy to complete it as a plasma-G (3), plasma-S (4), enveloping or shotgun plasma-G (6), or enveloping or shotgun plasma-S (8), respectively. Anything else results in the plasma being ejected.

(End of Admiral Vanaxilth)


Q: The Kzinti Order of Battle (705.3) refers to "three carrier pods and two battle pods at start." Since Kzintis use their pods in pairs, does this refer to pairs of pods?
A: That is an old version of the Order of Battle, before light tactical transports (which use single pods) appeared in the game. Current versions of the Order of Battle (on our website) correctly show six individual carrier pods and four individual battle pods, which can be used singly or (by a tug) in pairs.

Q: I haven't played F&E for about 12 years, but am thinking of getting the 2010 boxed set. Have the expansion sets been updated as well for the 2010 rules, or can I use my old ones?
A: Generally speaking, all of the expansions are still 2000 edition (ISC War was done for 2010), but errata for them is online and (given that) they work quite well with the 2010 version of the basic game. The staff is working to upgrade the expansions but it took well over a year to upgrade F&E from 2000 to 2010 so please be patient.

Q: Rule (204.38) states that strategic movement capability is reduced by every starbase destroyed and not replaced, but that building extra starbases doesn't add to your capability. So, if I build a new starbase on Turn #5, and another one gets destroyed on Turn #10, do I retain my original capability?
A: As long as your net loss is zero, then you retain your original capacity.

Q: Can Tholian ships in the raid pool move more than two hexes from Tholian territory?
A: They can do so because they won't stay for any period of time and will return to the capital thereafter.

Q: When does the Depot reactivate (424.13) after you lose your capital? Once the shipyard is fully rebuilt? Or once you start rebuilding the shipyard?
A: If the depot is located at the capital shipyard then the depot becomes active again once the replacement shipyard is complete.

Q: Can you put ships in the depot on the turn it is complete or do you have to wait for next turn?
A: Follow the steps of the Sequence of Play and you'll know the answer. On the turn the depot is complete, it will be completed in the Economic Phase of the SOP. The use of the depot would be available during the Combat Phase of that turn (which happens later), but not during the Production Phase, which is already over.

Q: Can an extra escort be added to a CVEG under (515.2)?
A: Yes, based upon precedence under (502.922) CVBGs. Since a legal escort carrier can add one additional escort it still meets the intent of "one additional light or escort carrier and one additional light (SC4) escort."

Q: Does the bonus for an undevastated capital planet (523.12) apply for every planet in the capital system or just once for the main capital planet (Klinshai, Earth, etc).
A: It only applies to the capital planet, not planets in the capital system. So, only once per empire.

Q: Are Klingon and Lyran fighter HDW modules interchangeable the way KVPs and VP2/3 are?
A: No empires can share HDW modules.

(End of F&E Q&A)



Cool Stuff on the Website
In this section we will provide links to various web pages and items that we think you will find "cool".
We have recently updated the look and design of the Rangers Page, check it out here:
Rangers Page
Here is a link to our new page about our new upcoming game:
Tribbles vs Klingons
Here are links to various flyers you can use to advertise your Demos and Game Days:
Ranger Resources
Here are links to the new pages of Starline 2500 miniatures pictures.
Starline 2500 Battleships page
Starline 2500 Federation Miniatures
Starline 2500 Klingon Miniatures
Starline 2500 Romulan Miniatures
Starline 2500
Traveller Prime Directive
Call to Arms Star Fleet
We have also uploaded new Xander wallpapers to our Wallpapers section on the website.
Wallpapers
We have new images of our game Star Fleet Marines posted on our BBS topic page.
STAR FLEET ALERTS
These are the press releases we send to the wholesalers, retailers, and media. You can get on the mailing list for them by asking Marketing@StarFleetGames.com to add you to the list. (Obviously, they are free.) They are uploaded to the Star Fleet Alert page

Alert 140707 FC: Tactics Manual and Captain's Log #49 (Adobe Acrobat Required)
Alert 140418 PRICE 2500 (Adobe Acrobat Required)
Star Fleet Alert 140320 CL48, Away Team Log (Adobe Acrobat Required)


FC Tactic of the Month
SELTORIAN CRACKDOWN
- Cadet Terry O'Carroll, HMAS New South Wales

When fighting a multi-ship battle, it is normal practice to concentrate your fire on one target ship on one impulse, so it all hits one shield. The first ship's volley usually brings down the shield, and the other ships' volleys go through the down shield and disable internal systems. When using the Seltorian Shield Cracker as part of each volley, this won't work as well. Shield crackers can only damage shields, and the first ship's volley will often bring down the shield and the subsequent shield cracker shots will be wasted.
Instead, the squadron's particle cannon and phaser fire should be concentrated on one ship, and the squadron's shield crackers should be fired at another ship. (The ship which will resolve its volley first can fire its shield crackers at the primary target.) The target of the shield crackers won't suffer any internal damage, but it will have a weak or down shield facing toward your squadron. You might even be able to follow up the shield crackers with your particle cannons' second shots, or even a swarm of boarding parties! At the very least, it's going to make the opponent's movement decisions harder as he tries to keep the weak shield out of arc of your weapons. In this way, the shield cracker becomes a weapon that complicates the enemy's movement, a bit like seeking weapons.
(End of FC Tactic of the Month)

SFB Tactic of the Month
WHOSE CYCLE TIMES ARE YOU TRACKING?
- Fleet Captain Ken Lin, USS Ohio
The eight-impulse delay for consecutive firing and/or launching of phaser/disruptors/drones (over a turn break) is well known. A very common tactical doctrine is to fire/launch those weapons on Impulse #25 in order to have them available for use on Impulse #1 of the following turn.
In the case of drones, this is not always the best tactic. If followed blindly without regard to the tactical situation, it results in a significant disadvantage for the drone ship, especially during the early stages of the game.
Let's analyze a typical plasma-versus-drone battle (for example Romulan FireHawk-versus-Kzinti command cruiser), starting from Turn #1. Let's assume that the FireHawk has launched a single enveloping plasma torpedo in the middle of Turn #1, forcing the Kzinti to turn away. At the end of the turn, the FireHawk is trailing the Kzinti in a chase position, approximately 10 hexes behind, with three plasma torpedoes armed and available on Turn #2. In a disruptor-versus-plasma duel, Turn #2 is often where the plasma ship enjoys its greatest advantage.
Example 1: The Kzinti launches four drones during Turn #1 on Impulse #25, in order to "have the drone racks available for use on Impulse #1." As the FireHawk is in chase position, it allows the FireHawk to close with the drones and destroy them with phasers at Range 1 before the end of Turn #1. This allows all Romulan phasers to be available for drone defense on Turn #2.
Example 2: The Kzinti launches four drones during Turn #1 on Impulse #32. When launched on Impulse #32, the drones are too far away from the FireHawk to be destroyed with phasers. This means than the FireHawk will be forced to deal with eight drones during Turn #2 (four launched late on Turn #1, and four launched early on Turn #2).
Note that Example 2 allows the drone ship to concentrate its drones on Turn #2, where it is critically important to keep the plasma-armed ship from maximizing its plasma torpedo and positional advantage.
With drone ships, it is often more important to pay attention to your opponent's phaser cycle times, instead of your own drone cycle times.
(End of SFB Tactic of the Month)
The insignia of various empires -- art by Xander Fulton.