Star Fleet Universe News

THE BIG NEWS: Federation Commander Scenario Log
You asked for it and we did it!
This product is due for release very soon. It will be sold as a PDF on Drivethrough RPG, Wargame Vault, and Warehouse 23. If players want hard copies, we will print them (but they won't have a color cover as the projected print run is too small).
This product contains 57 scenarios for Federation Commander which previously appeared in Captain's Log. Because they were printed inside the magazine, it is all but impossible for players to extract or create pages which could be added to their rulebooks. Some players have never seen these scenarios because they don't buy Captain's Log for whatever reason.
FIFTH ANNUAL STAR FLEET BATTLES
PLATINUM TOURNAMENT


Our fifth Internet SFB International Championship Tournament will be open for registration as of September 14, 2015. Registration will close midnight (Pacific Daylight Time) on October 18, 2015. This is a single-elimination tournament using a standard tree. This tournament will be conducted through SFBOL and you will need to be a member of that service to participate.

We will have at least 32 seats, and up to 64 if there is demand. There will be no entry fee this year; ADB will provide the prizes. The winner will receive $100 and a plaque (once the "Victory at" article is completed and the winner is paid for this article). The second place winner will receive $50. Third and fourth place winners will get $25 in credit; fifth through eighth place will get $5 credit.

After we know the number of entries, we will lock in the format (i.e., decide if there are 32 or 64 seats, decide how many seats will be reserved for re-entries, seed the aces, and assign byes). Aces will be "seeded" according to the total number of ace pins and SFB Gold/Platinum hats (total) each player has in his lifetime record. Other players (and perhaps lower-rated aces) will be distributed randomly in a way to avoid same-ship duels as much as possible. Depending on the size of the tree and the number of active players, we may give some first-round byes to the highest rated players, and we may reserve some seats for re-entries. Re-entry seats will go at no cost to eliminated players in the order they ask for them.
Fleet Captain Peter Bakija (winner of the 2014 tournament) is the judge for this tournament. As we did in Platinum Hat 2014, Tournament Marshal Steven P. Petrick will also "ride herd" on the tournament to ensure that games are played on schedule and the event does not drag. There will, inevitably, be some delays near the end when re-entries have to "catch up" to the initial entries. A firm hand on the helm will ensure that these are as minor as possible. People who do not get their next game completed in a set number of days will be disqualified and the player they beat (or a wildcard selected by the judges) replaces them. Deadlines may be adjusted by the Judge or Marshal to allow for a player's serious real life unexpected problem or issue.

The winner must send in his Platinum Victory article (which must meet the standards of previous articles) within 90 days of the end of the event or be disqualified (in which case he will get no prize and there will be no winner named). Assistance will be available if the winner would like help writing his article.

WEBSITE:
Our website, www.StarFleetGames.com, continues to grow and improve. You are welcome to send us your requests, comments, and suggestions. Simone Pike, our graphics director, continues to update the website, do covers for the new products, shut down pirate websites, help out around the company, and learn more about the game business. One of our newest pages is for Starline 2500 where we display photos and 3d renders of the new starships.


FACEBOOK:
Jean continues to improve our page on Facebook, adding many new photos and other features.
If you haven't seen the 1,000+ pieces of art in the albums, you should drop by and visit. You don't have to be a member of Facebook to see our page, but if you are, please become our friend so you can get information in your newsfeed.
If you've already liked us on Facebook, but are not seeing our posts, then remember to check your new "Pages Feed" on the left menu. You can also go to our page and hover over the "Liked" button. Be sure that "Get Notifications" is checked.
TWITTER:
ADB has recently started a Twitter feed. We are ADBInc_Amarillo. You'll find news as well as links to pictures. Check us out and retweet news of interest to your own followers. We're excited and our first goal is to get 100 followers. Help us reach that, please.


VIDEOS:
StarFleetGames has taken its act to YouTube and we now have a YouTube channel. Our goal is to create a video for the new product releases during each month. We have "In the Box" videos to show you what you will see when you unpack your new game. We have also done "Spotlights" on a single product or product line. So pull up a chair and join us at the movies! Our newest uploads are:
Star Fleet Marines Part 1
Star Fleet Marines Part 2
ADB Late May 2011
Starline 2500 Miniatures Review
Star Fleet Battle Force in the box
STARBLOG:
Our StarBlog has moved to a new URL and all links on StarFleetGames.com websites have been changed to match. The new site is http://federationcommander.blogspot.com
The blog covers all aspects of the company.
STAR FLEET'S LEGIONS EXPAND:

Star Fleet Legions isn't a new game; it is all of you who play any of our Star Fleet Universe games.
For a game universe that is 36 years old, it seems odd (but very gratifying) that the number of active players is growing, not diminishing. We can tell this by the number of people on the fan pages, the number of Rangers and battle groups, the number of new Starlist entries, and of course by the sales numbers.
Starlist is growing by an average of 10 new entries and five updates per month. There are 1,240 active names on the list (plus overseas, Canada, and those who last contacted us in 1991-2004). Not on Starlist? Fill out your application here:http://www.starfleetgames.com/starlist.shtml.
Battle groups have been forming up left and right. We started with one in Tennessee. Now there are battle groups in California, Colorado, Florida, Indiana, New York, Ohio, Texas, and Washington. We've gone international with groups in Canada and England. Battle groups are doing demos, tournaments, and game days in stores and conventions. Do you have a group you game with? Join us here: http://www.starfleetgames.com/battlegroup/index.shtml
How have these battle groups been forming? Usually through the hard work of a Ranger. Rangers run demos, start game days, contact conventions, reach out to stores, and promote Star Fleet Universe games. Do you want to be a Ranger? Start here: http://www.starfleetgames.com/rangers/index.shtml

If you are on Facebook, you have no doubt heard of ADB's page on Facebook. Did you know there are fan pages galore? Fan pages are groups that are started and administered by fans. They are independent of ADB, so we may not know about all of them. These are ones we know about that support the Star Fleet Universe:
So join us on Facebook and get a fix of your favorite game there, too!


RANGERS:
The Rangers are up, fully operational, and doing demos! There are currently 50 Rangers listed in our database with 30 of them having advanced past Ranger Recruit, meaning they've held at least one demo.
Star Fleet Rangers are our front-line recruiters in introducing new people to our games. They are hard working, tireless promoters of the SFU. They go to conventions, stores, game clubs, and other public venues to
show our games and to teach potential players some basics.
Why should you be a Ranger? Well, one of the reasons is purely selfish -- you teach people to play your favorite games and "grow your own" opponents. With enough interested people you can form a battle group and even get in on playtesting if you want. You get your name in Captain's Log and awards on your plaque on the Wall of Honor. You even get Star Fleet Bucks which will help you with purchases from our storefront. Still, being able to play games face-to-face has to be one of the best reasons to do it.
So visit our Ranger page here: http://www.starfleetgames.com/rangers/index.shtml

Register and join the the Star Fleet Rangers!


AMBASSADORS:
Jean Sexton has succeeded in recruiting two ambassadors (Michael C. Baker and A. David Merritt) to carry the word of the Star Fleet Universe to other websites. They (and Jean) were awarded the first ever "Star Fleet Ambassador Badges" as well as appropriate medals for their service to date. These ambassadors do not just repeat press releases; they answer questions, encourage discussion, and help people find the relevant documents on our website. Contact Jean Sexton if you want to volunteer for ambassador duty.
Forum
BBS

JAGDPANTHER
Take a journey with us to an ancient age, just one step up from carving game rules on clay tablets. The year 1973 was at the very dawn of the independent wargame publishing companies. Typesetting was done with a manual typewriter, print-on-demand meant the photocopier at the library, counters were printed on paper (and drawn by hand), page layout was done with scissors and cellophane tape, and two guys in a garage could turn out a wargame magazine that won two Origins Awards. The point was creativity, new ideas, and imagination. Production values would have to come later.
That magazine was JagdPanther (Hunting Panther), created and run by the same Stephen V. Cole who later co-founded Task Force Games and then went on to found Amarillo Design Bureau. We found the ancient archives of this game company (which ran from 1973-1976, producing 15 magazines, about 50 games, hundreds of variants, and dozens of game reviews) and have placed them on Warehouse 23 so they are available to collectors. (Old issues have been selling on Ebay for over $100 each.) Issue #1, Issue #2, Issue #3, Issue #4, Issue #5, Issue #6, Issue #7, Issue #8, Issue #9, Issue #10, Issue #11, Issue #12, Issue #13, Issue #14 and Issue # 15 are uploaded.
Custom Decals for Starline ships
Tenneshington Decals continues to provide custom decals for all currently produced Federation Starline 2500 miniatures.
In addition to the legacy fleet and squadron box sets, decals for each of the ships are available as individual sheets, along with special sheets to detail any ship with additional window blocks, sensors, hatches, and even phaser scars.
As with all of their products, the names on the ships are up to the customer and all sheets are custom-printed to order.
*** Newly announced in November, decals sheets for Starline 2400 Federation miniatures are well into design, with decals for other empires in both Starline 2400 and Starline 2500 lines in development. ***
For more information or to download the order sheet, check them out at www.tenneshington.com. Or if you prefer, email Will McCammon at: will@tenneshington.com or Tony L. Thomas at: scoutdad@tenneshington.com.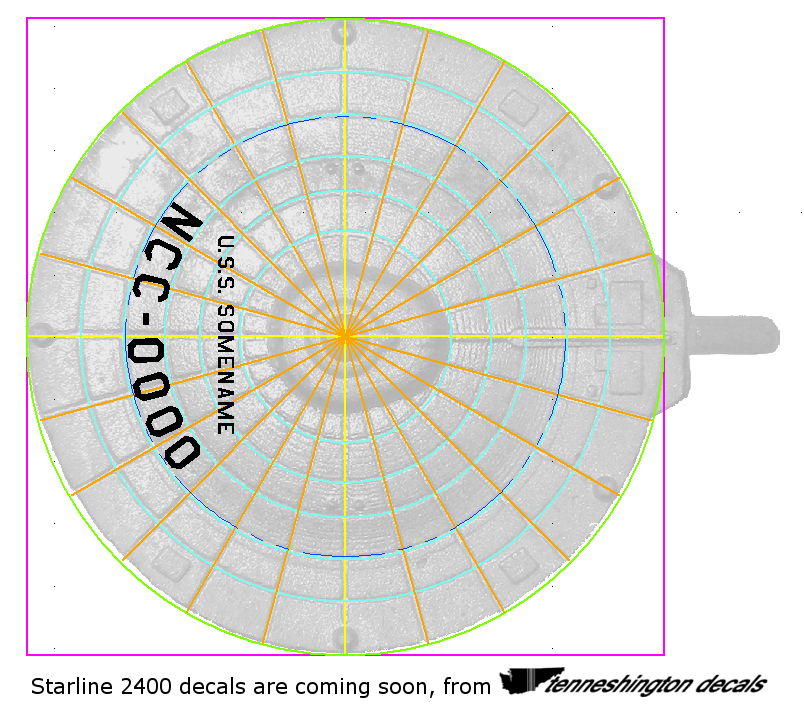 Jupiter IV Decals is a source of decals for the 2400 line and will do custom decals as well as all official SFB names. In the near future Jupiter IV will move into the 2500 line and will work to get every listed name on the Starfleet registry completed in both scales.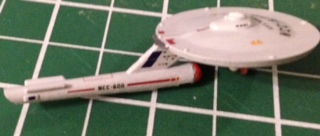 The big news is about the 2015 Platinum Tournament; for the details see the "Big News" article above.

Rated Ace Tournament #45 is moving along quickly. There is a fourth round game to be played; that winner will face Bill Schoeller in the final round. Gregg Dieckhaus is the judge.

World League is a team tournament, where three-player teams compete against each other. The first round is a round robin style event where teams score points for each game played (four points for a win, two points for a loss, one point for a mutually agreed tie/unfinished game, zero points for a no show). After the first round, the top four teams will advance to a single elimination ladder, by team, so there will be two rounds of finals (four teams then two teams). This has advanced to the semi-final rounds. Team Anything Goes will face Team Phaser Proof Jocks; Team Council of 3 Nations will face Team Barnyard Squad. Peter Bakija is the organizer of this tournament.

NetKill Patrol's 2015 third quarter competition is ongoing. Richard Schirmer maintains the statistics that make this tournament possible.
Ranger Tony L. Thomas reports: August 15, 2015 marked the 3rd Annual Battle in the 'Boro [Federation Commander style!] In Murfreesboro, Tennessee, he hosted Federation Commander players for a full day of fun, frivolity,and exploding ships. There was a bit of
ACTASF
thrown in for variety. The festivities will kicked off around 11 a.m. and went until late Saturday night. Tony reports that lots of games were played and fun was had by all.
Star Fleet Battles was held at the 73rd WorldCon at Spokane WA, on August 17-22, 2015. Ranger Harlan Haskell III reported that six players showed up.

Battlegroup HMCS Omega will be hosting
SFB
events at Impossible Realities on September 11-13, 2015 at Saint John, New Brunswick. Friday at 7 pm: Learn to Play
SFB
is open for anyone that wants to learn to play and uses Cadet ships. Saturday at 11 am: Learn to Play
SFB
is open for anyone that wants to learn to play and uses Tournament ships. Saturday at 2 pm: SFB - Tournament ships game where pre-sign-up is not needed but would be appreciated. Sunday at 1 pm:
SFB
- Non tournament (regular ships) game. This will require pre-sign-ups so we know how many players and what empires want to be played and a scenario will be created. September 7 is cut off date for sign-up. LJ LeBlanc is the contact person. For more about the convention see:
http://impossiblerealities.com/
.
Star Fleet Battles games are held weekly in Tempe Arizona each Friday at Game Depot from 2:00 -7:00 pm. Eric Phillips is the person to contact.
Star Fleet Battles games are played regularly in Columbus, Ohio, on Sunday afternoons at the Soldiery. Lee Hanna is the contact person.

Games are held in Spokane, Washington on an irregular basis. Contact them to see if there's a game scheduled. They meet at The Gamer's Haven, 2114 N. Pines St., Suites 1 & 2, Spokane Valley, WA 99206, (509) 443-5992
http://www.thegamershaven.net/gamers_haven.php
HAILING FREQUENCIES: This is our newsletter and will let you know all the news for all our games. You can subscribe here. Have you missed an earlier newsletter? Click here to get caught up!
COMMUNIQUE: The latest Communique brings you more Ship Cards, scenarios, and more news from the Star Fleet Universe! It can be downloaded from the Commander's Circle.

COMMANDER'S CIRCLE: We continue to improve the Commander's Circle. All of the ships and scenarios are available as separate documents (the ships are organized by empire) so you can quickly see what is available. The FC Scenario Database and Master Ship Chart documents are also here. Our newest project was suggested by our players and is uploading low-toner Ship Cards. The Commander's Circle is the best place to find free additions to Federation Commander!



The Federation Commander site and Forum continue to grow as more gamers continue to find them. All of our games currently have topics in the Forum. If you have any comments, questions, or requests for our Graphics Director, this is the place to let her know. Come see what the commotion is about and join the Federation Commander Forum now.
We are very pleased to see the medals, honor bars, and ribbons awarded to players being incorporated into their signatures. It is exciting to see lots of interesting conversations about a wide variety of subjects. Get in on the activity!
While for new players the Federation Commander Forum is a little easier to manage, the original (Discus-based) BBS is where most product development takes place. If you have a proposal you'd like to see worked on, don't forget to make sure it is mentioned here. It also has active F&E and SFB forums where players run campaigns, Rated Ace tournaments and other SFB tournaments are organized (most FC tournaments are organized on the Forum), SVC's "My Day" appears, along with current news and strategies dealing with Prime Directive, and each issue of Captain's Log is created. While less colorful (no avatars or sigs), it is a vital part of ADB, Inc.'s communications.

F&E Strategy of the Month
THE LYRAN SABER-TOOTH LION
- Cadet Jeffrey Tiel USS Ohio

As a unique ship with the highest Coalition mauler capability, the Lyran Saber-Tooth Lion requires careful deployment. The Alliance will try to destroy the ship in its first use, costing the Lyran player another dreadnought hull to replace it for very little additional advantage over the Saber-Tooth Tiger. Here are three ways to employ the ship for maximum effect and minimal risk.
First, the Saber-Tooth Lion makes a great pursuit ship. Coalition players should always have a mauler saved for the pursuit battle, and obviously, the Alliance player should be on the run, so why not save the Saber-Tooth Lion for this battle? The extra two points of mauler power and the ability to target multiple Alliance ships make this tactic effective. The risk is reduced as the retreating Alliance player will be less likely to put up a battle force (plus high battle intensity rating) sufficient to destroy the Saber-Tooth Lion - at least not without subjecting his retreating crippled ships to an even greater onslaught. Furthermore, even if you are forced to cripple the Saber-Tooth Lion, it cannot itself be pursued and destroyed after a pursuit battle.
Second, the Coalition always pairs the rare stasis field generator (SFG) units with maulers. But because the stasis field generator is a Klingon unit, and because it is usually deployed in hot action zones, the Klingon player may not think to invite the Lyran Saber-Tooth Lion along for the battle. The extra two points of mauler power become doubly effective when multiplied by the SFG effect. The stasis field generator unit itself will likely draw the Alliance player's remaining directed fire. But the best version of stasis field generator/Saber-Tooth Lion coupling is the use of the B10AA. The B10AA can target five Alliance ships safely, thereby not only creating multiple Alliance stasis targets, but usually reducing Alliance firepower sufficiently to guarantee the survival of the B10AA. When paired to the B10AA, the Lyran player need fear nothing for the safety of his Saber-Tooth Lion, as the 24 points required just to cripple it will always be used against the stasis field generator-vulnerable B10AA instead.
Third, the Saber-Tooth Lion arrives in the game on Turn #12, meaning it is not likely to be deployed in the dangerous Kzinti and Hydran capital assaults. By Turn #16, the Federation capital's survival usually means that the Coalition turns from an offensive to a defensive stance, creating another special use for the Saber-Tooth Lion. While the Kzintis and/or Hydrans are building new shipyards, the Lyrans should be fortifying their positions in conquered territory. Adding the Saber-Tooth Lion to the defensive fleet presents a more powerful mauler in combination with planetary defense units and bases. Since the Alliance player will only be assaulting these fortified positions with the intent to destroy the planetary defense units and bases, the Saber-Tooth Lion will be a secondary target at best. Its lessened risk of shock offers the Lyran player shots on Alliance ships over multiple battles.

(End of F&E Strategy of the Month
)

DREADNOUGHT INITIATIVE TACTICS



A Call To Arms: Star Fleet's I-go-you-go initiative system rewards shooting first and disabling an opposing ship before it can fire. Dreadnoughts are great for this, because they pack a lot of firepower onto one hull and can do "in one go" what smaller ships would need two or three "goes" to do. That gives the opponent less time to react. Most dreadnoughts also have the Command +1 trait, so you will win initiative (and fire first) more often!
On the other hand, the movement initiative system rewards having a larger number of more maneuverable ships like frigates. Also, a ship which fires all of its phasers in an "alpha strike" is vulnerable to seeking weapons as it has no phasers left to fire. The solution is to balance one or two big ships with smaller ships. The smaller ships will act as "initiative sinks" during the Movement Phase, and can use their weapons during Defensive Fire to protect the dreadnought against seeking-weapon retribution. In general, move your dreadnought last and fire its weapons first.
(End of A Call to Arms: Star Fleet Tactic of the Month
)
Mini of the Month
Every month we will feature one or more of our miniatures that has been painted by a fan. If you paint miniatures, submit pictures of your minis and they may be selected for the next Mini of the Month!
Eric Drumm painted these.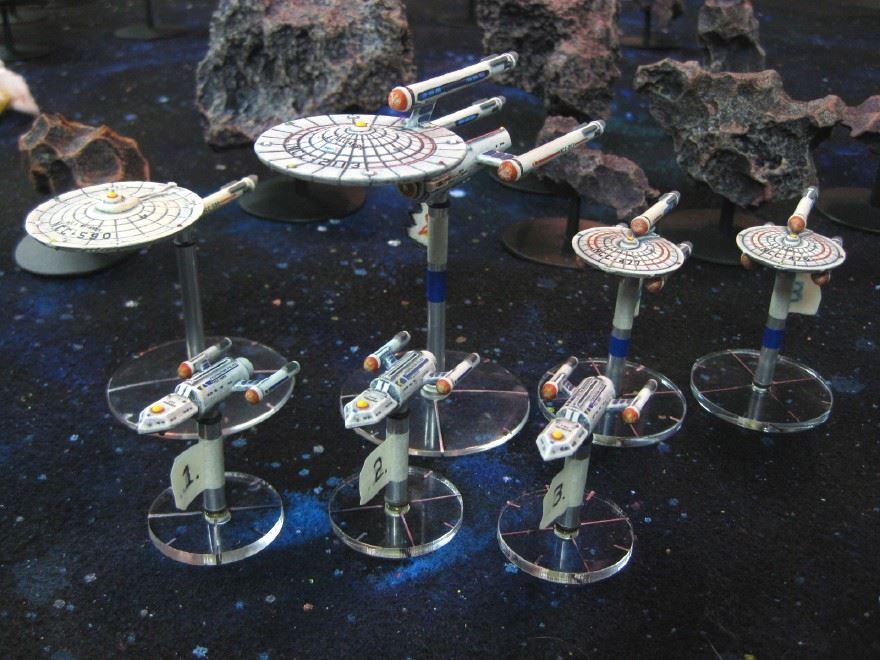 Help us pick the mini of the month on our page on Facebook. The mini with the most likes and shares will become the mini of the month. Vote for the ones you like!
New Releases
Communique #117 has been posted to the Commander's Circle
Click here to see our previous issues of Hailing Frequencies.

To be released in 2015

Traveller Prime Directive Core Rulebook

F&E Minor Empires, SKU 3214, price $TBA
A new Starmada book for both editions.
New starships for the 2500 (1/3125) range including Tholian PC, DD, CA, TK5, DN; Klingon B10; Orion BR, DW, BC, BCH, DN.
New starships for the 2400 (1/3788) range including heavy war destroyers and the jumbo freighter.
Tribbles vs. Klingons (assuming Kickstarter works!)
F&E Fighter Operations update 2014, SKU 3203
Federation Commander Reference Starship Book
PDF SALES:
ADB, Inc. continues its relationship with Steve Jackson Games and their Warehouse 23. We chose Warehouse 23 because they have a philosophy that agrees with ours -- our customers are honest and honorable and wouldn't aid people who want to steal our products. Furthermore, we know from experience how devastating a computer crash can be and want our customers to know that they don't have to worry about the loss of their e-products bought through Warehouse 23. What do we have there? We have created a new page that allows easy access to our PDFs for sale on Warehouse 23. From here you can see what we currently have posted and have links to those products.
RECENTLY RELEASED ON Warehouse 23
SFB Commander's Edition, Supplement #1
Star Fleet Battles Advanced Missions Rulebook
About Federation & Empire
SFB: Module C5 Rulebook
SFB: Module C5 SSD Book (B/W)
SFB: Module C5 SSD Book (COLOR)
Star Fleet Battles: Basic Set Rulebook
Captain's Log #40
Captain's Log #40 Supplemental File
Captain's Log #40 Color SSDs
Star Fleet Battles: Cadet Training Handbook
Star Fleet Battles Module Y3 SSD (B/W)
Star Fleet Battles Module Y3 SSD (Color)
Federation Commander: Federation Ship Card Pack #3
JagdPanther #15/Battlefield
Starmada Nova Log
Starmada Admiral Log






RECENTLY RELEASED ON DRIVETHRU RPG and WARGAME VAULT
SFB Commander's Edition, Supplement #1 (DriveThru RPG or Wargame Vault)
Star Fleet Times #16-#20 (DriveThru RPG or Wargame Vault)
Star Fleet Battles Advanced Missions Rulebook (DriveThru RPG or Wargame Vault)
About Federation & Empire (DriveThru RPG or Wargame Vault)
SFB Commander's Edition Update #2 (DriveThru RPG or Wargame Vault)
Captain's Log #14 (DriveThru RPG or Wargame Vault)
SFB: Module C5 Rulebook (DriveThru RPG or Wargame Vault)
FC: Orion Pirates Ship Card Pack #1 (DriveThru RPG or Wargame Vault)
SFB: Module C5 SSD Book (B/W) (DriveThru RPG or Wargame Vault)
SFB: Module C5 SSD Book (COLOR) (DriveThru RPG or Wargame Vault)
SFB: Playtest Module E4 - The Peladine Republic (DriveThru RPG or Wargame Vault)
Star Fleet Times #11-#15 (DriveThru RPG or Wargame Vault)
SFB Commander's Edition Volume III (DriveThru RPG or Wargame Vault)
Star Fleet Battles: Basic Set Rulebook (DriveThru RPG or Wargame Vault)
Captain's Log #40 (DriveThru RPG or Wargame Vault)
Captain's Log #40 Supplemental File (DriveThru RPG or Wargame Vault)
Captain's Log #40 Color SSDs (DriveThru RPG or Wargame Vault)





Star Fleet Fiction
STONES AND GLASS COLONIES
by Scott Moellmer
PART 1 OF 5
Federation Mining Colony Xanadu, 2 November, Y177


The toughest thing about the planet was the wind.
Commander Clyde Tombaugh shook his head as the constant howling of air around him threatened to depress his thoughts. This recently established Federation mining colony still seemed so haphazardly put together, but that was the result of years of war and the concurrent strain. He had to disregard the perpetual moaning and dust storms of this forsaken rock, and concentrate on the abundant ores that were being mined here, to feed the ever-expanding needs of the Federation in the General War.
He entered the main hatchway of the ground warning station, prepared for the first active sensor test of the swiftly constructed base here. Passive sensor scans, and the scouting sweep of Federation vessels, had discovered no hostile presence near this planetoid. However, the current Romulan front continued to ebb and flow at the fortunes of war and this planetoid was too close to that front for his comfort. They would risk a brief active scan, then resume passive sweeps, trying to remain inconspicuous, especially since the ground-based defense weapons were not yet online. The final critical parts for the heavy phasers and their fire controls were scheduled to be brought in later today on the Police Frigate Norris. Tombaugh was looking forward to seeing Norris's executive officer, Ruben Giles, an old friend from the Academy.
Garth L. Getgen asks: A Federation type-G drone rack can be loaded with type-IV double-space drones, yes?
ANSWER: Kommodore Ketrick replies: Well, to be clear, it is not a "Federation type-G drone rack," it is just a "type-G drone rack" as it is also used by some Kzinti and Klingon carrier escorts (and some other ships) and can be taken in Orion option mounts. Beyond that, yes, it can handle any type of non-X drone. Thus it can be loaded with and launch type-I (up to four drones can be loaded in the rack), type-II (up to four drones can be loaded in the rack), type-III (up to four drones can be loaded, unless they are type-IIIXX in which case up to two can be loaded), type-IV (up to two drones can be loaded in the rack), type-V (up to two drones can be loaded in the rack), type-VI (up to eight drones can be loaded in the rack), or ADDs (up to eight ADDs can be loaded in the rack). It cannot be loaded with type-VII, type-VIII, or type-IX drones (well . . . it could, but it could not launch them). Beyond that, the rack can hold four total spaces at one time, and any combination of the allowed drones can be loaded in the rack. Thus a load of a type-IIIXX, type-I, type-VI, and an ADD is perfectly legal (assuming you had the drone percentages to allow such a loading). As with any drone rack it is the owning player's choice which of the drones is launched on a given impulse of a turn, and not within a quarter turn of the rack having launched a drone on a previous turn.

Roch Chartrand asks: A Starfish drone is en route to its primary target. Can it release its anti-drone at targets satisfying its programming before it reaches the primary target?
ANSWER: Kommodore Ketrick replies: No. Rule (FD15.211) requires you to set the target and the range from the target the anti-drones will be fired. Rule (FD15.212) says it fires the submunitions when it reaches the release point, i.e., has reached the range you set to the target you set and in an FA arc from the drone. And rule (FD15.213) provides that all of the anti-drones must be fired simultaneously.

Garth L. Getgen asks: Type-VI "dogfight" drones and anti-drones are the same size (give or take), but they are not the same critter, correct?
ANSWER: Kommodore Ketrick replies: Correct. An anti-drone is a direct-fire weapon (an "E" series rule) and a type-VI drone is a seeking weapon (an "F" series rule). The type-G drone rack can launch one (1) type-VI drone in a given turn (it does not have the type-VI launch rate of a type-E drone rack). If the type-G drone rack does not launch any drones in a given turn, it can fire from zero to eight anti-drones as if it were an anti-drone rack (assuming it has anti-drones loaded). It cannot do both in the same turn (launch a drone and fire an anti-drone), and the quarter-turn delay applies (fire as an anti-drone in the last eight impulses in the previous turn delays when you can launch a drone in the current turn). Note that firing an anti-drone in the last eight impulses of a previous turn does not delay the use of the type-G drone rack (or an anti-drone rack) from firing an anti-drone in the start of a subsequent turn. Anti-drones have no firing delays.

Garth L. Getgen asks: The last reload of the type-G drone rack must be eight anti-drone rounds. There is no option to replace those anti-drone rounds with type-VI drones, true?
ANSWER: Kommodore Ketrick replies: Correct. That second (third after the Y175 refit) reload is always anti-drones; there is no option to replace them with some other type of drone. Not even if you intend to patrol on the Romulan and Gorn borders, empires that do not have drones. They do have fighters and you might run into an Orion with drone racks even there.

(
End of Admiral Vanaxilth
)
Q: Can a pinned group of ships (203.51), where an additional number of ships has moved on from after the pinning, still be considered a sub-stack that still has potential movement and thus, generate another reaction into that hex from ships that did not react initially?
Rule references associated with this question are all of (203.5) and arguments are:
1. Rule (203.51) says that pinned ships cannot resume moving if another stack later moves in, but that makes sense as you have to complete a stack's movement before you can start another stack. Thus, we are not sure if it really implies that the pinned ships are stopped. If they are stopped by the very act of pinning, then there really is no "residual movement" of pinned ships to react to.
2. When you leave a part of your fleet behind to satisfy pinning, said pinned fleet is still moving and that when it officially stops it creates additional reaction opportunities (even though the pinned fleet can't move out of the hex it hasn't been declared to have stopped yet). That can matter when you are not fully pinned, so that in this instance you can decide whether to stop the pinned fleet first or move then stop the continuing fleet first. That decision can affect reactions considerably.
A: When units are pinned they are FORCED to stop ALL operational movement because the enemy took an action to stop any further movement of the pinned units. There is nothing to decide here as the enemy has done it for you. The only decision is to decide which ships are left behind to satisfy the pinning requirement. "Pinned" means: to hold, press, hold fast, hold down; restrain, pinion, immobilize. Once a unit is pinned it is no longer capable of using operational movement; any remaining operational movement pulses are lost for the pinned unit.

Q: Can two uncrippled ships (each with a defense factor of seven or more) tow an FRD (421.23) as part of a retreat?
A: Yes, they are treated as a tug alternate under (509.1-F).

Q: Rule (509.1-F) states that tugs performing other missions cannot also tow an FRD, and that an unassigned tug or LTT can be assigned this mission during the retreat step, but I never found an enabling ruling allowing the alternate tug [two eligible ships (421.23)] to tow it during the retreat step.
A: Consider them enabled.
(End of F&E Q&A)


Dear Aunt Jean,
Where does Traveller Prime Directive stand?
A: Well, we can finally tell you what we've known for nearly two years: there will indeed be a new edition of Traveller. Matthew Sprange asked us to not tell anyone anything, so we've been stalling all this time. We didn't want you to spend your hard-earned money on a new book just to be told in a couple of years that you'd wasted it and now would need a new book to play in the Star Fleet Universe. It has been extremely awkward not to be able to tell you, but now we can.
What it means is that when the book comes out, we'll adapt our material to it. We aren't doing it during playtest because, frankly, we don't have the staff to go chasing down everything that changes when it does during playtest. We look forward to a busy 2016.
Send questions to Jean at
design@StarFleetGames.com
and SVC will decide which one Jean will answer next.
(End of Ask Aunt Jean )
Cool Stuff on the Website
In this section we will provide links to various web pages and items that we think you will find "cool".
We have recently updated the look and design of the Rangers Page, check it out here:
Rangers Page
Here is a link to our new page about our new upcoming game:
Tribbles vs Klingons
Here are links to various flyers you can use to advertise your Demos and Game Days:
Ranger Resources
Here are links to the new pages of Starline 2500 miniatures pictures.
Starline 2500 Battleships page
Starline 2500 Federation Miniatures
Starline 2500 Klingon Miniatures
Starline 2500 Romulan Miniatures
Starline 2500
Traveller Prime Directive
Call to Arms Star Fleet
We have also uploaded new Xander wallpapers to our Wallpapers section on the website.
Wallpapers
We have new images of our game Star Fleet Marines posted on our BBS topic page.
STAR FLEET ALERTS
These are the press releases we send to the wholesalers, retailers, and media. You can get on the mailing list for them by asking Marketing@StarFleetGames.com to add you to the list. (Obviously, they are free.) They are uploaded to the Star Fleet Alert page

Alert 150331 Captain's Log #50 (Adobe Acrobat Required)
Alert 140707 FC: Tactics Manual and Captain's Log #49 (Adobe Acrobat Required)
Alert 140418 PRICE 2500 (Adobe Acrobat Required)
Star Fleet Alert 140320 CL48, Away Team Log (Adobe Acrobat Required)


FC Tactic of the Month
RELOAD ON THE RUN
- Captain Steven Petrick, USS Texas

In Federation Commander you can reload the drone racks of a ship by "repairing" them (4G8). Doing so requires that the drone rack not have launched any munitions during the current turn (5G5a). Rule (5G5b) allows you to do partial reloads of multiple drone racks in a turn as long as any given drone rack you start reloading is fully reloaded before you begin reloading another drone rack. What all of this means is that at the end of any given turn you should remember whether or not a given drone rack was used in that turn. If it was not (and nothing else is desperately crying for repairs), go ahead and reload it rather than let your repair points for that turn go to waste.
Consider a Kzinti frigate. Some tactics require the frigate to launch four drones on Turn #X, follow them towards the target, and then during Turn #X+1 launch two more drones for a total of six, the frigate's maximum control rating, and follow all six toward the target. At the end of Turn #X+1 the frigate could use damage control to load one drone into each of the two racks that did not launch a drone with one repair point each.
The fact that you have these two extra drones in those racks might come in handy late in the battle when you do not have time to both repair a rack and reload it. The two currently undamaged racks (mark any damage on the two racks with fewer drones) will each still have a drone available to launch.
This obviously has more utility for the Kzintis with their multiple drone racks. However even Federation ships should pay attention to whether or not they used a drone rack on a current turn. If repair points are going begging then take the time to reload a rack with a couple of anti-drones or a drone (or two).
You cannot save up repair points; if you cannot use them you lose them. So before you just go to the next turn, take a look at your ship's drone racks, and if you did not use them, and have a few repair points, then reload a few rack spaces now. Having those drones and launching them late in the game may, at the least, draw enemy fire that might have scored more internal damage on your ship (saving more repair points) and let you perhaps score the decisive damage on your opponent.

(End of FC Tactic of the Month)

SFB Tactic of the Month
BE DISARMED
- Captain Steven P. Petrick, USS Texas

The third paragraph of (S4.0) says: "At all levels of a ship's weapons status, the owning player may elect to have some or all of his weapons armed to a lower status for tactical reasons." Obviously this is useful for plasma empires as it allows them to have torpedoes on "rolling delay" (FP1.221) even if they are entering the map at weapon status-III. It has other uses however, and a good commander should keep these uses in mind.
A Federation ship with its photon torpedoes should consider the tactical situation. Perhaps movement is more important than actually having a given photon torpedo armed. A destroyer with four photons might opt to not have one or two armed, giving him as much as four extra hexes of movement. This allows him to surprise an enemy by getting closer in total movement, or maintaining that higher speed for a few extra critical impulses.
Sure, you could have just discharged the torpedoes during Energy Allocation by not allocating the holding energy (E1.244), but that would telegraph the message that you are "up to something" as the enemy will see the discharge (E1.241). Sometimes you may want the enemy to see you discharge the weapon to make him wonder what you are up to, but not having ever armed the weapon can confuse his tracking of your ship's energy.
This also applies to hellbores and other weapons. While a hellbore cannot be held, if it is armed at the start of the scenario and you do not continue the arming in Energy Allocation, it is discharged and the enemy can see this flare. Better to choose to never have armed it prior to Energy Allocation on Turn #1.
It should be obvious that this does not really provide any benefit to phasers, maulers, disruptors, or fusion beams, although in the case of the latter two systems, announcing a discharge during Energy Allocation will doubtless baffle your opponent, it is more likely just a waste of energy.
Remember that this is something that might gain you a tactical advantage, but it depends on whether the use of this tactic can gain you an edge over an unsuspecting opponent.
(End of SFB Tactic of the Month)
Demotivationals
Throughout the month our graphics director places on the website various cards called Demotivationals. These are like postcards with an image and a phrase that is often used for humor. Here are the newest demotivationals since our last newsletter:

Headed your way -- what do you do?
To see our previous Demotivationals click here.
Facebook Highlight of the Month
Federation Commander was played at Battle at the 'Boro. What do you think of this setup?