BrentO
Ensign


Joined: 03 Jan 2013
Posts: 21
Location: Kansas City
Posted: Thu Jan 03, 2013 5:37 am

Post subject: Omega Playtest - Iridani Questors

---

I was wondering what sort of warp capabilities the Iridani have. It says they were able to travel from their home globular cluster galaxy to the edge of the Milky Way in "several months time". Coupled with their short life span (35-40 years), do they have superior warp or do they use a RTN-like network that crosses the gap?

Thanks for any info.
Nerroth
Captain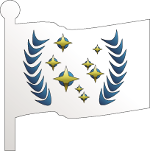 Joined: 08 Oct 2006
Posts: 1577
Location: Ontario, Canada
Posted: Thu Jan 03, 2013 6:45 am

Post subject:

---

According to the data in the

SFB Omega Master Rulebook

:



Quote:
The species known as the Iridani hails from a small cluster of perhaps 200 stars located outside the galaxy and off the Omega Octant map. The distance from the Iridani Cluster to the nearest edge of the Galaxy is about the same as the distance from the Drex home world to the Probr capital, and takes several months to traverse, although the trip became noticeably shorter as warp technologies improved.



Since the Omega Octant maps (as shown here) don't yet have the same kind of in-depth planetary data on them as the

Federation and Empire

map does for the Alpha Octant, it's not a hundred percent clear exactly where the Probr and Drex home worlds actually are. Even so, to give a rough guess based on the amount of territory that remains under each empire's control from one map-year to another, the distance we're talking about is not massively far. (I would imagine that the Iridani home cluster is much closer to the Galactic Rim than, say, the Lesser Magellanic Cloud would be.) So, getting to and from the Milky Way wouldn't be too much of a burden for them.

Getting through the Galactic Energy Barrier and back again on such a regular basis might be another chellenge, but I would personally assume the Iridani build their ships with certain tolerances designed to help them handle the crossing.

As to their warp drive technology, the Iridani ships shown in the

OPRB

are a bit slower tactically than some of their modern-day Alpha counterparts. In

Star Fleet Battles

, the Galleon would only be able to go speed 27, while the Clipper (a ship they have in

SFB Module Omega 3

that hasn't been made available as a playtest Ship Card just yet) would be the only cruiser they currently have that can go speed 31 in that game system. It hasn't been stated just how fast, or slow, either ship would be on a strategic (

Federation and Empire

) scale just yet, so it may or may not be too far off what a modern Alpha ship can manage.

(The best way to think of it is to look at what in the Alpha Octant is considered the Middle Years, as published for

FC

in

Briefing #2

. The Iridani ships currently available are essentially in the same speed bracket as some of the Kzinti and Hydran ships were before they got their refits; only we haven't yet seen what, if any, refits would eventually become available to the Iridani later in the timeline.)

Now, it is noted that several Omega empires do eventually develop faster and more powerful warp drives, which allow them to build things like war cruisers (and eventually even X-ships). At this time, very few of those "speed-30" ships have been previewed in

SFB

. There has been talk of there eventually being a series of modules which would help bring the various Omega empires up to "late-war" standards. If this does happen, the new SSDs we'd see in those modules could, fingers crossed, make for good Ship Cards later on.
_________________


FC

Omega Discussion (v3)


FC

LMC Discussion