Star Fleet Universe News
THE BIG NEWS this month is that TRAVELLER PRIME DIRECTIVE CORE RULEBOOK has been officially scheduled as a November release. It will be a $39.99 hardcover book. (When you're trying to launch a book this important, the wholesalers demand the full four-month advanced notice. We usually give them only one or two months.) Captain's Log #45 will be released in August.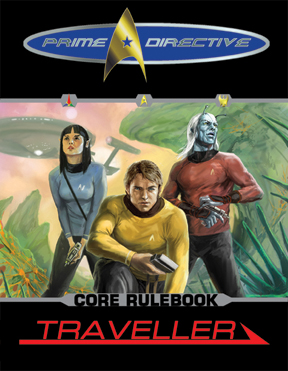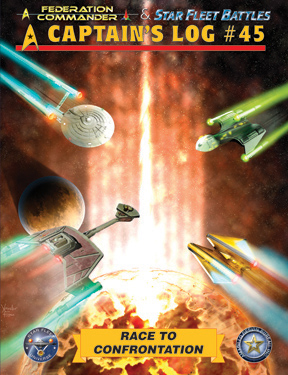 In other news this month, the second annual Platinum Hat International On-Line SFB tournament has begun with 36 players (four more than last year). You can find information on the Discus BBS.
WEBSITE: Our website, www.StarFleetGames.com, continues to grow and improve. You are welcome to send us your requests, comments, and suggestions. Joel Shutts, our graphics director, continues to update the website, do covers for the new products, shut down pirate websites, help out around the company, and learn more about the game business. One of our newest pages is for Starline 2500 where we display photos and 3d renders of the new starships.
FACEBOOK: Jean continues to improve our page on Facebook, adding many new photos and other features.


If you haven't seen the 1,000+ pieces of art in the albums, you should drop by and visit. You don't have to be a member of Facebook to see our page, but if you are, please become our friend so you can get information in your newsfeed.
VIDEOS: StarFleetGames has taken its act to YouTube and we now have a YouTube channel. Our goal is to create a video for the new product releases during each month. We have "In the Box" videos to show you what you will see when you unpack your new game. We have also done "Spotlights" on a single product or product line. So pull up a chair and join us at the movies! Our newest uploads are:
Star Fleet Marines Part 1
Star Fleet Marines Part 2
ADB Late May 2011
Starline 2500 Miniatures Review
STARBLOG: Our StarBlog has moved to a new URL and all links on StarFleetGames.com websites have been changed to match. The new site is
http://federationcommander.blogspot.com
The blog covers all aspects of the company.

AMBASSADORS: Jean Sexton has succeeded in recruiting two ambassadors (Michael C. Baker and A. David Merritt) to carry the word of the Star Fleet Universe to other websites. They (and Jean) were awarded the first ever "Star Fleet Ambassador Badges" as well as appropriate medals for their service to date. These ambassadors do not just repeat press releases; they answer questions, encourage discussion, and help people find the relevant documents on our website. Contact Jean Sexton if you want to volunteer for ambassador duty.
Forum
BBS

JAGDPANTHER
Take a journey with us to an ancient age, just one step up from carving game rules on clay tablets. The year 1973 was at the very dawn of the independent wargame publishing companies. Typesetting was done with a manual typewriter, print-on-demand meant the photocopier at the library, counters were printed on paper (and drawn by hand), page layout was done with scissors and cellophane tape, and two guys in a garage could turn out a wargame magazine that won two Origins Awards. The point was creativity, new ideas, and imagination. Production values would have to come later.

That magazine was JagdPanther (Hunting Panther), created and run by the same Stephen V. Cole who later co-founded Task Force Games and then went on to found Amarillo Design Bureau. We found the ancient archives of this game company (which ran from 1973-1976, producing 15 magazines, about 50 games, hundreds of variants, and dozens of game reviews) and are now placing them on e23 so they are available to collectors. (Old issues have been selling on Ebay for over $100 each.) Issue #1, Issue #2, and Issue #3 are already there and further issues are being prepared for upload.

DO NOT OVERLOOK THIS

The Historical Miniatures Gaming Society is a big outfit, and has been around for a long time. They're always running events and conventions all over the US and elsewhere. Check their website (http://www.hmgs.org/) for information on this group and their upcoming events to find one near you. They allow non-historical miniatures gaming to have space at their events (although you should probably contact them before you just show up and start lining up starships on their tables). This may give you another opportunity to get together with SFU friends from around your region (as long as you are using Starline 2400 or Starline 2500 miniatures; they don't seem to understand cardboard counters). You can show them SFB, FC, Starmada, or A Call to Arms, and take a look at all of the other kinds of miniatures games out there. If you accidentally win one of their prizes (say, a box of Napoleonic miniatures) you can probably trade them to someone at your home game store or on a gaming forum for something more to your liking.

Custom Decals for Starline ships

Tenneshington Decals recently added a new decal set product, designed to work with the Starline 2500 Squadron Box #7 (Federation Reinforcements). This is in addition to their existing products, associated to the Squadron Box #1 and Federation Fleet Box.

The new decal set includes complete markings for a DN(G) dreadnought, BC(H) battlecruiser, NCA new heavy cruiser, NCL new light cruiser, and a DW war destroyer, along with bonus banners, windows, and other useful graphics.

Individual decal sheets for those ships are also now offered as well.

As with all their products, the names on the ships are up to the customer and all sheets are custom-printed to order.

For more information or to download the order sheet, check us out at www.tenneshington.com. Or if you prefer, email Will at: will@tenneshington.com or Tony L. Thomas at: scoutdad@tenneshington.com.

Rated Ace Tournament 37 is ready for the final round between Paul Scott and Marcus Giegerich. Stay tuned to our page on Facebook or to the BBS to find out when it will be flown. The judge is Kerry Mullan.

Rated Ace Tournament 38 has all third-round games finished and half of the fourth-round games are completed. Keep tuned -- there is a possibility of a Kzinti civil war in Round 4! Judge Peter Bakija certainly is keeping this one moving along. Good luck everyone!

Andromedan Playtest Tournament has seen nine of the 16 scheduled games played. So far, there still have been two Andromedan wins and we continue watch this tournament with interest. Peter Bakija anticipates it picking back up after some of the intense tournaments wind down.

Flying Deuces is contemplating a change in format. Paul Franz is managing this tournament.

Winter 2012 FCOL Tourney has Round Four (the final round) matchups posted. There are eleven players competing and this round should be completed by the end of July. Jim Dauphinais is the judge.

Summer 2012 FCOL Tournament format is now being discussed.

NetKill Patrol for the First Quarter 2012 is over. Brendan Lally has earned the right to be known as Sir_Tartan_Army.

SFBOL World League is in the semifinals and it looks like Team Action Cats! are heading for the finals.

Platinum Hat 2012 had registrations end at midnight on July 9. Judge Peter Bakija and Tournament Marshall Steven Petrick will no doubt be working on seeding the tree. We're excited to see the field is larger than last year's competition!

A GURPS Prime Directive campaign is restarting on the Federation Commander Forum. Check out the Donjebruche Campaign here: http://www.starfleetgames.com/federation/phpbb2/viewtopic.php?t=3193 The GM is Jeff Johnson.



Please send information to Jean via the email in her BBS profile, PM on the Mongoose or Federation Commander forums, or Message on Facebook. If you want convention support, please contact Mike Sparks at support@StarFleetGames.com. Your convention must meet a few simple requirements (one of which is being held in the United States due to shipping costs) which are here: http://www.starfleetgames.com/sfb/tournament/tourn_main.shtml

Council of Five Nations is the annual adventure gaming convention held every year on Coumbus Day Weekend in October. Council is host to the largest face-to-face Star Fleet Battles tournament in the world. Council 35 will be held on October 8-10 this year, at the Proctor's Conference Center in Schenectady, NY.

Once again, the Council SFB tournament is a Sanctioned Rated Ace event. We expect to offer an Ace Card to the winner, and two Ace Cards is a reasonable goal if we get 32+ attendees. (We have averaged mid-to-high 20s in SFB attendance for over five years in a row.)

Thank you, and we hope to see you at Council of Five Nations this year.

The Annual Ithaca Cup Team Tournament will be on Saturday, July 14th, starting at noon, probably in Goldwin Smith Hall at Cornell University in Ithaca, New York. It is a light-hearted day of SFB tournament play where Team Ithaca battles Team SWA (mercenaries welcome!), battling for the possession of the coveted Ithaca Cup. Anyone who lives reasonably nearby (Rochester, Syracuse, Binghamton, etc.) is invited. It should be a fun day of SFB tournament play vs. all sorts of people. Most people play two or three games, keeping track of wins and losses by team. The team with the best record at the end of the day wins. And there is usually pizza!

Skirmish 2012 is going to be held on July 28, 2012 in Plano, Texas. Clay Dougherty will host Fly in to the Neutral Zone!, an ACTASF event. For more information, see http://www.dfwirregulars.com/

Gen Con will be held August 16-19, 2012 in Indianapolis, Indiana. On Friday at 9:00 am, Randy Blair will run "SURVIVOR!! It's a race against time as starship after starship arrive to plunder the dilithium graveyard guarded by a malevolent and starving Dilithium Crystal Entity that feeds off of warp producing power systems.If you survive both the creature and your opponents and manage to get off the map with a few dilithium crystals and other goodies, then you will return home to a hero's welcome. Check here to see if he will be running another game on Saturday.

HAILING FREQUENCIES: This is our newsletter and will let you know all the news for all our games. You can subscribe here. Have you missed an earlier newsletter? Click here to get caught up!

COMMUNIQUE: The latest Communique brings you more Ship Cards, scenarios, and more news from the Star Fleet Universe! It can be downloaded from the Commander's Circle.

COMMANDER'S CIRCLE: We continue to improve the Commander's Circle. All of the ships and scenarios are available as separate documents (the ships are organized by empire) so you can quickly see what is available. The FC Scenario Database and Master Ship Chart documents are also here. Our newest project was suggested by our players and is uploading low-toner Ship Cards. The Commander's Circle is the best place to find free additions to Federation Commander!




The Federation Commander site and Forum continue to grow as more gamers continue to find them. All of our games currently have topics in the Forum. If you have any comments, questions, or requests for our Graphics Director, this is the place to let him know. Come see what the commotion is about and join the Federation Commander Forum now.

We are very pleased to see the medals, honor bars, and ribbons awarded to players being incorporated into their signatures. It is exciting to see lots of interesting conversations about a wide variety of subjects. Get in on the activity!

While for new players the Federation Commander Forum is a little easier to manage, the original (Discus-based) BBS is where most product development takes place. If you have a proposal you'd like to see worked on, don't forget to make sure it is mentioned here. It also has active F&E and SFB forums where players run campaigns, Rated Ace tournaments and other SFB tournaments are organized (most FC tournaments are organized on the Forum), SVC's "My Day" appears, along with current news and strategies dealing with Prime Directive, and each issue of Captain's Log is created. While less colorful (no avatars or sigs), it is a vital part of ADB, Inc.'s communications.




F&E Strategy of the Month
THE CF1 MEGAFIGHTER-TRADE IN
- Captain Trent Telenko, USS Texas

Advanced Operations brought the Federation CF1 casual F-111 group to match the Coalition's CPF (casual PF flotillas). The CF1s were a pale shadow of a real CPF since they could only be deployed at bases. They were a unit, like a monitor, destined to face the enemy once - at best - and not worth buying because their use depended on the enemy attacking them. Now Planetary Operations allows a "megafighter trade-in" which lets the Federation build additional megafighters on Turns #28, #30, and #31 rather than the near useless CF1s.
Rule (535.12) in Planetary Operations states: "Empires can build additional megafighter packs by counting them against their PFT limit (after they are allowed to build PFTs) or against their allocation of casual PF flotillas (524.11)."
Costwise, an annuity CF1 costs nine Economic Points while a "pay as you go" CF1 costs three Economic Points plus 2.25 Economic Points of F-111 factors. Both kinds of CF1s can fight the enemy, but neither kind can seek them out.
The ship-based mega-markers come in the +2 combat potential (five Economic Point) standard fighter varieties (F-14, F-15, and F-18) and the +1 combat potential, heavy fighter varieties (A-20 and F-111). They can go wherever their carriers do to face the enemy.
So ditch the casual F-111s and "megafighter up" three more Federation carriers for more real offensive punch!
(End of F&E Strategy of the Month)

Demotivationals

Throughout the month our graphics director places on the website various cards called Demotivationals. These are like postcards with an image and a phrase that is often used for humor.
These are the Demotivationals for the month of May:
Convergence
Harbinger
Preparations

To see our previous Demotivationals click here.

Mini of the Month
Every month we will feature one or more of our miniatures that has been painted by a fan. If you paint miniatures, submit pictures of your minis and they may be selected for the next Mini of the Month!

Gorn Green Diamond Sqaudron
by
Mark Notestine