Star Fleet Universe News
THE BIG NEWS: this month is that Star Fleet Marines is nearing release (set for 23 April), with the first components going to press this week. We're also please to see our partners at Mongoose shipping Federation Fleet Boxes and Klingon Fleet Boxes in quick response to orders (and all pre-orders have now been sent).
WEBSITE: Our website, www.StarFleetGames.com, continues to grow and improve. You are welcome to send us your requests, comments, and suggestions. Joel Shutts, our graphics director, continues to update the website, do covers for the new products, shut down pirate websites, help out around the company, and learn more about the game business. One of our newest pages is for Starline 2500 where we display photos and 3d renders of the new starships.
FACEBOOK: Jean continues to improve our page on Facebook, adding many new photos and other features.


If you haven't seen the 1,000+ pieces of art in the albums, you should drop by and visit. You don't have to be a member of Facebook to see our page, but if you are, please become our friend so you can get information in your newsfeed.
VIDEOS: StarFleetGames has taken its act to YouTube and we now have a YouTube channel. Our goal is to create a video for the new product releases during each month. We have "In the Box" videos to show you what you will see when you unpack your new game. We have also done "Spotlights" on a single product or product line. So pull up a chair and join us at the movies! Our newest uploads are:
Star Fleet Marines Part 1
Star Fleet Marines Part 2
ADB Late May 2011
Starline 2500 Miniatures Review
STARBLOG: Our StarBlog has moved to a new URL and all links on StarFleetGames.com websites have been changed to match. The new site is
http://federationcommander.blogspot.com
The blog covers all aspects of the company.

AMBASSADORS: Jean Sexton has succeeded in recruiting two ambassadors (Michael C. Baker and A. David Merritt) to carry the word of the Star Fleet Universe to other websites. They (and Jean) were awarded the first ever "Star Fleet Ambassador Badges" as well as appropriate medals for their service to date. These ambassadors do not just repeat press releases; they answer questions, encourage discussion, and help people find the relevant documents on our website. Contact Jean Sexton if you want to volunteer for ambassador duty.
Forum
BBS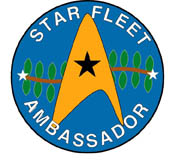 JAGDPANTHER
Take a journey with us to an ancient age, just one step up from carving game rules on clay tablets. The year 1973 was at the very dawn of the independent wargame publishing companies. Typesetting was done with a manual typewriter, print-on-demand meant the photocopier at the library, counters were printed on paper (and drawn by hand), page layout was done with scissors and cellophane tape, and two guys in a garage could turn out a wargame magazine that won two Origins Awards. The point was creativity, new ideas, and imagination. Production values would have to come later.

That magazine was JagdPanther (Hunting Panther), created and run by the same Stephen V. Cole who later co-founded Task Force Games and then went on to found Amarillo Design Bureau. We found the ancient archives of this game company (which ran from 1973-1976, producing 15 magazines, about 50 games, hundreds of variants, and dozens of game reviews) and are now placing them on e23 so they are available to collectors. (Old issues have been selling on Ebay for over $100 each.) Issue #1, Issue #2, and Issue #3 are already there and further issues are being prepared for upload.
Custom Decals for Starline ships
Have you ever wished you could accessorize your Starline 2500 Federation fleet with your own names and hull numbers? Well now you can!

Tenneshington Decals is pleased to announce that production of custom decals for the Starline 2500 miniatures line has begun. We are currently shipping Federation Squadron Box decal sheets with Fleet Box and individual blisters to follow upon shipment of those products. In the coming months we hope to add custom decals for all the empires of the Star Fleet Universe.

Our decals are printed in high resolution on waterslide transfer paper with the names / hull numbers of your choice. Each sheet comes with decals for the ship name, the hull number, warp engine stripes, secondary hull pennants, and various hatches, access ports, and windows. The Squadron Box sheet covers the five ships in the Squadron Box while the Fleet Box sheet covers all 16 ships in the Fleet Box and even has decals for the 6 shuttlecraft included.

For more information or to download the order sheet, check us out at www.tenneshington.com. Or if you prefer, email Will at: will@tenneshington.com or Tony L. Thomas at: scoutdad@tenneshington.com.

Rated Ace Tournament 37 has all of its Round 4 games completed and Round 5 should start at any time. The games are exciting and the four remaining players are all tough competitors. We think all the players and spectators are having a good time. Good luck to the final four! The judge is Kerry Mullan.

Rated Ace Tournament 38 has finished the first round games. Of the 16 second round games, all but five are completed. Two of the third round games are compete and there is even a fourth round game ready to start. Judge Peter Bakija seems excited about the turnout and the rate of play; we know that we are. Good luck everyone!

Master 2011 was a "just for fun" tournament, but the competition has been fierce. No surprise, the ISC won! (It was a civil war after all.) Congratulations to Kerry E. Mullan on his win.

Andromedan Playtest Tournament has seen nine of the 16 scheduled games played. So far, there still have been two Andromedan wins both captained by Pauls. We're sure that a secret Andromedan weapon is not "Paul" (and PA is not supposed to stand for "Paul"), so we continue watch this tournament with interest.

Winter 2012 FCOL Tourney has completed the first round and Round 2 is nearly finished with the last game in play. There are twelve players competing. Jim Dauphinais is the judge.
NetKill Patrol for the First Quarter 2012 is over. The top three players are Brendan Lally, Joshua Driscol, and David Zimdars. Their playoffs are scheduled.
SFBOL World League is just starting up. These teams of three players play to see which team is the best. If you are interested, please sign up on the BBS here: http://www.starfleetgames.com/discus/messages/12031/140.html?1333993383
Please send information to Jean via the email in her BBS profile, PM on the Mongoose or Federation Commander forums, or Message on Facebook. If you want convention support, please contact Mike Sparks at support@StarFleetGames.com. Your convention must meet a few simple requirements (one of which is being held in the United States due to shipping costs) which are here: http://www.starfleetgames.com/sfb/tournament/tourn_main.shtml\
River City Hobbies will be hosting demos of ACTASF on April 19 and 21 in La Crosse, WI.
GnomeCon is held on April 20-22, 2012 in Savannah, Georgia. We know there is a Star Fleet Battles Cadet Game scheduled for Saturday evening and there is lots of open gaming going on. For more information see: http://gnomecon.org/
La Crosse Public Library will be hosting Gaming for Adults on April 26 in La Crosse, WI. There will be ACTASF demos during this event which starts at 4:00 p.m.
A Call to Arms: Star Fleet First Official Tournament is tentatively scheduled for April 28, 2012 in London, England at Mongoose's headquarters. When we learn more, we'll let you know.
No Brand Con in Eau Clair, WI will have open gaming demos on May 4-5. Games to be demoed include SFBF, FC, and ACTASF. For more information see: http://nobrandcon.com/
Fountain of Youth Games in Eau Claire, WI will be hosting demos of ACTASF on May 6.
Archcon/Diecon 12 is going to be held June 22-24, 2012 in Collinsville, IL. They will be offering three sessions of A Call to Arms: Star Fleet. For more information, see http://www.diecon.com/D12/

STRATCON is going to be held June 23-30, 2012 in Cincinnati, OH. While primarily for F&E, all other SFU gamers are welcome to play other SFU games. For more information, see http://www.starfleetgames.com/discus/messages/37/27310.html?1328579665

Wolfcon 007 is going to be held November 23-5, 2012 in Chicago, IL. A Star Fleet Battles tournament is usually held on Sunday afternoon. For more information, see http://www.wolfcon.org/
HAILING FREQUENCIES: This is our newsletter and will let you know all the news for all our games. You can subscribe here. Have you missed an earlier newsletter? Click here to get caught up!
COMMUNIQUE: The latest Communique brings you more Ship Cards, scenarios, and more news from the Star Fleet Universe! It can be downloaded from the Commander's Circle.

COMMANDER'S CIRCLE: We continue to improve the Commander's Circle. All of the ships and scenarios are available as separate documents (the ships are organized by empire) so you can quickly see what is available. The FC Scenario Database and Master Ship Chart documents are also here. Our newest project was suggested by our players and is uploading low-toner Ship Cards. The Commander's Circle is the best place to find free additions to Federation Commander!



The Federation Commander site and Forum continue to grow as more gamers continue to find them. All of our games currently have topics in the Forum. If you have any comments, questions, or requests for our Graphics Director, this is the place to let him know. Come see what the commotion is about and join the Federation Commander Forum now.
We are very pleased to see the medals, honor bars, and ribbons awarded to players being incorporated into their signatures. It is exciting to see lots of interesting conversations about a wide variety of subjects. Get in on the activity!
While for new players the Federation Commander Forum is a little easier to manage, the original (Discus-based) BBS is where most product development takes place. If you have a proposal you'd like to see worked on, don't forget to make sure it is mentioned here. It also has active F&E and SFB forums where players run campaigns, Rated Ace tournaments and other SFB tournaments are organized (most FC tournaments are organized on the Forum), SVC's "My Day" appears, along with current news and strategies dealing with Prime Directive, and each issue of Captain's Log is created. While less colorful (no avatars or sigs), it is a vital part of ADB, Inc.'s communications.


FC Tactic of the Month
ANDROMEDAN BATTERY TACTICS
- Commander Terry O'Carroll, HMAS New South Wales
Batteries are the most critical system on an Andromedan ship. Here are some tactics for getting the most from your batteries as an Andromedan, and getting around them as a non-Andromedan.
o Andromedans consume more power than non-Andromedans because of the cost to operate power absorber panels. Andromedans should not start any scenario with their batteries completely empty. Andromedans cannot fly at battle speeds while firing all their weapons without dipping into their batteries. Andromedans also need some empty capacity in their batteries to clear their power absorber panels, so they should start any scenario with their batteries about half full.
o When an Andromedan ship takes damage to its batteries, it should disable full batteries first, unless they will need the power before the end of the turn. During the Repair Phase they can repair a disabled battery which will then be empty, and available to accept power from the power absorber panels. This may also leave empty batteries available during the turn in case a power absorber panel is disabled and releases any held power.
o Andromedan ships should always use frame to protect their last battery. Once an Andromedan ship loses enough power that it cannot run its power absorber panels, it will explode as the energy in the panels turns back into damage. Use it or lose it.
(FC Tactic of the Month continues here)


SFB Tactic of the Month
Y180 KZINTI FAST ATG DRONE QUADRUPLE-WHAMMY
- Cadet Jeff Johnson, USS North Carolina
Surprisingly to many players, most Kzinti ships lack double drone control. Furthermore, while the type-C drone racks can launch two drones in a single turn, they cannot be launched within twelve impulses of each other. The following tactics can help minimize these limitations for maximum drone concentration and utility:
1. For a scatter-pack you plan on launching at long or medium range, consider loading it with three type-IVHF drones. By making them fast drones (the F designator) with automatic terminal guidance (the H designator), you minimize the demand they place on your drone control channels.
2. You can cover yourself with a type-IHF electronic counter-measures drone launched from one of your type-C drone racks. Once the twelve required impulses have passed, you can then launch a four-drone wave using all four of your racks. To minimize the strain on your drone control channels, include a second electronic counter-measures drone in the drone wave. It will immediately take control of itself to escort the drone wave to the target. (If the type-IVHF scatter-pack is in flight and you are at Range 9 or greater, you will especially want to do this.) Your scatter-pack shuttle will have fallen behind as you speed towards the target - wait until the fast drones have caught up with you in order to concentrate the two waves together.
3. Your second wave of four rack-launched drones can be put into play after the turn break when your first two waves get within eight hexes of their target.
(SFB Tactic of the Month continues here)
F&E Strategy of the Month
THINNING OUT THE HYDRAN EXPEDITIONARY HERD
- Cadet Bill Stec, USS Pennsylvania
Klingons, are you tired of attacking the Hydran ships attempting to cross Klingon territory, crippling several or killing a ship or two, only to have them retreat closer to Federation territory?
Use special raids to attack Hydran ships in Klingon territory which are attempting the Expedition. This has the advantage of being able to target a particular ship, and the Hydrans cannot retreat toward the Federation, unlike with conventional combat. The Klingons can do one special raid plus a drone raid per turn, and the Lyrans can do one raid.
One should target cripples so as to destroy them and further reduce pin count, making it harder for the Hydran ships to retreat into a group of Klingon ships. This forces them to decide if they want to conduct a fighting retreat or constrain their movement options further.
This tactic also allows targeting the ship holding the Hydran diplomat, unlike conventional combat wherein that ship may remain out of a Battle Force until it is forced to join due to minimum force requirements. Even if you do not kill the ship, merely crippling it may convince the Hydrans to move the diplomat to another uncrippled ship, possibly a smaller one.
(F&E Strategy of the Month continues here)
Demotivationals
Throughout the month our graphics director places on the website various cards called Demotivationals. These are like postcards with an image and a phrase that is often used for humor.
These are the Demotivationals for the month of March:
Harbinger
Preparations
Crackdown
Smokey and the Bandit
Torpedoes
Truckin'
To see our previous Demotivationals click here.
Mini of the Month
Every month we will feature one or more of our miniatures that has been painted by a fan. If you paint miniatures, submit pictures of your minis and they may be selected for the next Mini of the Month!
Starline 2500 Federation Fleet
by
Bill Stec