Star Fleet Universe News
THE BIG NEWS this month is the scheduled release of Reinforcements Attack in the next few weeks. Also to be released then will be Boosters 34, 35, 36, as well as the Nova Edition of Distant Armada and Alien Armada, along with both Nova and Admiral editions of Battleships Armada.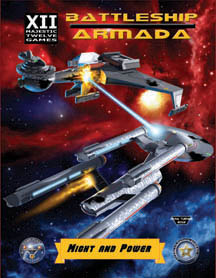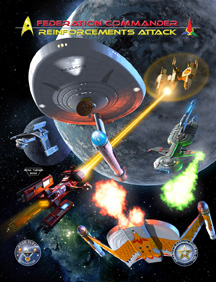 Counters for Star Fleet Marines: Last Stand and Reinforcements Attack.
In other news this month, the second annual Platinum Hat International Online SFB tournament is well into the third round with 75% of the games played. More information is below in the tournament section, but you can always find the most up-to-date information on the BBS: http://www.starfleetgames.com/discus/.
WEBSITE: Our website, www.StarFleetGames.com, continues to grow and improve. You are welcome to send us your requests, comments, and suggestions. Joel Shutts, our graphics director, continues to update the website, do covers for the new products, shut down pirate websites, help out around the company, and learn more about the game business. One of our newest pages is for Starline 2500 where we display photos and 3d renders of the new starships.
FACEBOOK: Jean continues to improve our page on Facebook, adding many new photos and other features.


If you haven't seen the 1,000+ pieces of art in the albums, you should drop by and visit. You don't have to be a member of Facebook to see our page, but if you are, please become our friend so you can get information in your newsfeed.

If you've already liked us on Facebook, but are not seeing our posts, then remember to check your new "Pages Feed" on the left menu. You can also go to our page and hover over the "Liked" button. Be sure that both "Show in News Feed" and "Get Notifications" are checked.
VIDEOS: StarFleetGames has taken its act to YouTube and we now have a YouTube channel. Our goal is to create a video for the new product releases during each month. We have "In the Box" videos to show you what you will see when you unpack your new game. We have also done "Spotlights" on a single product or product line. So pull up a chair and join us at the movies! Our newest uploads are:
Star Fleet Marines Part 1
Star Fleet Marines Part 2
ADB Late May 2011
Starline 2500 Miniatures Review
STARBLOG: Our StarBlog has moved to a new URL and all links on StarFleetGames.com websites have been changed to match. The new site is
http://federationcommander.blogspot.com
The blog covers all aspects of the company.

AMBASSADORS: Jean Sexton has succeeded in recruiting two ambassadors (Michael C. Baker and A. David Merritt) to carry the word of the Star Fleet Universe to other websites. They (and Jean) were awarded the first ever "Star Fleet Ambassador Badges" as well as appropriate medals for their service to date. These ambassadors do not just repeat press releases; they answer questions, encourage discussion, and help people find the relevant documents on our website. Contact Jean Sexton if you want to volunteer for ambassador duty.
Forum
BBS

JAGDPANTHER
Take a journey with us to an ancient age, just one step up from carving game rules on clay tablets. The year 1973 was at the very dawn of the independent wargame publishing companies. Typesetting was done with a manual typewriter, print-on-demand meant the photocopier at the library, counters were printed on paper (and drawn by hand), page layout was done with scissors and cellophane tape, and two guys in a garage could turn out a wargame magazine that won two Origins Awards. The point was creativity, new ideas, and imagination. Production values would have to come later.

That magazine was JagdPanther (Hunting Panther), created and run by the same Stephen V. Cole who later co-founded Task Force Games and then went on to found Amarillo Design Bureau. We found the ancient archives of this game company (which ran from 1973-1976, producing 15 magazines, about 50 games, hundreds of variants, and dozens of game reviews) and are now placing them on e23 so they are available to collectors. (Old issues have been selling on Ebay for over $100 each.) Issue #1, Issue #2, Issue #3, and Issue #4 are already there and further issues are being prepared for upload.
Custom Decals for Starline ships
Tenneshington Decals recently added a new decal set product, designed to work with the Starline 2500 Squadron Box #7 (Federation Reinforcements). This is in addition to their existing products, associated to the Squadron Box #1 and Federation Fleet Box.

The new decal set includes complete markings for a DN(G) dreadnought, BC(H) battlecruiser, NCA new heavy cruiser, NCL new light cruiser, and a DW war destroyer, along with bonus banners, windows, and other useful graphics.

Individual decal sheets for those ships are also now offered as well.
They have just released a new sheet of "windows" which can be used to detail any ship.

As with all their products, the names on the ships are up to the customer and all sheets are custom-printed to order.

For more information or to download the order sheet, check us out at www.tenneshington.com. Or if you prefer, email Will McCammon at: will@tenneshington.com or Tony L. Thomas at: scoutdad@tenneshington.com.
Rated Ace Tournament 38 is now complete. Congrats to Jason Gray on his win in the Gorn tournament cruiser. Much thanks to Judge Peter Bakija who kept this one moving along.

Rated Ace Tournament 39 is rocketing along. Barely on our radar last month, this tournament has seen round 1 completed and three of the games in round 2 played. Judge Paul Scott is riding herd on this tournament. Good luck to you all!

Andromedan Playtest Tournament has been restarted. Peter Bakija anticipates it picking up after some of the intense tournaments wind down.

Fall 2012 FCOL Tournament format is now underway and Round 1 is complete. Jim Dauphinais is the judge and is keeping this one moving.

NetKill Patrol is down to the finals for the third quarter. Jon Taylor, Josh Driscol, and John P. Rigley are in the elimination round after Josh won patrol (and a three-month extension of his SFBOL subscription). NetKill for the fourth quarter is also underway. Richard Sherman maintains the statistics that makes this possible.

The Platinum Hat 2012 International Online SFB tournament has six of the eight round 3 games played. Judge Peter Bakija and Tournament Marshall Steven Petrick are keeping this moving.

The 2-on-2 Tournament 2012 is looking for a new judge as the original organizer had Real Life interfere with gaming.

A GURPS Prime Directive campaign in motion on the Federation Commander Forum. Check out the Donjebruche Campaign here: http://www.starfleetgames.com/federation/phpbb2/viewtopic.php?t=3193 The GM is Jeff Johnson.
Please send information to Jean via the email in her BBS profile, PM on the Mongoose or Federation Commander forums, or Message on Facebook. If you want convention support, please contact Mike Sparks at support@StarFleetGames.com. Your convention must meet a few simple requirements (one of which is being held in the United States due to shipping costs) which are here: http://www.starfleetgames.com/sfb/tournament/tourn_main.shtml
Council of Five Nations has wound up. There were 25 SFB players in attendance. The final game was between Steve McCann flying a 11g1 WYN and Peter Bakija flying a Gorn and Peter pulled off a two-turn win. Ken Kazinski was the judge.

Fall-In was held November 3, 2012 in Lancaster Pennsylvania. A two-part ACTA:SF scenario was run by Bill Stec. Bill reports that a good time was had by all.

FOY Con, is being held November 10-11 in Eau Claire, Wisconsin in the Metropolis Resort in Eau Claire. Definitely scheduled are games of ACTASF; other SFU games are possible.

Eclectic Games in Reading, UK are holding an A Call To Arms: Star Fleet tournament at their store on the 24th November. There is a £10 entry fee. Their number is 0118 959 8250, and their website is http://www.eclecticgames.co.uk if anyone has questions.

In Fayetteville, Georgia, there will be an ACTA:SF game on November 24, starting at 12 noon. Everything will be provided, likely 2000+ points per side based on attendance projected Treefort Games 150 Banks Xing Fayetteville, GA 30214 770.719.3400

Mongoose Publishing has just announced there will be an A Call to Arms: Star Fleet tournament, specially designed to stretch your tactical abilities at Mongoose HQ on January 12, 2013. Stay tuned for more information.

Games and demos are being run in Spokane, Washington. They meet every Thursday (may move to Friday) at 2:00 pm and play till 9:00 pm, games open to start every time. You can find them at The Gamers Haven, 2114 N. Pines St, Suites 1 & 2, Spokane Valley, WA 99206, (509) 443-5992 http://www.thegamershaven.net/gamers_haven.php

Games and demos are being run in Jacksonville, Florida. They start at 6:00pm and play till 11:00 pm, There will always be ACTASF games open to play or you can learn ACTASF every Friday. Contact Ray at Suncoast Comics 5509 Roosevelt Blvd. Jacksonville Florida 32244 904.771.2776 service@suncoastcomics.com

Nashcon 2013 will be held May 24-25, 2013 at Cool Springs / Franklin Embassy Suites. Tony L. Thomas will be running the latest revision of The Battle For Kh'rtis Rock – a massive scenario involving over 60 Federation and Klingon ships (with a battle station and some civilian units through in case 60 ships isn't a large enough number!). In addition, a three round ACTASF tournament will be played on Saturday 25. Contact Tony (tony.l.thomas@comcast.net) with any questions concerning this event

Games and demos are being run in Oklahoma City, Oklahoma. OKC WarS has games of ACTASF run by James Kerr. You can find them at Hampton Inn Midwest City 1833 Center Dr Oklahoma City, Oklahoma 73110-2810 www.okcwars.com/forum or contact them through email: okcwars@okcwars.com
HAILING FREQUENCIES: This is our newsletter and will let you know all the news for all our games. You can subscribe here. Have you missed an earlier newsletter? Click here to get caught up!
COMMUNIQUE: The latest Communique brings you more Ship Cards, scenarios, and more news from the Star Fleet Universe! It can be downloaded from the Commander's Circle.

COMMANDER'S CIRCLE: We continue to improve the Commander's Circle. All of the ships and scenarios are available as separate documents (the ships are organized by empire) so you can quickly see what is available. The FC Scenario Database and Master Ship Chart documents are also here. Our newest project was suggested by our players and is uploading low-toner Ship Cards. The Commander's Circle is the best place to find free additions to Federation Commander!



The Federation Commander site and Forum continue to grow as more gamers continue to find them. All of our games currently have topics in the Forum. If you have any comments, questions, or requests for our Graphics Director, this is the place to let him know. Come see what the commotion is about and join the Federation Commander Forum now.
We are very pleased to see the medals, honor bars, and ribbons awarded to players being incorporated into their signatures. It is exciting to see lots of interesting conversations about a wide variety of subjects. Get in on the activity!
While for new players the Federation Commander Forum is a little easier to manage, the original (Discus-based) BBS is where most product development takes place. If you have a proposal you'd like to see worked on, don't forget to make sure it is mentioned here. It also has active F&E and SFB forums where players run campaigns, Rated Ace tournaments and other SFB tournaments are organized (most FC tournaments are organized on the Forum), SVC's "My Day" appears, along with current news and strategies dealing with Prime Directive, and each issue of Captain's Log is created. While less colorful (no avatars or sigs), it is a vital part of ADB, Inc.'s communications.
F&E Strategy of the Month
ROMULAN OFF-MAP MONEY
- Junior Lieutenant Thomas Mathews, USS Georgia

The Romulans are unique in that they have an off-map area which does not include a base. This means that they cannot use Strategic Movement to get there, or store Economic Points off the map. The old way to solve this problem was to build an operations base as soon as possible and send it off map. This provided a repair facility for the survey ship doing high-risk survey (542.27) and a Strategic Movement Point. Rules changes in F&E 2010 allowed you to build a single mobile base there instead of sending an operational base, but the operational base may still be your best bet because it doesn't tie up a rare tug to build it.
If you do get cut off from your off-map base, you can use a blockade-runner to collect and return the money to your main grid in a manner similar to what the Kzintis do with WYN trade. While this may or may not have an effect on the General War scenario(s), it is definitely something to consider for the ISC War.
(End of F&E Strategy of the Month)
Demotivationals
Throughout the month our graphics director places on the website various cards called Demotivationals. These are like postcards with an image and a phrase that is often used for humor.
These are the Demotivationals for the month of October:
Rienforcements
Great Empires
Rush
To see our previous Demotivationals click here.
Mini of the Month
Every month we will feature one or more of our miniatures that has been painted by a fan. If you paint miniatures, submit pictures of your minis and they may be selected for the next Mini of the Month!
Starline 2500 Klingon D7
by
Tony l. Thomas